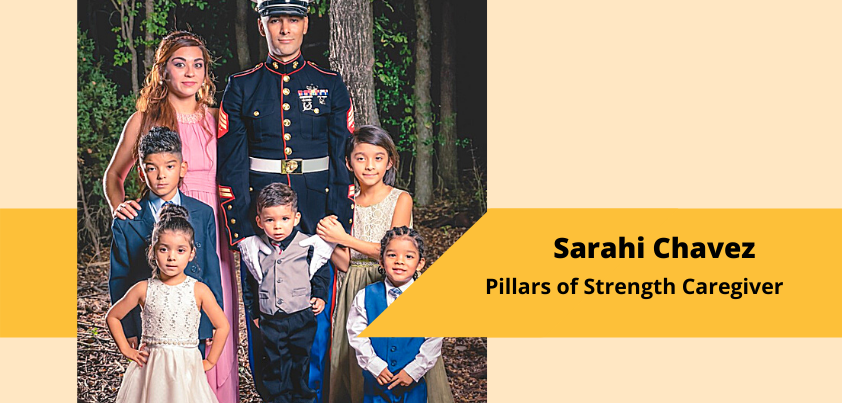 For Sarahi Chavez, life changed dramatically in 2013 when her Marine Corps husband, Luis, a 10-year veteran and explosive ordinance disposal technician, returned home from a tour of duty in Afghanistan.
From all outward appearances, he had come back unchanged. But on the inside, she said, the person with whom she had shared her life for more than 14 years was terribly wounded.
"He woke up constantly with nightmares. Loud sounds put him on guard quickly and sounds of helicopters or aircraft made him tense," Chavez said.
"I knew he needed help, but I didn't know how to help him. He was still functioning. He was still going to work. But socially and in the family environment, he wasn't able to function as we had known him."
Eventually, her husband was diagnosed with PTSD, anxiety and tinnitus. And as his condition deteriorated, she said she struggled to figure out how to help him—and to keep their family of seven functioning. Two of Chavez's five children have special needs. Her eldest son has autism spectrum disorder. Her youngest daughter has global developmental delay.
In the five years since he left the Marine Corps, the medical issues linked to her husband's military service have worsened and his employment has suffered, said Chavez, who has assumed full responsibility for the family and for maintaining her husband's treatment and care.
At one point, when his medication seemed to be working, he was able to get a position with the Secret Service in Washington because of his explosive ordinance disposal experience. He was still in training when things fell apart.
Chavez was at her mother's home in El Paso, prepping to move the family to Silver Spring, Maryland, when her husband passed out during a phone call.  "He was saying I don't feel good. I have some tingling in my head."
Then there was silence. "When he didn't come back to the phone, I got my mother's phone and called 911 in Maryland."
That was when his seizures were diagnosed, she said. Apparently, they had been happening for a long time before being noticed.
The family still moved to Silver Spring.  Chavez works with the Child Development Center at the Walter Reed National Military Medical Center in nearby Bethesda. Her only college experience has been a few classes and she said the Pillars of Strength scholarship will change her life.
"I literally screamed when they called me," she said. "I told them 'I have to scream,' and they said, 'Go ahead!' I was so excited. I was thankful for everything."
Chavez said she wants to get a bachelor's degree in social science with the goal of helping military families.  "I know other people's stories that are even harder than mine."