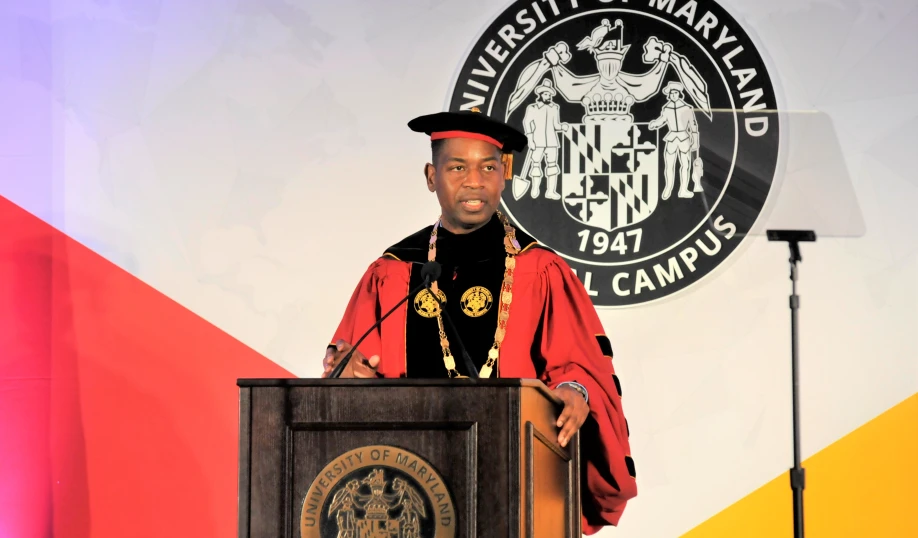 University of Maryland Global Campus
Thursday, March 10, 2022
Adelphi, Maryland
Thank you, Chancellor Perman and Board Chair Gooden, and to all of you, here and watching via livestream, welcome!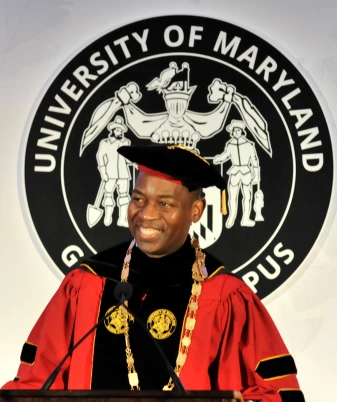 I am both proud and humbled to speak to you today as president of University of Maryland Global Campus … an institution dedicated from the outset to meeting students where they are and responding to their needs. 
It is a special honor to welcome my colleagues who are presidents of other universities. They embody the diversity of purpose in higher education … and remind us of its breadth of impact … from providing an environment where young adults can learn and come of age … to expanding the frontiers of knowledge through research … to shaping a safe and supportive haven for historically disadvantaged populations to grow and achieve. 
At the same time, I am saddened to note that many of our colleagues and friends … particularly those overseas … are now living under the shadow of war … as the crisis in Ukraine grinds on. Some are themselves in harm's way … while others endure the singular pain that comes with knowing that family members and friends are in danger, their lives disrupted. 
Our thoughts and prayers are with them. 
Here today … I feel especially blessed that so many of my family members have been able to join us. 
They have played a formative role in my life … shaping the way I view the world … and the way I see my own role and objectives here at University of Maryland Global Campus. 
I get my love of education from my mother, who for years drove 45 minutes each way down South Georgia roads to teach elementary school … and also served as my Sunday school teacher. 
I learned the value of service from my father … who often took me with him as he visited church members around the city. 
That commitment to service has always been a recurring theme. 
He and my oldest brother, Junior, are both military veterans … and others of my siblings have worked as pastors, teachers, and public servants. 
My brother Michael, who appeared on the cover of TIME magazine at the height of the pandemic, is a mortician and coroner in Dougherty County, Georgia … and used his position to help track the spread of the virus … drive awareness … and encourage community health measures to limit the spread. 
While many associate coroners with death, Mike expanded his mission to include saving as many lives as possible with community programs to reduce drownings and drug overdoses — a perfect example of how one life can impact so many others. 
Of course, my brothers and sisters also helped teach me humility — whether I liked it or not — by never letting me forget where I came from … and standing ready to remind me of my shortcomings. 
Joking aside, my belief in the power of love, of laughter, and of perseverance is rooted in my relationship with my family … and again, it informs the way I view higher education and this university's mission. 
Because of my own background and the relationship I have with my family … I see myself in the courage and determination of our students … and I recognize how the right support can change lives for generations to come. 
My sister Sabrina, for instance, led by example and paved the way for many of us … first graduating from college … then moving from Albany to Atlanta … where her apartment became home for me and several of my siblings over the years as we pursued our college degrees.  
Here at UMGC … when I look at our portfolio of offerings, in health professions, biotechnology, cybersecurity, and many more that members of my own family attained … and I see how it has changed their destinies, I am compelled to make those same opportunities available to as many others as possible. 
And hardly a day goes by when I am not reminded of something my brother Vernon said to me when he was teaching me how to bowl. 
After one particularly offensive gutter ball, he looked at me and said, "That ball went right where you threw it." 
Over the years, when my efforts have failed to produce the desired results, I have come back to that simple observation and the wisdom behind it. It has helped me grow … reflect on lessons learned … and ultimately to strive always to be better today than I was yesterday. 
Of course, we are more than the sum of our experiences … but it is equally true that my experiences continue to shape the way I work and lead. 
As a college student working at the Six Flags theme park … I learned the power of a coordinated team … of considering the user experience … and of treating customers as guests in your home. 
Working for the National Endowment for the Humanities taught me the value of bringing new voices into our conversations … and how to empower underserved populations. 
These experiences … combined … inspired me to explore the art of the possible … and motivated me to accept the role here at UMGC … aligned with a mission that has guided this university for 75 years. 
Here at UMGC … the tradition of flexibility and agility … and of meeting students where they are … is rooted in our DNA. 
As former President Gerald Heeger noted in 1999, in his foreword to UMGC's official history: 
"From its inception, this institution has been student centered in every sense of that phrase. Few institutions can boast such a colorful record of working with students in most unusual and often adverse conditions. That 'student centeredness' remains at the heart of [UMGC] today; we are committed to rethinking the university to provide a new level of service to the dedicated students in the [UMGC] community." 
In 1949, as NATO was established … and as deployments to Europe increased in support of the Berlin airlift … the Department of Defense sent out a directive inviting institutions to offer courses in Europe. 
Only one responded … the University of Maryland College of Special and Continuation Studies … precursor of today's UMGC. 
Meeting students where they are meant finding seven faculty members willing to fly to post-War Germany with one week's notice. 
As time went on, it meant being the first to venture into a war zone to teach American troops — in Vietnam, in 1963 — and being the first Maryland university to desegregate. 
Our teams were in the Philippines when Mt. Pinatubo erupted in 1991. 
They were on Guam in 1992 when the island was hit by five hurricanes and an earthquake … and classes continued to meet, even when that meant using flashlights. 
UMGC was at the forefront of the online revolution in higher education … piloting online classes in 1994 … and among the first to offer degree programs fully online. 
Similarly, in 2015, we replaced publisher textbooks with digital resources in most courses … at no cost to students … saving them an estimated $17 million in the first year alone. 
Risks are easily managed in hindsight … and it is worth noting that UMGC has been guided by the needs and objectives of students … even when outcomes were far from certain. 
In Germany, in 1949, university leaders appointed history professor David Sparks ad hoc program administrator. He went to work with the understanding that if fewer than 300 students registered for classes, he was to shutter the program and send everyone home. 
More than 1,800 enrolled in the first two weeks alone … and the program recorded more than 9,500 enrollments that first academic year … growing to almost 35,000 a decade later. 
Online education was uncharted territory as well when UMGC piloted its first course in 1994. 
Distance education was nothing new; the university had offered courses by mail … radio … teleconference … and even voice mail for years. 
However, few foresaw the overwhelming response to online instruction. 
Within three years, when the first Web-based course was offered, the university recorded 3,800 individual enrollments. 
A decade later, that number had grown to more than 177,000! 
These successes hinged on our willingness to be bold, to learn from failures, accept change, and step forward into new and sometimes uncomfortable circumstances. 
Today, our challenge turns on meeting student needs by designing new learning experiences that align with their goals and objectives — and that rest on a foundation of service and support that is unprecedented … and perhaps unexpected … in higher education, and easily accessible 24/7 across multiple platforms. 
Historically, education has operated as something of a black box. Learners signed up … paid tuition and fees … and immersed themselves in a learning experience … without a clear understanding of what they could expect to receive in return. 
We have told students … repeatedly and convincingly … that they needed to go to college … and even that their long-term success was contingent on earning a degree. We have not always been as clear about what came in the "one-size-fits-all" package that we call a degree. 
In response to the growing chorus of voices asking, "Is college worth it?" we will work to ensure that our more traditional programs use plain terms to define the knowledge, skills, and abilities a student will gain … and how those skills and abilities tie to the career and civic aspirations of each learner. 
We will accept accountability for our results … partnering with students in the learning journey … measuring our successes in terms of their success … and leveraging resources to ensure that we know what they came to us for … and they get what we promised them when they enrolled. 
In a post-pandemic world where many are rethinking their priorities, we will evaluate our assumptions and adjust our strategies. Those who are part of the Great Resignation will need new skills … and they will not be willing to drop everything to attend classes full-time and face-to-face. 
Again, this is familiar territory for UMGC. As my predecessor President Gerald Heeger wrote,  
"In our definition of 'university,' there are no ivy-covered buildings, no gated green lawns, no four-year-long interruptions in the life of a student. Most important, no barrier separates education from people's everyday lives. We envision the university as a lifelong resource enabling all people to continue improving their skills, sharpening their minds, and achieving their goals—all while they continue to work, participate in their communities, and enjoy their families." 
That was more than 20 years ago … and it remains true today. 
To meet students where they are … we must truly listen to them … and respond by creating new learning experiences … rapidly and responsively … that do not compromise on quality. 
At the same time, we will increase our corporate and community partnerships … and bring their voices and needs to the design sessions. 
We will leverage those partnerships in turn … looking at partner organizations as assets that bring special expertise … added bandwidth … and scalability that further our ability to fulfill our mission. 
Even before the pandemic struck … there were some 40 million Americans with some college and no degree. Many of those students have been to three, four, or five different institutions … and all they have to show for it is debt … and the reinforced belief that they are not college material. 
Yet our own statistics reveal that students typically fail or drop out … not because they cannot comprehend or master the course content … but because "life happens." 
This attrition is both tragic and preventable. Today's technologies allow us to monitor student, faculty, and staff behaviors and progress at granular levels that were unimaginable just a few decades ago. We can and must use that capacity to identify those students most in need … and wrap them in a cocoon of support. 
Another 40 million adults in America have no credentialed post-secondary learning experiences … in a global economy that increasingly demands it. 
Again, these are the students that we must find new ways to help succeed. And if we only operate in traditional ways … we can only expect to get traditional results. 
UMGC's history has taught us that there will always be another disruptor — another pandemic … another volcanic eruption … another tsunami … another global conflict. 
While we cannot predict the future … we can and must do better at future-proofing our institution and its ability to meet students where they are by creating learning experiences that are designed from the start to be of high academic quality … engaging … personalized … and time-and-space agnostic. 
With 180 locations around the world … we are fully committed to building on our long history of service to the U.S. military … leveraging the advantages offered by our global footprint … and using our presence in these communities to reach the civilian populations as well who can benefit from the learning experiences we are developing. 
At the core of every surging river … every breaking wave … is a single drop of water. We will work to create those rivers of change and those waves of progress by transforming lives … one learner at a time. 
This is how we have transformed the lives and families of more than 300,000 UMGC graduates. That is how we will affect change for even more moving forward. 
We can never know where circumstance … disability … or neglect has concealed a transcendent mind … another Stephen Hawking … Helen Keller … Stevie Wonder … or Ludwig von Beethoven poised to change or illuminate our world. 
What we know is that we must help those whose voices have been heard the least … who the status quo has too often left isolated or home-bound, unseen, and unheard. 
It may well be the single mother or father struggling to provide … or the soldier in a war zone who dreams of making a new life for her or his loved ones at home.  
These are the lives we can change. 
From the first, UMGC has said, "Here I am. Send me." 
And we are called to do that once again. 
The challenge before us today is not related to a new learning modality … but new learning experiences. 
A portion of our population needs full degree programs and term-length courses. 
But even more need new skills in short bursts over periods of time as they change jobs and acclimate to them. 
Others need trustworthy institutions to evaluate and certify the learning they have acquired from life experience outside the classroom. 
Similarly, businesses need partners who can rapidly design and develop experiences that upskill employees in alignment with the demands of a competitive, technical, and ever-changing workplace.
To succeed, we must collaborate with those businesses to ensure the workforce is competitive … partnering with community organizations to support more than the academic needs of each learner …  supporting their civic needs and personal aspirations as well.
We must have the courage to stop reinventing the wheel and, instead, build a launch pad for spaceships. 
A few weeks ago, I read an article in the Washington Post that described how seemingly small obstacles are in reality almost insurmountable for many of the learners we are committed to helping — how expenses like daycare, small utility bills, or even the cost of a single bus ticket … can derail hopes and dreams. 
Since the pandemic started, UMGC has distributed more than $620,000 to students in need through its Student Aid Fund for Emergency Relief (SAFER) program … and since its inception, the Pillars of Strength scholarship fund — which supports the volunteer caregivers of injured, wounded, or ill servicemembers — has awarded full scholarships to 51 caregivers … and disbursed more than $700,000 in tuition and fees. 
This is in addition to our normal scholarship programs … some $15 million annually … and the way we allocate these funds reflects our commitment to empowering students who have been traditionally underserved or whose voices have not been heard. 
I am touched and deeply grateful to all who have contributed to the inauguration scholarship fund in my honor … already totaling more than $175,000 … that will go to support students who find themselves facing these types of challenges. 
Thank you from the bottom of my heart for allowing us to continue finding ways to help them. For that I applaud you. 
And we dare not rest on our laurels. Just as the higher education industry and landscape changes, just as the American military continues to evolve, so too must the ways in which we serve our various populations. 
Make no mistake — we will proudly maintain our identity as a public Maryland institution and our focus on serving Marylanders … partnering with our sister and brother institutions in the University System of Maryland … and with businesses operating here … to serve students in every corner of the state, regardless of their proximity to a traditional campus … and ultimately to ensure that Maryland has the skilled and competitive workforce needed to support our dynamic economy. 
This is what we mean when we talk about affordability and accessibility, when we talk about transforming lives, as you have heard here today. 
My life is a testimony that in transforming lives … we transform families.  
And if we can transform families … we can transform communities.  
If we can transform communities … we can transform nations. 
And if we can transform nations … we can transform the world.  
As Nelson Mandela said, education truly is our greatest weapon for transformation, and, I would add, our greatest hope for transformation as well. 
Thank you for your support, for the opportunity to lead this remarkable institution, and for your shared belief in the power of education to transform lives. 
Thank you! And now, let's get to work!