Recipients Helped Their Military Spouses Recover From Devastating Combat Wounds, Illness and Injury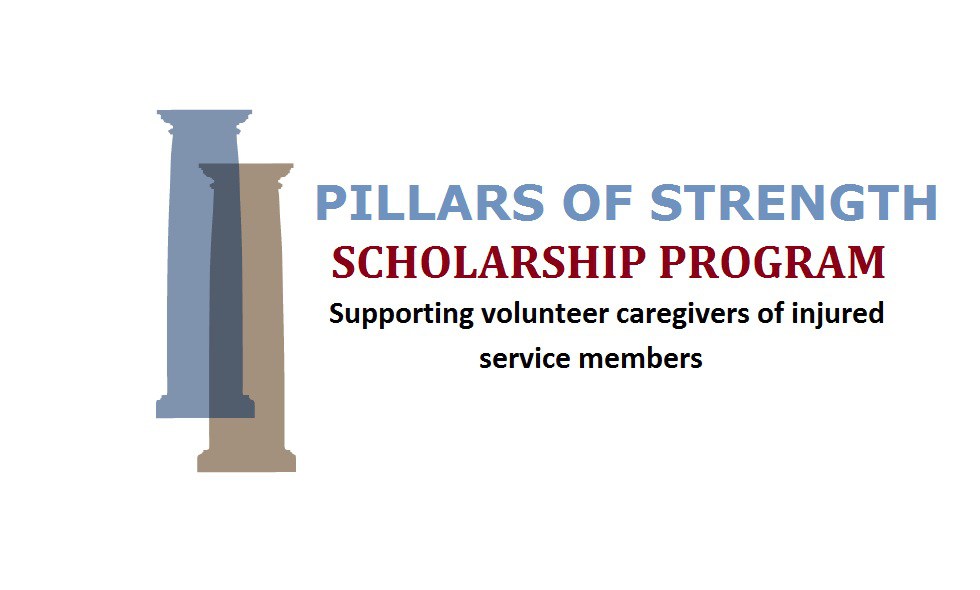 Adelphi, Md. (Aug. 15, 2022)–Eight women who devoted years of their lives to caring for their wounded, ill or injured military husbands were awarded full scholarships to attend University of Maryland Global Campus (UMGC) through the Pillars of Strength Scholarship program, which recognizes the sacrifices volunteer caregivers have made. 
Some of the scholarship winners said they broke down and cried when they learned they would now be able to pursue the education that would open doors in their lives.  
"This scholarship recognizes you as a person who just did the right thing for someone you love," said one recipient, Melissa O'Connell. 
These eight new recipients bring to 59 the number of caregivers who have been awarded Pillars of Strength scholarships since the program started in 2013. The scholarships provide full tuition for as long as the recipient needs to complete a degree. To date, nearly 20 award recipients have earned their degrees. 
UMGC President Gregory Fowler said O'Connell's statement exemplifies why Pillars of Strength is integral to the university's mission. 
"Our relationship with and commitment to the U.S. military stretches back more than 70 years," said Fowler. "Through the Pillars of Strength program, we have the opportunity to transform the lives of those most intimately involved in caring for and supporting those brave men and women who have been wounded, injured, or become seriously ill while serving our country. Their lives of service inspire us, and we are honored to be part of the Pillars of Strength program." 
Richard F. Blewitt, CEO of The Blewitt Foundation, which founded Pillars of Strength, said the progress made by the recipients is testament to the value of the only program of its type "that provides full scholarships to the caregivers of our military heroes." 
"I am so proud of what our recipients are accomplishing and the impact it will have on their families and their communities," he said. 
In addition to UMGC and The Blewitt Foundation, the Pillars of Strength Scholarship program is supported by the National Military Families Association (NMFA). "Caregivers have put their lives on hold to support their military families," said NMFA CEO Besa Pinchotti. "It is an honor to invest in their careers and dreams with the Blewitt Foundation and UMGC."
Caregivers face sleepless nights and endless days of supporting their loved ones in constant pain and recovering from multiple surgeries. They must juggle their children's needs with those of their spouses, keep household finances in order, respond to sudden panic attacks brought on by post-traumatic stress disorder (PTSD) and confront the depression suffered by their formerly active, take-charge family members struggling with a new reality. 
For many caregivers, what often gets lost is a focus on helping themselves and finding their own fulfillment. This year's Pillars of Strength recipients said the scholarships will allow them to capture new opportunities without taking anything away from their families.   
These caregivers envision starting businesses or working from home, opportunities that enable them to be both caregivers and financial providers. Some even see themselves collaborating with other caregivers who seek to be at-home entrepreneurs.
Because caregivers receive few, if any, educational benefits from the federal government, they have a hard time earning degrees while supporting their families. UMGC's fully online programs provide the flexibility to achieve college credit based on their own schedules.   
This year's Pillars of Strength recipients offer sage advice for those in similar situations. 
"Anyone facing this as we did, I say just hang in there," said Oddise Lundy, whose husband barely survived the detonation of an improvised explosive device (IED) that buried him under five feet of rubble in Afghanistan. "Don't give up. Don't quit. Just continue to live to see another day—that's for both the soldier and the caregiver. We don't know what's on the other side of the mountain, but we do know there is another side. So, keep going and find that community that you can lean on in the toughest times." 
Here are the stories of eight remarkable women who are setting off to remake themselves and build the resiliency of their families:
Caitlin Bacus—Along with "Daddy's Little Helpers"–Struggled to Care for Her Seriously Ill Husband and Now is Ready to Invest in Herself
Amber Cerchione Aims to Use Education to Inspire Her Children and Community
Abigail Compton's Business Degree Will Help Her Give Back to Veterans
Rachel Donnatien Sets Example for Her Family through Caregiving—and Now Pursuit of a College Degree
Claudia Escobar is Managing Her Husbands Cancer Treatments While Pursuing Her Education
Oddise Lundy's Odyssey Leads Her from Helping Her Husband to Helping Others
Melissa O'Connell Hopes to Use Education to Establish Home-based Career and Continue Caring for Her Seriously Injured Husband
For Michelle Stoltz, a Master's Degree is Key to Expanding Her Personal Coaching Business
About University of Maryland Global Campus
Currently celebrating its 75th anniversary, University of Maryland Global Campus (UMGC) was established in 1947 to serve adults in the workforce and the military. Today, UMGC enrolls some 90,000 students annually, offering bachelor's, master's, and doctoral degree programs, as well as certificates in more than 125 fully online, hybrid, and face-to-face programs and specializations.
UMGC has a long history of innovation in reaching students where they are, including as a pioneer of internet instruction, piloting its first online classes in 1994. The university has received numerous awards for its groundbreaking work in developing fully online degree programs, including in high-demand fields such as cybersecurity, business, data analytics, health care, and education.
UMGC now offers classes to military service personnel and their families at some 180 locations in more than 20 countries. More than half of the university's students are active-duty military personnel, their families, members of the National Guard, and veterans.