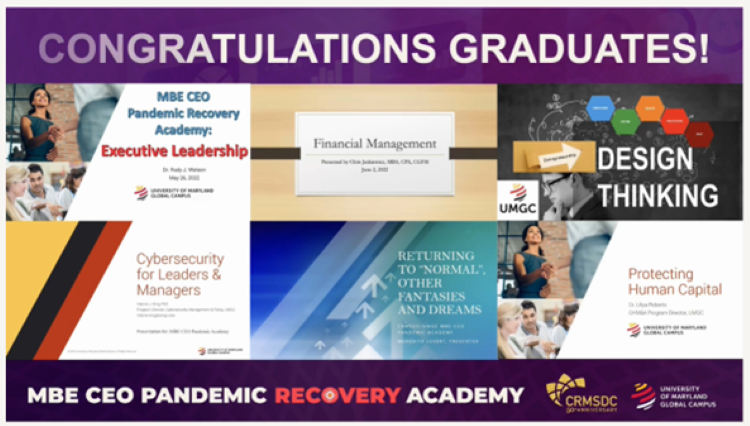 University of Maryland Global Campus (UMGC) School of Business, in collaboration with the Capital Region Minority Supplier Development Council (CRMSDC), recently concluded the inaugural session of its Minority Business Pandemic Recovery Academy.
The academy is designed as a six-week executive education program to help minority business owners, CEOs and presidents navigate the post-pandemic economy. A National Bureau of Economic Research paper found that 41 percent of Black-owned businesses—some 440,000 enterprises—had been shuttered by COVID-19, compared with 17 percent of white-owned businesses.
"The UMGC School of Business is proud to partner with community-focused organizations, such as the CRMSDC," said Pam Carter, PhD, vice president and dean of the School of Business. "These partnerships allow our scholar-practitioner faculty to bring just-in-time knowledge and the benefit of their extensive business experiences to program participants in a learning environment customized for the participant community. The inaugural Minority Business Pandemic Recovery Academy was a success, and we look forward to future collaborations with CRMSDC to develop and deliver business programming having special relevance for MBEs [minority business enterprises]."
During the academy that launched on May 26, 23 minority business executives took part in weekly 90-minute sessions taught virtually by faculty and staff from the School of Business.
Each session addressed a targeted topic, and an industry subject-matter expert shared practical, real-world experience. Topics included executive leadership, financial management, design thinking for business acceleration, cybersecurity for leaders and managers, contemporary issues in human resource management and COVID-19 business practice responses.
CRMSDC advances business opportunities for certified minority business enterprises and connects them to corporate members. The academy was made possible through an MBDA Coronavirus Response and Relief Center grant.
The academy concluded its first program on July 18 with a closing ceremony and certificates of completion for all attendees. Robert Wallace, a member of University System of Maryland Board of Regents, offered his congratulations to the executives as the keynote speaker. UMGC and CRMSDC will work together to plan the academy's second program.