Current Students

|

2022 Spring Stateside Commencement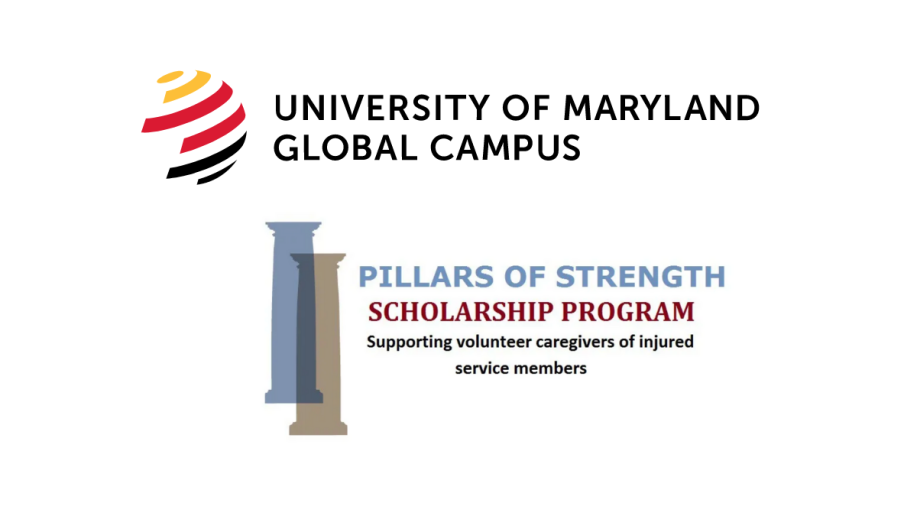 Three of the graduates participating in University of Maryland Global Campus (UMGC) commencement ceremonies last month earned their degrees with the help of Pillars of Strength scholarship program, which are awarded to volunteer caregivers of wounded, ill, or injured military servicemembers. 
Those UMGC scholarships gave the three women the opportunity to rebuild their lives after postponing career and education opportunities to devote themselves to often-unrelenting care responsibilities. The scholarship recipients said Pillars of Strength gave them hope for the future, even though caring for spouses and children while working and taking courses was difficult. 
"It was a challenge," said Erika Auro-Romilla, who took family and medical leave from her job to help her spouse, Natalie Romilla, recover from yet another back surgery. "It was really a juggle. Time management had to be there." 
The surgery was needed because of long-term damage while serving in the Army in both Kosovo and Iraq. During the last two months of her degree program, Auro-Romilla said the work and responsibilities were so great that she thought of deferring a semester—but she pushed through.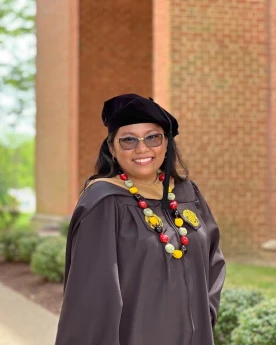 "Nobody saw me," she said. "I was holed up in my office, just writing. But you have to look at the end goal, which was to actually acquire a degree." 
She said the value of her education and the MBA degree is immeasurable. She looks forward to finding a position with better pay, more career advancement opportunities and better hours to help her continue to be a caregiver. 
The Pillars of Strength Scholarships were created in 2013 by Richard F. Blewitt, a UMGC alum and founder and CEO of The Blewitt Foundation, and UMGC. Since then, 51 individuals have received scholarships. Just last year, 12 were awarded at once. Nearly 20 recipients have completed degrees. 
Like Auro-Romilla, Margaret Keelty took part in UMGC's commencement ceremony this month, even though Keelty finished her MBA in 2020. The COVID-19 pandemic forced the cancellation of graduation that year, but being able to participate in the ceremony was important to Keelty because she wants to show her four children—especially her 16-year-old son—that "sometimes the work is hard, but it's worth it."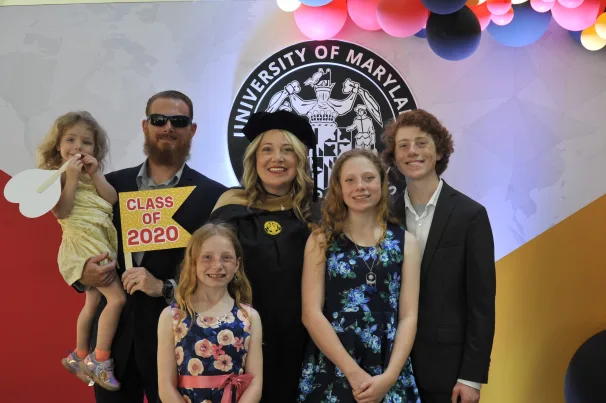 Keelty had been "a typical military spouse," following her Marine Corps husband from base to base, picking up jobs but never creating a long-term career.  When the family was in Okinawa, he developed a non-cancerous brain tumor that sent his body into shock. His pituitary gland doesn't function, and he has not been able to work since.  
"I applied for a scholarship since he was a non-stop Marine since he was 18," she said.   
Adding to the complications of caring for her husband was the news, shortly after she started her coursework, that she was pregnant with their fourth child.   
"When I look back, I wonder, 'What was I thinking' to undertake all of this?" she said. "Now, I wonder, how did I do all of that?" 
Earning the MBA in 2020 accomplished exactly what she wanted. The degree helped her land a position with the Army Contracting Command at the Aberdeen Proving Ground.  
Valerie Lebron-Martinez not only had to care for her Marine Corps husband, who suffered Post Traumatic Stress Disorder and Traumatic Brain Injury when he was hit by an improvised explosive device in Afghanistan but also her daughter, who had been diagnosed with Non-Hodgkin's Lymphoma when she was 3. 
With the help of the Pillars of Strength Scholarship, Lebron-Martinez completed a bachelor's degree with a double major in political science and human resources management. She has a second child, now, a 1-year-old daughter. 
Lebron-Martinez pursued the human resources management major to give her the skills for employment, she said.  But she hopes the political science major will help her realize her dream of getting into politics and becoming a lawmaker from South Carolina someday. 
"I am so grateful for the opportunity to receive the scholarship, which has opened all kinds of doors for me," she said. "I'm so much smarter, and I love that."