Current Students

|

2022 Spring Stateside Commencement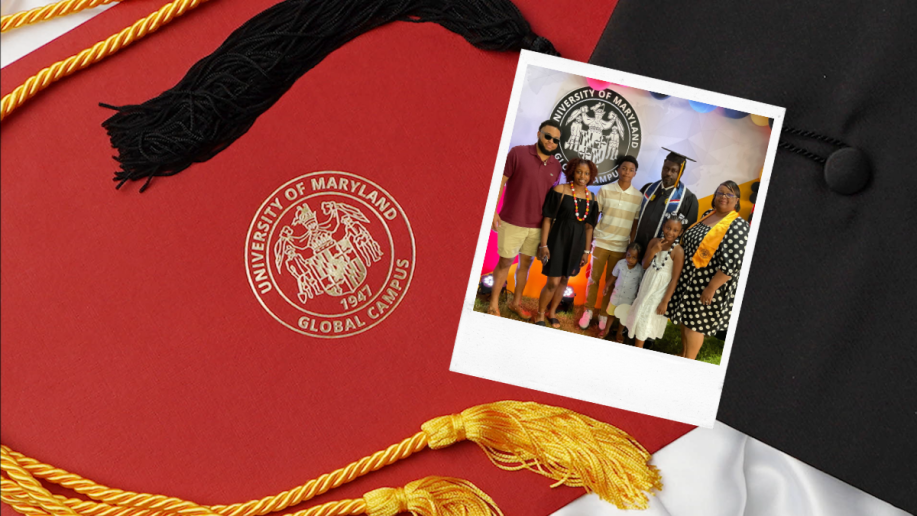 Julius Downing has long been interested in psychology. It gained greater importance when he began looking to it for guidance in balancing the demands of a career in the Navy and the responsibilities of a growing family. 
"I had a lot on my plate. I was dealing with a lot in the military, training to be a Navy Seal, going to school and I was a father. We didn't have cell phones in the early years and sometimes weeks or months would go by when I was on deployments and couldn't talk to my wife," Downing said. "It was hard juggling all that." 
Downing said the psychology courses he took through University of Maryland Global Campus (UMGC) were "like therapy," but the time constraints that came with his job and family life  meant he could only enroll sporadically. 
This month, after more than two decades of off-and-on classes, Downing was awarded a Bachelor of Science in Psychology from UMGC. His five children—accustomed to years of seeing their father studying at night—didn't realize he had completed the degree program until he invited them to his commencement and put on his graduation regalia. 
Downing, who grew up in Chesapeake, Virginia, was in high school when he became interested in a military career and joined the ROTC. Although his school's ROTC was affiliated with the Air Force, he had his eye on the Navy. He worked for a couple of years after graduation and then enlisted. 
While on his first Navy ship in 1998, Downing was introduced to UMGC by way of a course taught by faculty deployed aboard the vessel. 
The years that followed were marked by career advancements and life's ups and downs. The most stressful of the challenging times included a house fire in England that displaced Downing's wife, 4-year-old son Keshawn, and 1-year-old daughter Latoya while he was deployed to Iraq. 
"We lost the house, we lost everything," Downing said. "No one was injured and the military got me on a plane and home within 24 hours. But it was very stressful, and it's when I got really interested in mental health and psychology." 
Later, during a deployment to Bahrain, he learned that one of his sons had diabetes added to the strain, and the psychology courses began to feel like a lifeline.   
In 2018—after 20 years of service—Downing retired from the Navy and moved his family to Virginia. He took a job as a civilian employee of the Department of Defense, managing many of the same duties as he did as a servicemember. It was then that he decided to springboard his interest in psychology into a bachelor's degree and the termination of an associate degree in arts that he had left founder years earlier. 
"I decided that I wanted to study the psychology of gender and cognitive behavior therapy," Downing explained. He was able to test out of some UMGC course requirements and received credit for military leadership classes he had taken.  
"They gave me credit for military schooling. I was preparing to be a military analyst and that preparation went into my transcript. That was huge," he said.  
In the years that psychology classes fed Downing's intellect, sports had fueled his body. He was on the track team in high school then, in the Navy, he coached children in the schools on military bases. He also boxed and played football, rugby, and basketball for the military while stationed in the U.K. and Germany, coached football and basketball at Fort Belvoir and was involved with physical readiness training for Navy Seals. At one point, he even taught aerobic classes to military wives.  
As he headed toward his degree, he saw a way to combine psychology and sports. 
"After years of taking classes, I realized counseling and coaching were my passion," he said. "Today I'm a high school coach, the creator of a nonprofit to mentor youth and I now aim to become a business owner and use my degrees in psychology and art." 
Downing—the kids he trains call him "Coach JD"—plans to use his degree in a youth basketball training and sports therapy program he is launching. He has already been training boys and girls and is especially interested in kids who may not realize the role sports can play in keeping them strong, physically and mentally.   
In thinking about getting a degree in his 50s, Downing said he had a good role model. His father received his master's degree at age 55. Downing now hopes he's paying it forward as an example for his own children, the oldest 23 and the youngest 2.