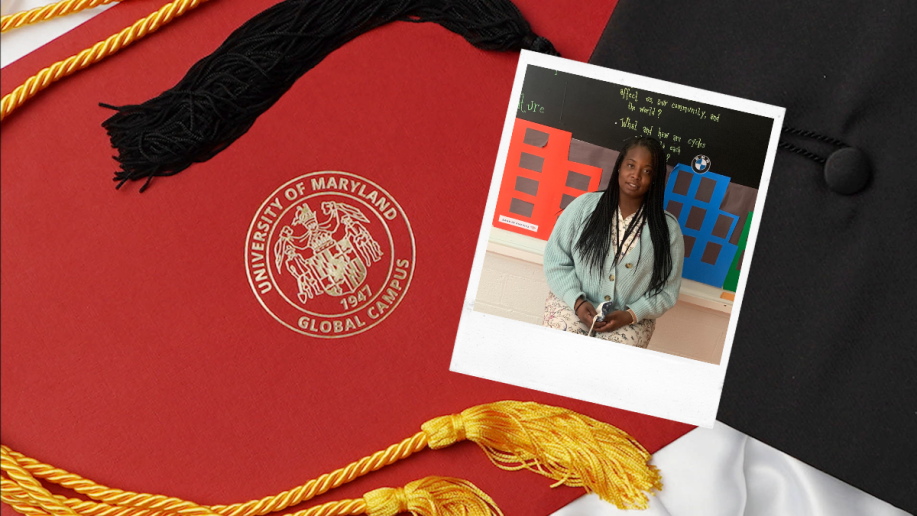 After losing two former students to gun violence, a heartbroken Teneisha Holder decided to walk away from her job as an English Language Arts (ELA) teacher at Dunbar High School in Washington, D.C.
"These were students whose dreams and goals resonated with me because they … believed they were the game changers in their families and they also had a large sense of community," Holder said.
Holder, a 2016 graduate of Howard University, was frustrated with the public school system and wanted to make a change in her life. Determined and motivated, she enrolled at University of Maryland Global Campus (UMGC) in 2020. She has just graduated with her Master of Science in Management with a focus on nonprofit and association management.
"As uncanny as it sounds, enrolling and having the support from my professors were extremely influential in rescuing me from severe depression," Holder said.
As a child, Holder discovered she had dyscalculia, a learning disability that affects her ability to do mathematics. While at UMGC, Holder's professor recommended that she use the university's tutoring services to help her further understand equations and statistics.
During her time at UMGC, Holder became interested in working in the nonprofit world and became involved in educational advocacy with EmpowerEd. EmpowerEd is committed to creating a more just and equitable education system for students in D.C.
"Teneisha brought passion and enthusiasm to the nonprofit management program. Her dedication to the nonprofit sector was evident in all her coursework and in her supportive interactions with others," said Jennifer Wood, Ph.D., adjunct professor of management foundations and non-profit and association management. 
Wood said a statement from Holder during the final weeks of our class captured her student's eagerness to learn while providing "a window into the kindness and compassion she will carry into the world after graduation."
What Holder wrote was: "We may quarrel, disagree or dislike each other but what can we learn from each other and how can that benefit the next generation."  
Currently, Holder teaches at a nonprofit school for students with autism and emotional challenges. With her new degree, she aspires to find a position as a program manager at a nonprofit.
"I think it would be cool to work for an organization that's teaching high schoolers to pursue their ideas and entrepreneurship, [sparking them to say] 'Let me see how I can make this marketable and scale it,'" Holder said. 
The oldest of five children, Holder left some family behind in Miami when she moved to attend Howard University. She stayed in the Washington metro area to begin her career and then found it convenient for graduate school at UMGC. 
Holder hopes to use her master's degree to make a difference in the city she now calls home. She is dedicating her master's degree to the memory of students Ahkii Washington-Scruggs and Richard Allen Bandura, who she says, "kept me motivated and focused."