Kathryn Akinmuyisan's BS in Health Administration from UMGC puts her a step closer to her goals
Kathryn Akinmuyisan's Bachelor of Science in Health Administration puts her a step closer to her goal: to augment a thriving hair business with health and wellness offerings, including group fitness and nutrition.  
"I have my own hair business, Bundled Up Beauties, and now I plan to use my degree to support my fitness business," she said. "Health care and nutrition are what I'm really into." 
Akinmuyisan comes from a family that values education and hard work. Her Nigerian father and Kenyan mother met in, of all places, India, where they were attending university.  
"My family had a church in Nigeria, which they wanted to expand, and so they sought to do this in America," Akinmuyisan said. They won a visa to the United States through the lottery program. 
Through sponsorship from an aunt already in the United States, the family initially moved to Prince George's County, Maryland, and shortly after settled in Columbia, Maryland, where Akinmuyisan's mother became a first-time homeowner.  
Akinmuyisan had the example of her mother. When Akinmuyisan was 9, her mother became a single parent who put herself through nursing school and supported the family. Knowing that her mother didn't have the money to put four children through school, Akinmuyisan joined the Air Force to gain access to higher education and see the world.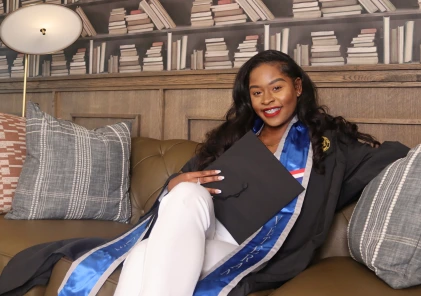 In the military, she began studying for a criminal justice degree, which was not easy.  
"When I initially started school in 2017, I was working from deployed locations in Europe and Africa," she said. "Often, I didn't have Wi-Fi, so I just got my time in whenever I could go to a hotel." 
It was during her time in the Air Force that Akinmuyisan saw an opportunity to start a hair business. "There were a lot of women around me in the military who were having trouble finding hair extensions and products they needed," she said.  
When she was honorably discharged in 2019, she decided to pursue a health administration degree at University of Maryland Global Campus (UMGC) to build out her expanding hair business with health and fitness. "People kept asking me questions about fitness since I was in the military so I decided to pursue my all-around interest in wellness and just helping people be the best they can be," she said.  
At 26, Akinmuyisan is looking forward to a bright future. She and her partner are thinking about starting a family, and she aims to establish herself firmly in the health care and wellness space, eventually pursuing a master's degree in a health-related area. "Whatever I do, I want to incorporate nutrition because what you put into your body is so important," she said. 
Coming from a supportive family that values higher education, Akinmuyisan never thought twice about pursuing her degree and her dreams. To others who might be having doubts about education or their career path, she advises, "Just make a plan and do it, because if you don't, you're going to have regrets."