Current Students

|

2022 Spring Stateside Commencement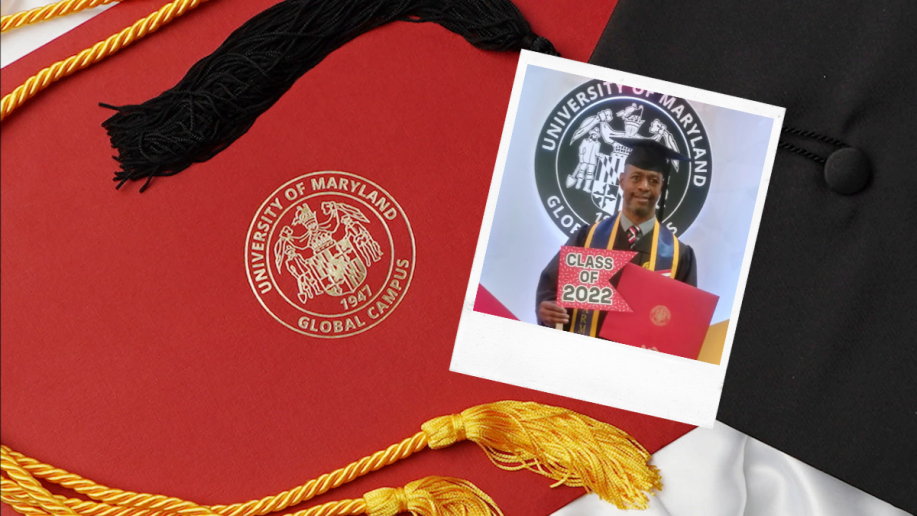 Aaron Burr's Bachelor of Science in Management Studies from University of Maryland Global Campus (UMGC) was long in coming. He received it in May—in tandem with an Associate of Arts with a focus on business management—37 years after taking his initial college course at a military base in Germany, his first active station with the U.S. Army.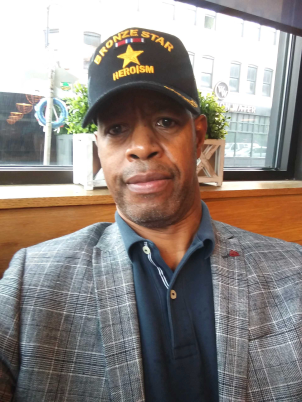 In the years between, Burr deployed to Albania, Hungary, Iraq, Kuwait and Bosnia and Herzegovina. He took leadership training courses in various locations. But most of his time in the military was spent in Germany and that is where he remained as a civilian employee of the Department of Defense when he retired in 2005 following 21 years of military service.  
Burr was born in central Louisiana in 1965 to a hard-working Black and Native American family. His father worked at a Holsum Bread factory and his mother was a nursing assistant, but money was always tight.   
"Growing up during the civil rights movement was quite interesting. I went to a segregated school all the way up to fourth grade," Burr said. "I knew back then that I wasn't getting the full blast of education and I felt deprived, even as a young child. 
"My parents were seeking ways of getting me and my sister out of that environment and to expand our opportunities," he continued. "In my fifth-grade year, my sister and I broke some barriers when we were bused across our city to a school that was not segregated."    
At 17, two other life-changing things happened. Burr and his high school sweetheart became parents to a son, Jonathan, and Burr enrolled in the junior ROTC program at his high school.  
"Our school's program was with the Marine Corps and it was through it that I became interested in military service. The job opportunities where I was were not so good otherwise, and I wanted to be able to provide for my son and set him up for success," Burr said. "As much as I enjoyed the Marine Corps program, I had more interest in the U.S. Army. So, at age 19, my senior year, I contacted the Army recruiter." 
He took a year off after graduation to spend time with his young son then began his Army service in May 1984. He began training as a tactical communications specialist at Fort Sill in Oklahoma. From there, he joined an Army unit in Nuremberg, Germany.  
"In December of 1984, when I arrived in Germany, my platoon sergeant was talking to me about education. They were correspondence courses then. You went to the education center, signed up for the course, read the materials, took the exam and then went to the education counselor to have your records updated," Burr said. "I knew education would help me get promoted in the Army, develop me as a leader, and make me more marketable." 
Over time, Burr decided to pursue an associate degree in business management. The correspondence courses evolved to include in-class and virtual learning, as well as hybrid classes that combined a bit of both. At some point, Burr expanded his ambition to a bachelor's degree at UMGC. Many of his previous course credits transferred to the degree program. He was also pleased to receive credit for his military certifications.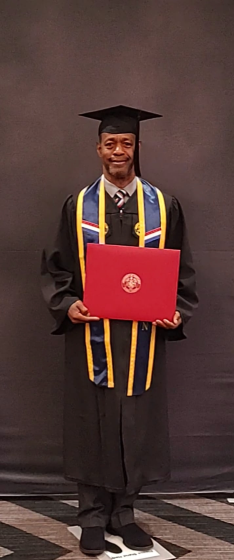 In 2018, Burr accepted a stateside position as a logistics management specialist and item manager with the U.S. Army TACOM Integrated Logistics Support Center, in part so he could spend more time with his son, who has homes in Texas and Florida, and his 9-year-old granddaughter and 1-year-old son. By the time he relocated to Natick, Massachusetts, for the new assignment, Burr had been in Germany for 28 years, more time than he had ever lived in the United States.   
TACOM's Integrated Logistics Support Center supports warfighting readiness for U.S. forces by handling repair-parts planning repair and supply chain management for more than 3,500 weapons systems. Burr writes and processes procurement contracts, does budget analysis, and oversees the readiness of a multitude of systems that are positioned and used around the globe.  
He said the business management degree "equips me with tools to better manage human capital and personnel readiness and accountability."   
Burr's mother, Gloria Vinson, traveled from Louisiana to the UMGC graduation ceremony to watch her son become the first member of the family to receive a college diploma.  
"I thought the ceremony was awesome," Vinson said. "It was an experience I had prayed for, to see him walk down the aisle and hear him called up on stage." 
Burr, 57, said there is power in accomplishing something you've wanted for a long time. 
"It doesn't matter how long ago I started. The important thing is that I was able to complete what I started 37 years later," he said.