Twenty-five Years and Seven Children Later, Determined Mother Celebrates Her Bachelor's Degree
2022 Spring Stateside Commencement

|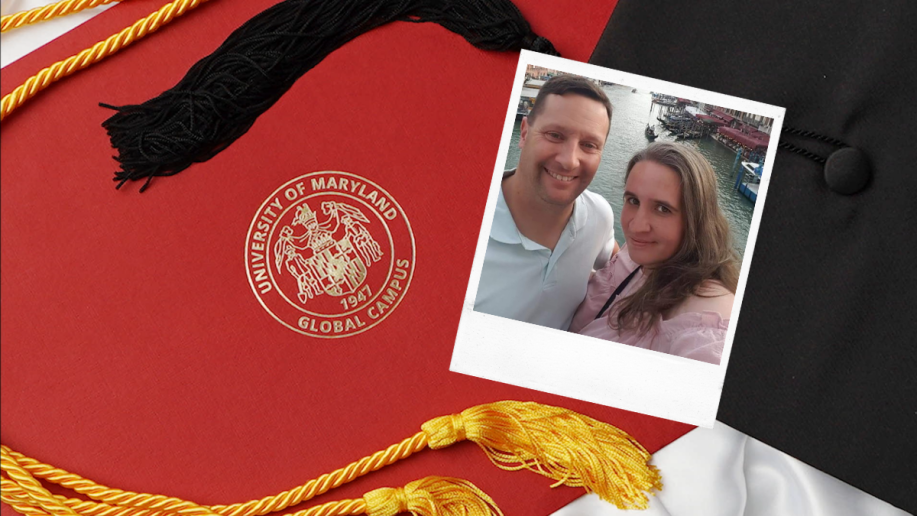 Kelly Beech put her college education on a l-o-o-o-o-n-g hiatus. 
Unmotivated by her studies, she dropped out of a community college after a year and married her high school sweetheart just as he enlisted in the Army nearly 25 years ago.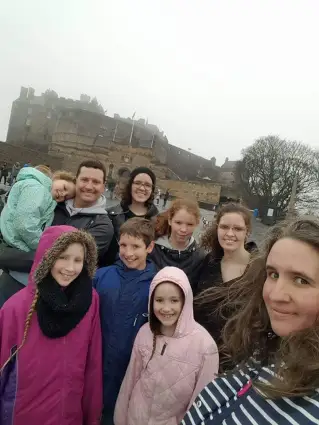 What followed were seven children – a boy and six girls – born as the expanding family traveled from military base to military base in the United States, Germany, and the United Kingdom. Dissatisfied with the education available, she home-schooled them all for years, including a daughter with learning disabilities – dyslexia, dysgraphia, and dyscalculia. 
Then Beech started thinking about going back to college. As the first in her family to attempt to go to college, she really didn't know how to navigate higher education.  But then another military spouse, who was a good friend, talked to her about the classes she had taken at University of Maryland Global Campus (UMGC). At the same time another friend, also a prior military spouse, was just finishing up her degree.  
Could Beech afford it? Could she do it and still help her children go to college? 
"My friend told me the UMGC classes were good quality. They weren't just handing out pieces of paper," she said. "There is enough rigor, but it's manageable enough. I thought if they could do it, I could do it, and that's how I started." 
Beech knew she loved graphic design and she would take some classes and see how it went. 
Enrolling in the fall of 2018, Beech didn't lollygag.  She took a full set of four classes every semester working toward a bachelor's degree in digital media and web technology with a minor in human resources. One semester led to another and soon she had an associate degree, then an undergrad certificate in Human Resource Management, and was going full steam toward graduation for a bachelor's degree.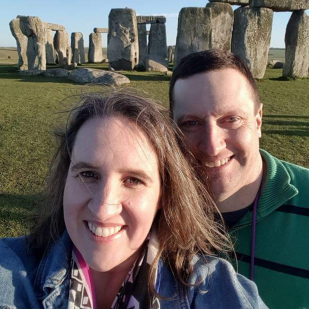 After years of doing all of the work for the family, she said she realized she couldn't keep that up and still complete the classes. 
"At Christmas of 2018, I went on strike," she said. "I stopped cooking dinner. I realized that school was hard. There's a lot of writing. It was a bit of a shock to them, but my husband and my oldest daughter learned to cook." 
She said she learned how to determine exactly what had to be done to get an A for each course. She also learned how to take advantage of the "tons of resources" UMGC offers students.  
She ended up with a 3.968 GPA. That was one B in a Spanish course.  As a bit of an overachiever, she thought about taking the class over to earn an A and end up with a perfect 4.0-grade point average, but her friends convinced her it wasn't necessary.  
Her experience at UMGC was so rewarding, she said, that she has encouraged her children and husband to attend. She taught her two oldest daughters and husband her techniques of learning and managing online coursework.  
And what Beech learned, especially in her human resources classes, already has paid off in her work as a store administrator for a Safeway supermarket, where she handles recruiting, hiring, employee orientation, and training. 
"A lot of the things I learned have been helpful in my current role in understanding the way people think and process things," she said. 
When her commencement regalia arrived with all of the attachments for honor societies, she told her son, "This is for graduating in the top 10 percent." 
"That's so cool," he replied. 
Her children being able to witness her accomplishments is one of the great rewards. 
But the journey to get her degree had its own rewards, she said. 
"I waited until I was in my 40s to finish," she said. "But you can do it. It doesn't matter how old you are, and it doesn't matter if you didn't know what you wanted to do when you were 21. My degree is in a subject that is nowhere near what I thought it would be when I started at community college, and that's OK."