Current Students

|

2022 Spring Stateside Commencement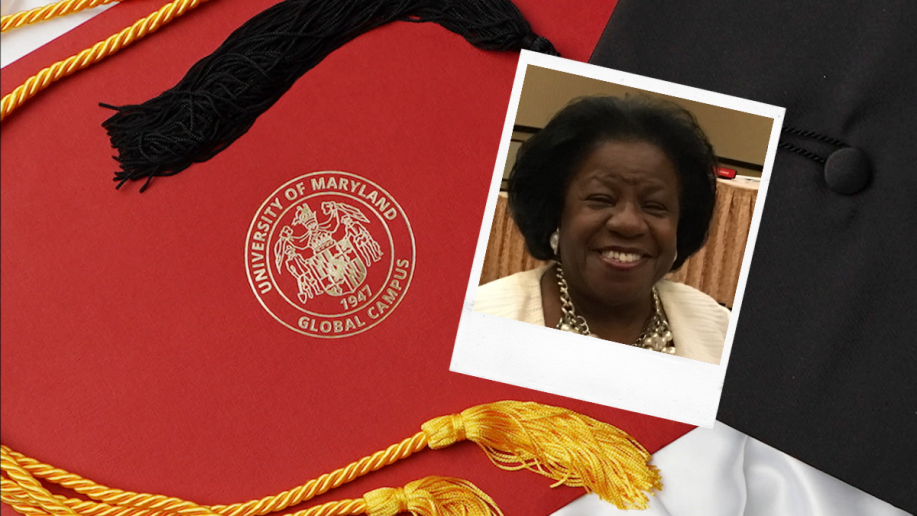 When Mae Beale returned to school in her late 70s to pursue a Bachelor of Science in Business Management, she had already spent several years in a career as a licensed practical nurse (LPN). Others in her shoes might have faced this decision with trepidation. Instead, the Howard County, Maryland, resident jumped in with purpose and confidence.  
Of the decision to study at University of Maryland Global Campus (UMGC), she said, "I discovered that I had to be intentional about it and make it my priority."  
Over her long career as an LPN in Washington, D.C., Beale worked at health care and government agencies in the area, including Children's National Hospital, the National Naval Center (now Walter Reed National Military Medical Center), the Washington VA Medical Center Hospital, and later joined the Department of Health and Human Services. It was at the Department of Health and Human Services' Centers for Medicare and Medicaid where Beale's career pivoted toward business and event planning.  
"My supervisors thought I had something special," she said. "When I was working at the Centers for Medicare and Medicaid Services, I organized some large events and everybody was impressed with it, so I started coordinating their IT information conferences."  
In 1994, Beale established her own event planning business, In Grand Style, and started working toward her associate degree in Business Management at Howard Community College. As a member of several local boards and as someone who is deeply involved in her community, Beale has always enjoyed business, building relationships, and organizing. She has spent the past 40 years supporting her Howard County, Maryland community through activism, civic engagement, and volunteering.  
So, after getting her associate degree, Beale decided to enroll at UMGC and work toward a bachelor's degree, one class at a time. "I wanted to make certain I had the time to devote to whichever class I was taking," she said. "I was like the tortoise. Slow and steady wins the race."  
Beale's dedication to putting her best into each class paid off. She made the Dean's List several times at UMGC and graduated with honors, a major accomplishment for her.  
At UMGC, Beale devoted much of her time to helping others. For four years while she pursued her degree, she served on the UMGC Student Advisory Council. Even after she finished her coursework, she continued as an ex-officio member until her term ended in December 2020. In January 2021, Beale was honored as Volunteer of the Month. 
Well into her retirement as a licensed practical nurse, and now as a community advocate with her Bachelor of Business Management in hand, Beale is busier than ever. She has joined a few more local boards, including those of the Howard County, Maryland Tourism and Promotion, the Restaurant Association, the Festival of the Arts, and the Columbia Bright Minds Association.  
With her degree, Beale already feels a greater sense of respect. "I knew that if I had the degree, it would solidify things and make me feel more comfortable," she said. 
Beale was fortunate throughout her career to have the support of a loving husband and son. "I tell everyone my husband allowed me to be me," she said. "Whatever ambition or whatever I was doing, he was always my biggest, encourager and my biggest motivator." Beale's husband passed away several years ago, but her son remains one of her biggest supporters.  
To others who may be on the fence about pursuing higher education, Beale says to do what makes your heart sing. "Expose yourself to as many possibilities as you can because you never know what life will present."