Current Students

|

2022 Spring Stateside Commencement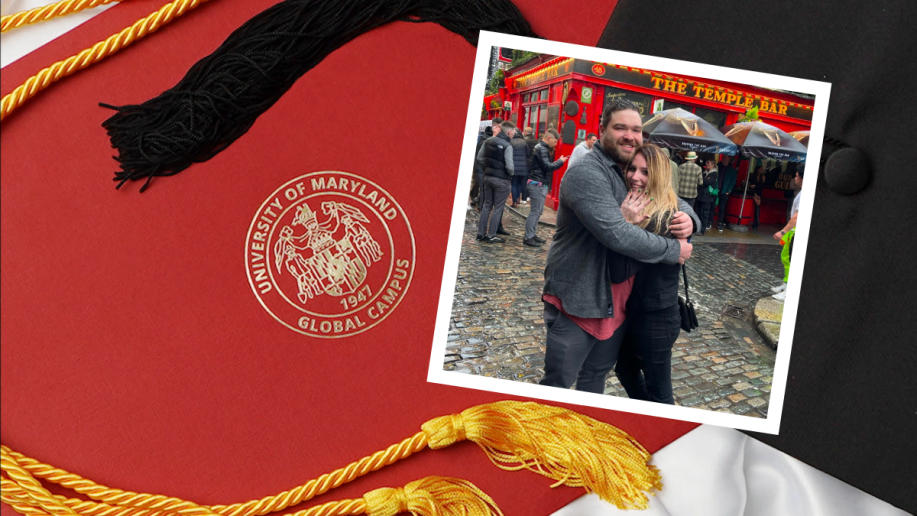 Mike Kelly was about at rock bottom. 
Born and raised in Maryland's Calvert County, Kelly, 32, was forced to leave Catholic University before graduation because of family financial problems. He had a lot of debt he could not repay and no degree. He decided to see what he could do without a degree and landed a position in security at UMGC. 
He liked the people, and the work was okay. But he became more and more unhappy because he could not see how he would ever be able to advance into meaningful, well-paying work without a degree. He said he had hit "a brick wall." 
"He felt like he was in a dead-end job and everything was dead, and he didn't know what to do," said George Trujillo his supervisor. His attitude was beginning to affect his job. 
To make matters worse, Catholic would not release his transcript until he did something about the unpaid debt, so he could not transfer credits to work on a degree.  
And then the house he had just bought burned down, leaving him with nothing. Even his cat died. 
All he wanted, he said, was to earn enough money to support a family comfortably. 
Oddly enough, the loss of the house may have turned his life around. 
As he worked to rebuild it, he made himself his own project manager, working on all of the specs and details in the construction. 
"I ended up finding a love for project management," he said.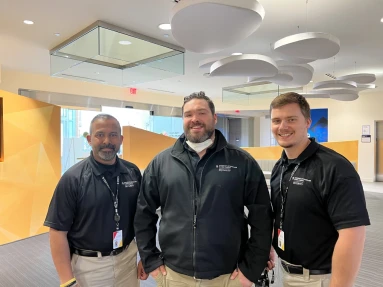 Trujillo said he talked with Kelly about what was bothering him. When he learned that Kelly was frustrated by his job but was fascinated with project management, he connected Kelly with George Theoharis, UMGC's senior project manager, under a mentorship program designed to help employees grow in their jobs. 
Theoharis counseled him about the basics of commercial project management, which whetted his appetite even more. Since pursuing a regular degree was closed to him because he could not get the Catholic credits, he launched into a certificate program in project management. 
"I was getting A's and absolutely loving it," Kelly said. But he still wanted that bachelor's degree. What to do? 
"I just came up with the idea that I would write the president of Catholic University," he said. "I told him the whole situation of the problems with my dad's credit, and how I just want to be able to get ahead in life. I didn't think anything would come of it, but in a couple of days, I got an email back, and it was authorization to release my credits. I'll be honest with you. I broke down in tears." 
With those 60 credits, he was just a year-and-a-half away from a UMGC degree in business management, the closest bachelor's degree that would help him in project management. 
Trujillo saw the change in Kelly's demeanor.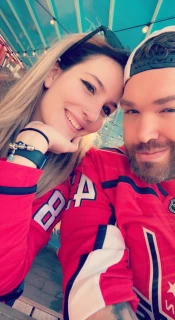 "He took off like a rocket; he started taking all kinds of classes," he said. "And his GPA is something like 3.98.  And you just saw this whole new transformation. He was outgoing, happy and giddy about the classes." 
With graduation approaching, Kelly already has landed a new job with a contracting firm working for the Department of Defense, doing risk assessments for the Navy. His job is to find the active and passive risks before they become a threat that would throw a project off track. The job has great potential for growth. 
Kelly praised the support he had received from UMGC's administration from President Greg Fowler on down. 
"What I loved about them is that even in a position of higher power, they always treated us with respect, as a human being and not as another worker," he said. "It's one thing that can really help somebody." 
Kelly said his story shows that people can come from most any background and still succeed in accomplishing their goals. 
"Sometimes it's the people you least expect that can make the biggest impact," he said. "It's not where you come from but how hard you work.": 
Trujillo said Kelly's gain is UMGC's loss. 
"I can't wait to see him at graduation in May," he said. "The worst part is turning over one of my best security guards. I hate losing him. But I understood 1,000 per cent."