Current Students

|

2022 Spring Stateside Commencement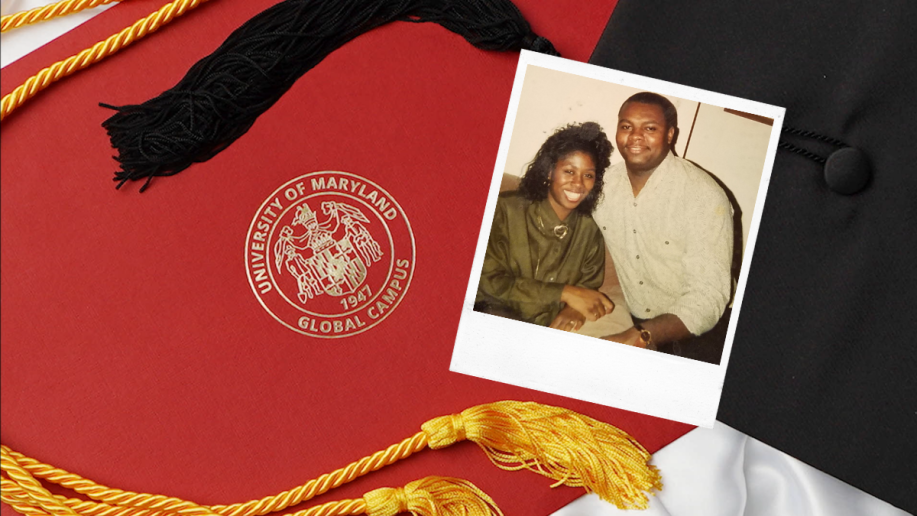 LaSharn Newbill took the End of Life: Issues and Perspectives course at University of Maryland Global Campus (UMGC) as one of her electives en route to a bachelor's degree. Little did she realize how quickly she would use its lessons. 
"The most challenging aspect of my journey to my degree was not the classes. It was dealing with life's obstacles," said Newbill, who is celebrating her new Bachelor of Science while acknowledging the gut-splitting loss that accompanied it. 
Newbill was in her second semester at UMGC in early 2019 when her husband died suddenly, a trauma that threw her own health into turmoil and eventually prompted her to sell their home and move, another upheaval. His death was not the first daunting hurdle of her academic journey. Nor the last. 
Newbill had returned to school at age 50 so that she could advance her career at ExamOne, a company of Quest Diagnostics, a national medical laboratory.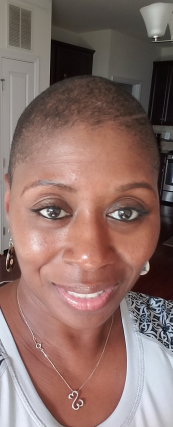 "There was position I wanted and I had all the qualifications for it and I had worked hard for it. All of a sudden I learned I couldn't get the job without a degree in research science, laboratory science or biology ," Newbill said. "They told me to go and get a degree and they would consider me when the job opened again."  
A TV commercial for UMGC persuaded her that the university's online classes—including forensic biology—and flexible scheduling would be a fit for her. She also liked that she could receive credit for past courses taken at another academic institution.   
Even a medical diagnosis that required Newbill to undergo brain surgery did not derail her plans. Newbill was still recovering when she began her first semester of classes. Among other things, the recovery included bouts of memory loss.  
She said her professors were not only accommodating and patient, but they also encouraged her, something she credits for building her drive to continue her studies. She mustered that same resolve when diabetes, depression and an auto-immune disease surfaced after her husband's death. And again when she put the couple's home up for sale and moved. 
Newbill's husband, James, had juggled serious medical concerns before she decided to enroll at UMGC. But he had beaten a health scare, was recovering from a kidney transplant and was on the road to recovery by the time she started classes.  
Then things changed midway through Newbill's first semester. 
"In October of 2018, my husband lost a lot of weight. By December he was very sick and in and out of the hospital. But then they released him in December and we thought he was doing better," Newbill recalled.  
At that point, she jumped into her second semester of classes, which included the End of Life course recommended by her professors and adviser.   
"Suddenly I realized that I was taking the class while living through all the steps in it—the trips to the doctors, the tests, the in-and-out of the hospital and then the news he was dying," she said. "That course carried me through his death." 
The couple had been together 33 years, since Newbill was 18 years old, and James' death devastated her. Still, she took only a short time off from school before pushing forward, one class at a time.   
As much as he was in her thoughts, the couple's "big house and all its memories" left her unsettled. So, she put the home up for sale and made plans to move, still keeping on track for her degree. 
"I moved in September 2020, during the pandemic, during school," she said. The move was not a smooth one. COVID-19 has caused upheaval in the housing market and she ended up living in a hotel for more than a month while she waited for the closing on her new home.   
The move, a grueling work schedule and Newbill's health challenges took their toll.  
"I was about to quit UMGC. And then that UMGC commercial came on TV again," she said. "I told myself, 'You've only got one more year to go. Don't be a quitter, don't be a quitter.'" 
Newbill completed the program. She has advanced at ExamOne. Her health is back on track. And she's planning a post-commencement vacation in Dubai, a trip that she and her husband talked about but never were able to take. 
"I'm moving forward. I'm striving for a new beginning when I cross that stage for my diploma," she said.