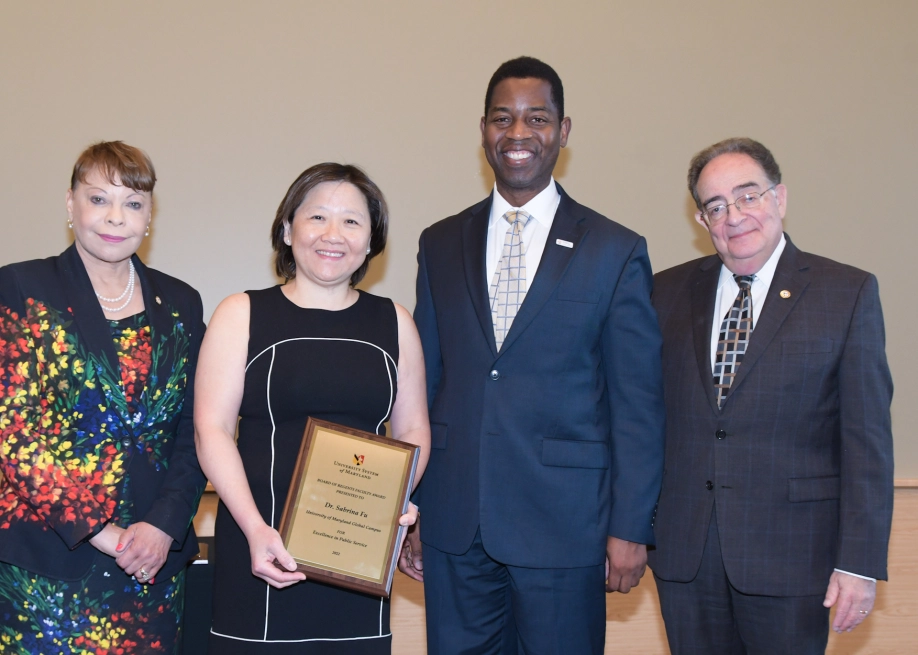 Adelphi, Md. (April 29, 2022)—The University System of Maryland (USM) Board of Regents today honored 17 members of its faculty at institutions across the system–including two from University of Maryland Global Campus–with 2022 USM Regents' Faculty Awards.
UMGC's Celeste McCarty, professor of psychology, was honored with the "Excellence in Teaching" award, while Sabrina Fu, Ph.D., collegiate professor and program director for Environmental Science and Management, was recognized with the "Excellence in Public Service" award.
"It is a pleasure every year to recognize these outstanding faculty members," USM Board of Regents Chair Linda R. Gooden said. "I am especially grateful for their dedication throughout the many phases of the pandemic and pleased we can plan to recognize them in person, thanks to the work our campuses have done to keep their communities safe."
Each award carries a $2,000 prize provided by the institutions and the University System of Maryland Foundation.
"The bedrock of the University System's quality, its prominence, its power to transform lives and change the world is, quite simply, our faculty," said USM Chancellor Jay A. Perman. "It's a privilege to be able to honor them and celebrate what they make possible every day—possible for each individual student and for the body of scholarship that advances our progress and deepens our humanity."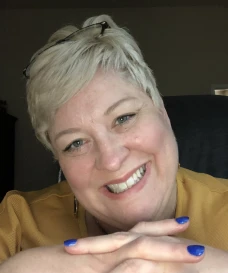 Celeste McCarty
Professor McCarty has taught for UMGC in the U.S. and on military bases in Asia. According to her nomination, McCarty's approach to teaching is characterized by her use of real-world examples to bring the classroom to life.  Her classroom management style is defined by her responsiveness, actively engaging with students to ensure their development, progress, and success.
Her nominating letter also notes that McCarty focuses on discussions and assignments that help develop advanced critical thinking skills, psychological and clinical skills, and sound research methodology. She helps students become good consumers of information.
McCarty has received numerous awards for her teaching, including the Stanley J. Drazek Teaching Award, the highest recognition awarded at UMGC for excellence in teaching.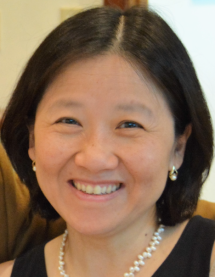 Dr. Sabrina Fu
According to Dr. Fu's nomination, she is the founder and inaugural regional coordinator of the Howard County Citizens Climate Lobby chapter, where she focuses on issues related to growth and environmental science-related service. She organizes public events, meetings, and presentations, as well as opportunities to lobby public officials. She is also a coordinator for the Mid-Atlantic Region of Citizens' Climate Education, where she helps to empower diverse voices to talk to Congress about solutions to address climate change. She also is a Watershed Steward for Howard County.
Dr. Fu is a recipient of the U.S. Environmental Protection Agency's prestigious People, Prosperity, and the Planet award, where she was recognized for using her environmental science expertise and her passion for community engagement to make the community a better place.
The USM Regents' Faculty Awards are the highest honor presented by the board to exemplary faculty members. In addition to teaching and public service, the awards honor excellence in mentoring, research, scholarship or creative activity, and innovation.
About University of Maryland Global Campus
Currently celebrating its 75th anniversary, University of Maryland Global Campus (UMGC) was established in 1947 to serve adults in the workforce and the military. Today, UMGC enrolls some 90,000 students annually, offering bachelor's, master's, and doctoral degree programs, as well as certificates in more than 90 fully online and hybrid programs and specializations.  
UMGC has a long history of innovation in reaching students where they are, including as a pioneer of internet instruction, piloting its first online classes in 1994. The university has received numerous awards for its groundbreaking work in developing fully online degree programs, including in high-demand fields such as cybersecurity, business, data analytics, health care and education. 
UMGC now offers classes to military service personnel and their families at some 180 locations in more than 20 countries. More than half of the university's students are active-duty military personnel, their families, members of the National Guard and veterans.