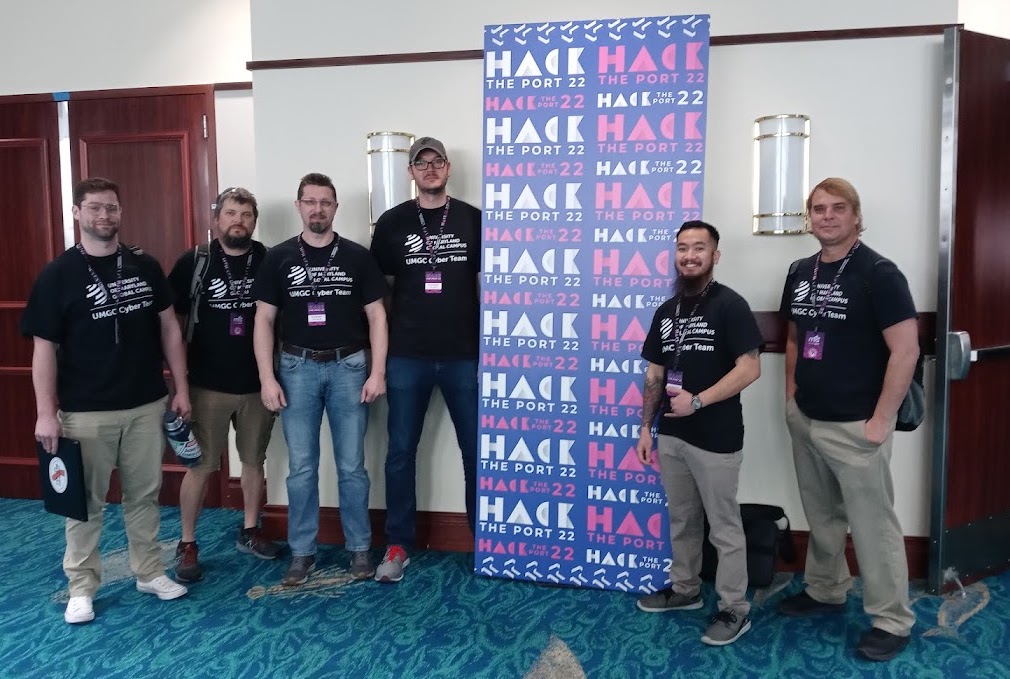 Adelphi, MD — The University of Maryland Global Campus (UMGC) cybersecurity competition team earned a bronze award at the Hack the Port 22 Virtual and Live Maritime and Control Systems Cybersecurity event, finishing behind first-place Northeastern University and second-place Texas A&M University. For its accomplishment, the UMGC team was awarded a monetary prize of $3,000.
The event, which took place in Fort Lauderdale, Florida, from March 21-25, was hosted by the U.S. Cyber Command and its innovation and prototyping partner, DreamPort. The competition featured teams from more than 30 universities nationwide.
Jesse Varsalone, associate professor of cybersecurity technology, coached the five-member UMGC team. Team members were Joshua Taylor and Artem Asoskov, undergraduate students majoring in computer network and cybersecurity; Scott Horner, an undergraduate majoring in Business Administration; Raiden Redila, an undergraduate in cybersecurity policy and management; and Team Captain Michael Frauenhoffer, a graduate student in the UMGC Cyber Operations Program.
"It's notable that all five UMGC team members have earned their CompTIA Security+ certification and two-thirds of the team is currently working in the field of cybersecurity, which puts us in a strong position for success," said Varsalone.
During the event, teams either chose to participate as attackers, known as "red teams," or defenders, known as "blue teams." Red teams attacked the critical infrastructure of the port, including gates, trains and ships. Blue teams tracked down and thwarted the actions of the attackers.
"We chose to defend primarily because a large majority of the jobs in the field are associated with defending networks, so establishing that position offers our students an opportunity to gain real-world experience that best reflects the cybersecurity professional landscape," said Varsalone.
Participating schools included Bowie State, Florida Institute of Technology, Fordham University, Georgia Institute of Technology, Kennesaw State University, Naval Postgraduate School, New York University, Norfolk State University, Northeastern University, Pennsylvania State University, Stevens Institute of Technology, Texas A&M University, The Citadel, Towson University, and the United States Naval Academy, among others.
Established in 2012, the UMGC cybersecurity competition team is composed of students, alumni, and faculty who compete regularly in digital forensics, penetration testing, and computer network defense scenarios that help them gain experience to advance their cybersecurity careers. To prepare for competitions, students detect and combat cyberattacks in the university's Virtual Security Lab and work through case studies in an online classroom.
Through its history, the UMGC team has received numerous top honors, including recent first-place finishes in the 2021 Maryland Cyber Challenge and the 2020 MAGIC, Inc. Capture the Flag competition and a second place finish in the 2012 Global CyberLympics.
About University of Maryland Global Campus
Celebrating its 75th anniversary in 2022, University of Maryland Global Campus is a world leader in innovative educational models with award-winning online programs in biotechnology, cybersecurity, data analytics, information technology and other high-demand disciplines in today's increasingly technical, global workplace. With an enrollment of some 90,000 students, UMGC offers open access with a global footprint and a specific mission—to meet the learning needs of students whose responsibilities may include jobs, family and military service. The university offers both undergraduate and graduate degrees and certificate programs, including doctoral programs. A pioneer in distance education since 1947, UMGC is harnessing the power of learning science and technology to deliver accessible high quality, low-cost higher education.