Leading Association for Professional, Continuing and Online Education Recognizes UMGC's Efforts to Support a Culture of Academic Integrity and Accountability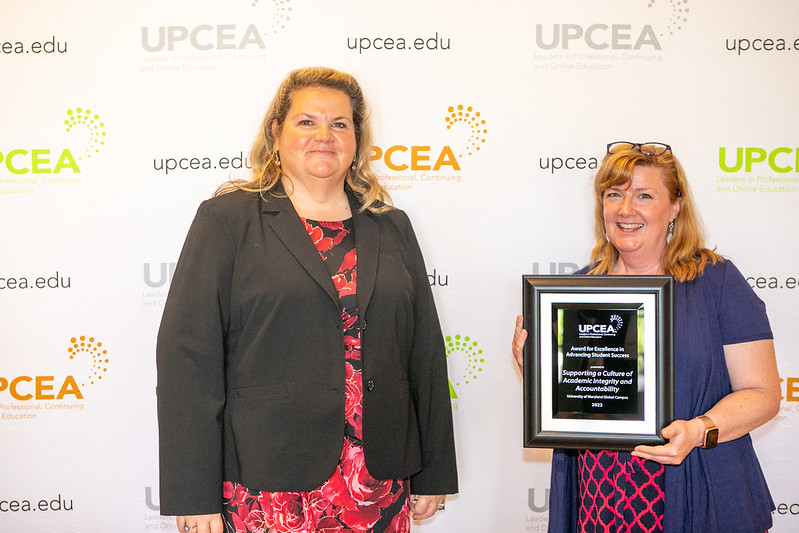 Adelphi, Md. (April 27, 2022)—UPCEA (the University Professional and Continuing Education Association)—the leading association for professional, continuing, and online education—announced that University of Maryland Global Campus (UMGC) was recognized with the UPCEA Award for Excellence in Advancing Student Success for supporting a culture of academic integrity and accountability.
"UMGC's holistic approach to creating a culture supportive of academic integrity is a great source of pride," said Blakely Pomietto, the university's senior vice president and chief academic officer. "Our developmental approach, which focuses on building skills that are applicable academically and to the practice of professional ethics in the workplace, is a direct extension of our open access mission and our commitment to accountability and workforce readiness.
"The team in our Office of Academic Integrity and Accountability exemplifies UMGC's learner-centric focus and supports our efforts to keep students engaged and progressing toward their academic and professional goals," added Pomietto. "I am so proud to see their work recognized on a national stage."
Since 1953, UPCEA has recognized its members' outstanding contributions to the Association and the field, as well as their achievements in innovative programming, marketing and promotion, community development and services, research and publications and many other areas.
UMGC was honored at the 2022 UPCEA Annual Conference, held April 11–14 in Orlando, Florida.
"The exceptional submissions for this year's awards exemplify the breadth and depth of the impact our members continue to make on higher education," said Tanya Vincent, program manager for Online Student Services at Western Kentucky University and co-chair of the UPCEA Awards Committee. "We congratulate and recognize each of this year's recipients for the myriad ways they serve today's learners and the online and professional continuing education field."
About University Professional and Continuing Education Association (UPCEA)
UPCEA is the leading association for online and professional continuing education. Founded in 1915, UPCEA now serves the leading public and private colleges and universities in North America. The association supports its members with innovative conferences and specialty seminars, research and benchmarking information, professional networking opportunities and timely publications. Based in Washington, D.C., UPCEA builds greater awareness of the vital link between adult learners and public policy issues. Learn more at upcea.edu.
About University of Maryland Global Campus
Currently celebrating its 75th anniversary, University of Maryland Global Campus (UMGC) was established in 1947 to serve adults in the workforce and the military. Today, UMGC enrolls some 90,000 students annually, offering bachelor's, master's, and doctoral degree programs, as well as certificates in more than 90 fully online and hybrid programs and specializations.
UMGC has a long history of innovation in reaching students where they are, including as a pioneer of internet instruction, piloting its first online classes in 1994. The university has received numerous awards for its groundbreaking work in developing fully online degree programs, including in high-demand fields such as cybersecurity, business, data analytics, health care and education.
UMGC now offers classes to military service personnel and their families at some 180 locations in more than 20 countries. More than half of the university's students are active-duty military personnel, their families, members of the National Guard and veterans. ###