Amazon's Career Choice Program Now Provides Full Tuition to Learn New Skills for Career Success at Amazon or Elsewhere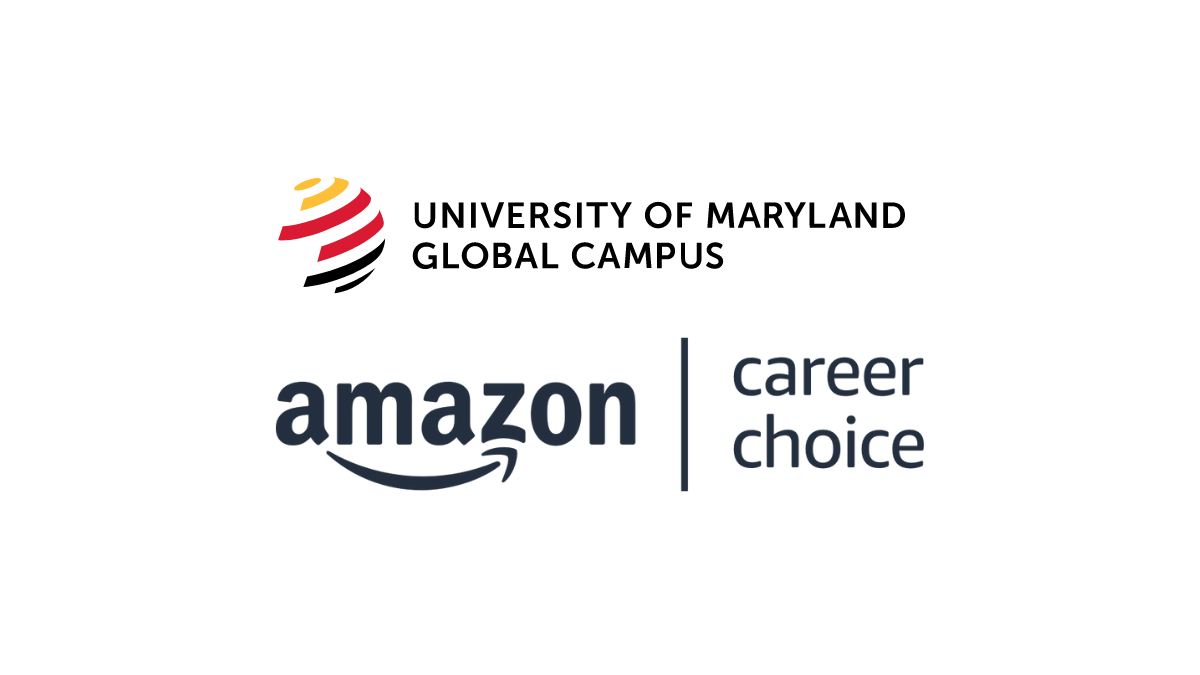 Adelphi, MD (March 3, 2022)—University of Maryland Global Campus has embarked on a new phase of its education partnership with Amazon and the company's industry-leading Career Choice employee benefit program, which will include increasing the education benefit and expanding opportunities available to the company's hourly employees.
Eligible employees will now have access to all UMGC undergraduate degree programs, including workforce-relevant areas such as business, cybersecurity and data science.  UMGC will waive all application fees and Amazon will pay 100 percent of tuition. UMGC offers additional cost savings through its use of digital resources, which have replaced costly publisher textbooks in most courses.
"We are proud to continue our partnership with Amazon as we increase our commitment to the company's thousands of hourly employees who live and work in Maryland and across the country," said Greg Fowler, president of UMGC. "The intentional focus that both organizations have to work together to build a highly skilled workforce has been evident from the beginning of our relationship in 2019."
In this new phase of the partnership, Amazon employees who take classes at UMGC will have the benefit of the university's new "success coach" model, which was launched in 2021. Under this new model, students are paired with an advisor who works with them continuously as they progress toward a degree, helping to increase retention and program completion.
Amazon's Career Choice program is an education benefit that empowers employees to learn new skills for career success at Amazon or elsewhere. The program meets individual learners where they are on their education journey through a variety of education and upskilling opportunities including full college tuition, industry certifications designed to lead to in-demand jobs and the development of foundational skills, including English language proficiency and high school diploma and GED completion.
In the U.S., the company is investing $1.2 billion to upskill more than 300,000 employees by 2025 to help move them into higher-paying, in-demand jobs.
Amazon's Career Choice program has a rigorous selection process for educators, choosing partners that are focused on helping employees through their education programs, assisting them with job placements and in general offering learning experiences that lead to career success.
"We're looking forward to UMGC continuing as an education partner for Career Choice, and now adding to the hundreds of best-in-class offerings available to our employees," said Tammy Thiemann, Global Program Lead of Amazon's Career Choice program. "We're committed to empowering our employees by providing them access to the education and training they need to grow their careers, whether that's with us or elsewhere. We have intentionally cultivated a partner network of third-party educators and employers committed to providing excellent education, job placement resources and continuous improvements to the experience. Today, more than 50,000 Amazon employees around the world have already participated in Career Choice, and we have seen firsthand how it can transform their lives."
For more information on Amazon's Career Choice, visit:
https://www.amazoncareerchoice.com/home
For more information on UMGC, visit:
About University of Maryland Global Campus
Celebrating its 75th anniversary, University of Maryland Global Campus (UMGC) was established in 1947 to serve adult students outside the traditional campus, including military servicemembers and veterans. Today, UMGC enrolls some 90,000 students annually, offering bachelor's, master's, and doctoral degree programs, as well as certificates in more than 90 fully online programs and specializations.
UMGC was the first university to send faculty overseas to teach active-duty military personnel at installations in Europe, beginning in 1949, expanding to Asia in 1956 and to the Middle East in 2005. UMGC faculty have taught in the war zones of Vietnam, Kosovo, Kuwait, Afghanistan and Iraq.
UMGC now offers classes to military service personnel and their families at more than 175 locations in more than 20 countries. More than half of the university's student body are active-duty military personnel and their families, members of the National Guard and veterans