Gregory W. Fowler, PhD, Inaugurated as Seventh President of University of Maryland Global Campus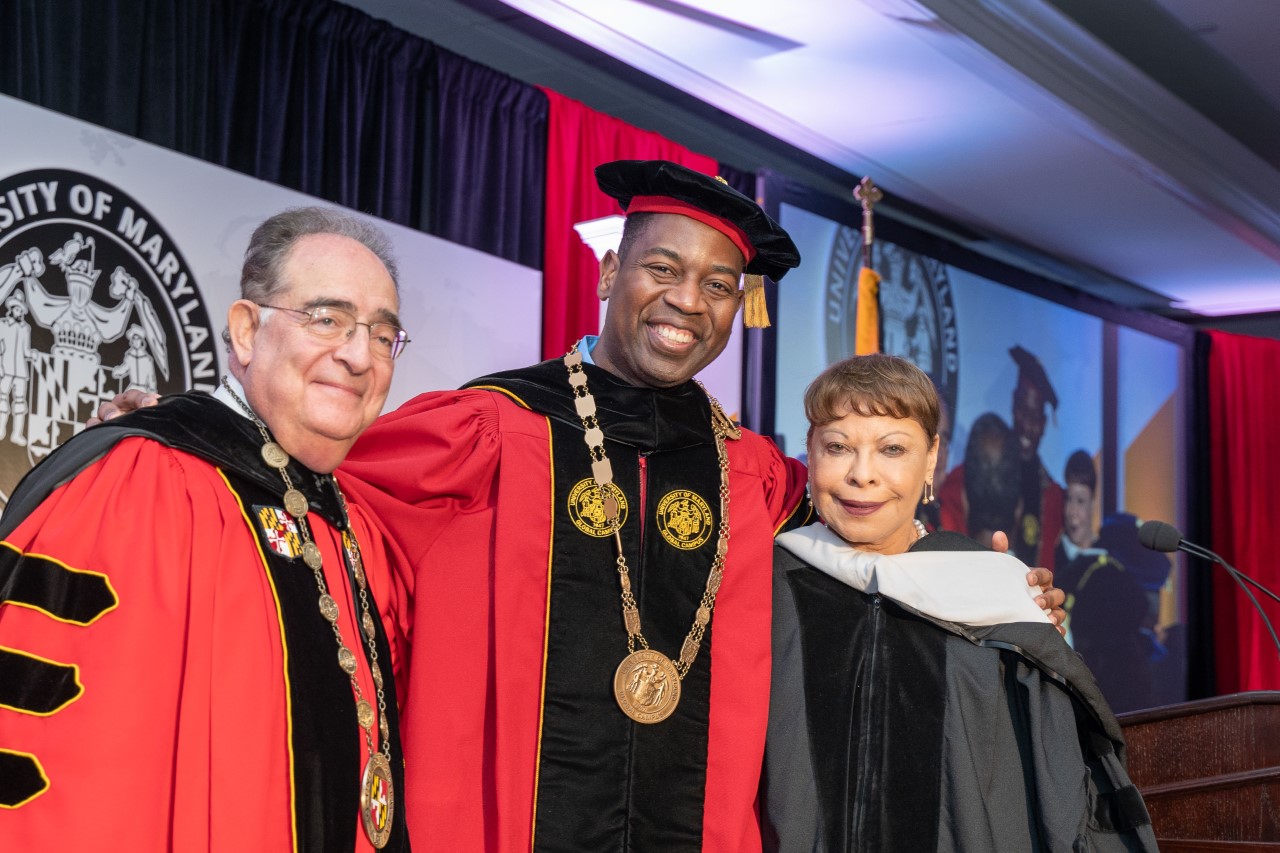 Dr. Fowler pledges to meet students where they are, offer learning experiences that align with student and workforce needs, and transform lives, one student at a time
Gregory W. Fowler, PhD, was inaugurated Thursday as the seventh president of University of Maryland Global Campus (UMGC) and the first African American to hold the title. During the investiture held at the College Park Marriott Hotel and Conference Center and live streamed to a global audience, University System of Maryland (USM) Chancellor Jay Perman called upon Fowler to "reframe who we serve, and how we serve them, and to reimagine what education and access look like in the 21st century."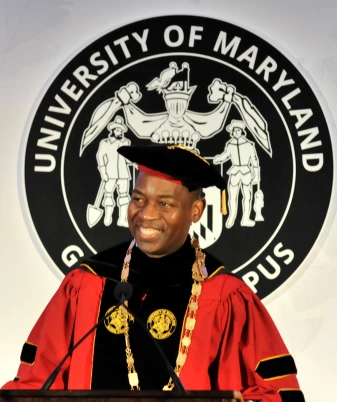 In accepting the charge, Dr. Fowler said that "at the core of every surging river, every breaking wave, is a single drop of water. We will work to create those rivers of change and those waves of progress by transforming lives, one learner at a time." 
Dr. Fowler went on to say that he will build on the university's 75-year heritage to provide new ways to interact with students and offer them the education and training they need in these turbulent times. As the seventh president of UMGC, which has served adult students in the workforce and in the military since its founding, Dr. Fowler is working within an educational environment still adjusting to the disruptions of the COVID-19 pandemic.  
 "We must have the courage to stop reinventing the wheel and, instead, build a launchpad for spaceships," Dr. Fowler said. "We dare not rest on our laurels. Just as the higher education industry and landscape changes, just as the American military continues to evolve, so too must the ways we serve our various populations."
READ DR. FOWLER'S INAUGURAL ADDRESS
"In the post-pandemic world, where many are rethinking their priorities, we will evaluate our assumptions and adjust our strategies," Dr. Fowler said. "Those who are part of the Great Resignation will need new skills, and they will not be willing to drop everything to attend classes full time and face-to-face." 
Dr. Fowler began his tenure as president on Jan. 4, 2021. The inauguration formalizes his leadership. 
The ceremony began with presidents of other USM universities—in full academic regalia—entering the ceremony in the order of their institutions' founding, followed by Chair of the USM Board of Regents Linda Gooden, who is a double graduate of UMGC, and Chancellor Perman. UMGC Chief Academic Officer Blakely Pomietto carried the university mace. 
"Greg Fowler is uniquely suited to build upon UMGC's impressive 75-year legacy and lift this institution to even greater heights," Gooden said. "He is a nationally recognized scholar. He is an acknowledged leader in developing innovative learning models." 
Dr. Lawrence Leak, who served as interim president during the presidential search, praised Dr. Fowler as a "visionary leader." 
"When I met Greg for the first time, almost 15 months ago, I was immediately impressed by his insight, his engagement and his eagerness to tackle the challenges at hand energetically," Leak said. "He is a skilled administrator and distinguished scholar, and he possesses a keen sense of purpose and a passion for our mission." 
As the first African American president of UMGC, Leak said, Dr. Fowler is leading a university "that boldly embraces diversity in all forms and touches the lives of so many individuals of color, both here and abroad." 
A host of Maryland elected officials, led by Gov. Larry Hogan and members of the Maryland congressional delegation, including Sen. Chris Van Hollen, U.S. House Majority Leader Steny Hoyer and U.S. Rep. Kweisi Mfume, as well as Prince George's County Executive Angela Alsobrooks, offered video tributes to the new president. 
Video greetings from UMGC alumni were also aired during the ceremony. They included Florent Groberg, who received the Medal of Honor from President Obama in 2015 for his act of valor while serving in the U.S. Army in Afghanistan. Groberg tackled a suicide bomber and saved the lives of several people he was escorting. As he recovered from his injuries, he earned a UMGC Master of Science in Management with a specialization in intelligence management. 
"I remember my time as a student here, and the people I met—my classmates, my peers, the teachers who spent so much time in my studies, in my learning but, most importantly, in the network I built," Groberg said. "Today, I am proud to say that I am a member of this family. I am excited for the future of this university, its future students and its network." 
Dr. Blair Hayes, UMGC's ombudsman, vice president and chief diversity officer, who served as co-emcee along with Nikki Sandoval, associate vice president for Institutional Advancement at UMGC, read a letter from President Joe Biden congratulating the university on its 75th anniversary.  
"Education is the one field that makes all others possible," Biden wrote. "We have all been shaped by educators who have sparked our curiosity, helped us find confidence, encouraged our creativity and inspired us to build a better world. Institutions like yours not only educate our students—they shape the future." 
William R. Roberts, chair of the UMUC Ventures Board of Directors and honorary chair of the UMGC Presidential Inaugural Committee, highlighted the significance of Fowler's arrival in a challenging time for the workforce: "Today, UMGC's mission is more relevant than ever. The demand for skilled workers and principled leaders has never been greater, nor has the need for a visionary leader to guide the university in a time of dramatic change in higher education. We are fortunate to have that leader in Greg Fowler, whose experience and vision will enable this fine university to broaden its reach and change our world in positive ways for generations to come." 
Dr. Fowler joined UMGC after serving as president of Southern New Hampshire University Global Campus. In his nearly nine years there, he led efforts to develop competency-based online and hybrid programs to meet the demands of workforce and global communities. His programs had reached disadvantaged students in Los Angeles, refugees in Africa and the Middle East, and learners in Mexico and Colombia. Earlier, Dr. Fowler held senior-level academic and administrative positions at Western Governors University.   
Dr. Fowler graduated from Morehouse College in Atlanta; for two years, he was a Charles A. Dana Scholar at Duke University. Working as a teen at the Six Flags Over Georgia theme park, he said he "learned the power of a coordinated team, of considering user experience and of treating customers as guests in your home." 
After graduation, he worked for the National Endowment for the Humanities (NEH) as an outreach specialist, where he strove to "bring new voices into our conversations and to empower underserved populations."   
While at NEH in Washington, D.C., he earned a master's degree in English from George Mason University and then taught literature and American studies at Penn State University, Erie while pursuing a doctorate in English/American Studies from the State University of New York at Buffalo. A two-time Fulbright Scholar, he also holds an MBA from Western Governors University and completed programs in higher education administration, executive leadership and negotiation at Harvard University.  
Dr. Fowler thanked donors who have helped raise more than $175,000 for an inauguration scholarship fund in his honor, saying he was "touched and deeply grateful." The fund will support students facing hardship due to extenuating circumstances.  
"We must help those whose voices have been heard the least, who the status quo has too often left isolated or homebound, unseen or unheard," Dr. Fowler said. "It may well be the single mother or father struggling to provide, or the soldier in a war zone who dreams of making a new life for her or his loved ones at home. These are the lives we can change." 
He said that students often fail because "life happens," not because they cannot comprehend or master the course content. Today, technology allows us to identify students who are struggling, and we can and must wrap them in a cocoon of support.   
Dr. Fowler also spoke of how his father and mother revered education and public service, encouraging him and his seven brothers and sisters as they advanced into higher education for the family's first time and embraced successful careers that helped others. The new president's parents and six of his seven siblings and their family members attended the inauguration. 
"My life is a testimony that in transforming lives, we transform families," Dr. Fowler said. "And if we can transform families, we can transform communities. If we can transform communities, we can transform nations. And if we can transform nations, we can transform the world."