Candace Orsetti Fulfills Life-Long Dream, Is Contestant on March 30 Episode of Jeopardy!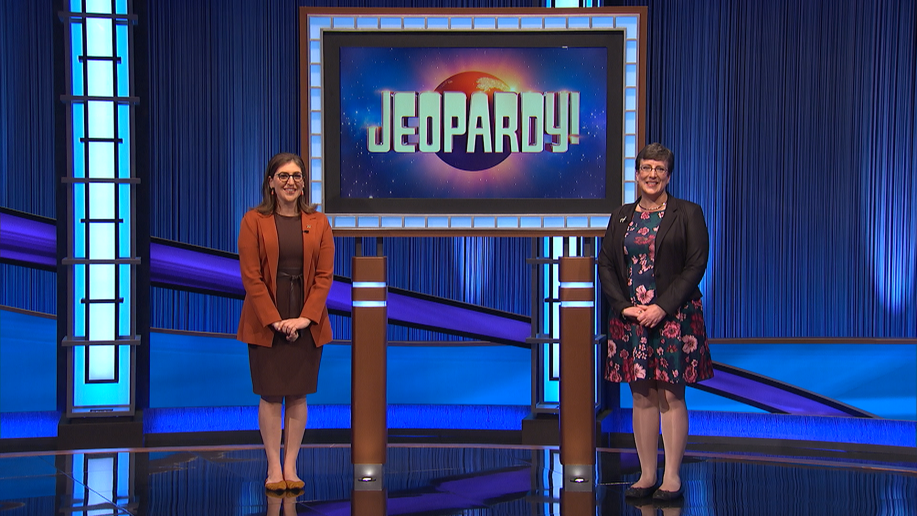 Candace Orsetti was 11 years old when Alex Trebek made his debut as host of TV game show Jeopardy!. Watching the program turned Orsetti into a diehard fan of the program and an unrepentant trivia nerd. It also put her on the path to what she calls "a dream come true." 
On March 30, the University of Maryland Global Campus (UMGC) course development writer and editor will appear as a Jeopardy! contestant. 
Last week, Orsetti's bio on Twitter read: "Wife, dog lover, word nerd, Llama, baker. Hoping someday to have a profile pic w/a vivid blue background." This week it has a photo with a vivid blue background. 
"All the Jeopardy! followers know what that background means," said Orsetti, referring to the color of the program's stage set. 
Orsetti taped the show in California in January and has waited two months to go public about her TV fame. Did she win big prize money? Will she appear in more than one episode? She is not allowed to say before the show airs, the secrecy being one of the many components of Jeopardy! mystique. She was, however, permitted to note that actor Mayim Bialik was the show's host. And she revealed that she went for a true Daily Double, meaning that she wagered everything she had on one answer that could double her winnings.   
It is hard to overstate Orsetti's fervor for the show—and the persistence of her ambition to appear on it. Her first chance came when she was 15. In those days, contestant searches were announced at the end of the show via a note that flashed on the screen to announce tryouts in specific cities. Contestant wannabes responded by sending in postcards that were randomly drawn. Orsetti's postcard to a local Baltimore TV affiliate resulted in an invitation to take an in-studio test.
"I missed the qualification by one question. That's been my story for 35 years, but that's also an inside joke at Jeopardy!" she said. "Everybody that didn't make the cut was told they missed it by one question." 
The postcards continued and Orsetti came close to qualifying again in the 1990s. By the 2000s, postcards were replaced with online tests. In 2018, she made the cut—but then languished in the contestant pool for 18 months without being called to a taping. 
"That 18-month period ended on March 13, 2020, the day when everything happened with COVID-19," Orsetti said. "That was UMGC's first 100 percent telework day."
Orsetti persevered, and a June 21, 2020, test put her in the running again. A year after taking that 15-minute online quiz, she was invited to take a Zoom version of the test where she was watched online to confirm her identity and ensure there was no cheating. She had a stroke of luck when one of the questions on the proctored test focused on the ingredients in a Black Russian cocktail. She credited her father, who had died five months earlier, for her knowledge of that answer. It had been his favorite drink.
Four days after the proctored test, she was called for an audition. Since the pandemic, Jeopardy! hopefuls take the audition through an online video platform. The audition featured a contestant interview and a series of mock games. 
"The players hold up a clicky pen as a buzzer. And you're phrasing your responses in the form of a question," Orsetti explained. "It wasn't just about people giving correct responses, but about personality and keeping the game moving and having an interesting presence."
In the time between the proctored test and the audition, during a dinner of Chinese takeout, Orsetti opened a fortune cookie and found this message: "You will pass a difficult test that will make you happier and financially better."  
The message was prescient. For a second time, she was back in the contestant pool. 
"At that point, the smart thing to do was to hit the books and start studying. I did—for about a week," she said with a laugh. Six months later, just as she was about to enter a UMGC work meeting, she received a phone call with a Los Angeles area code. It was the Jeopardy! contestant coordinator inviting her to a January 26, 2022, taping of the show.  
For the next three weeks, Orsetti went everywhere with her "Jeopardy! Go Bag," a tote bag containing flashcards and study materials she put together.
Orsetti, who earned a B.A. in English from UMGC in 2003, is such a Jeopardy! enthusiast that she had read not only contestant—and, later, host—Ken Jennings's book, Brainiac, but also the book by Fritz Holznagel titled Secrets of the Buzzer that explains the idiosyncrasies of the buzzers used for Jeopardy! and other game shows. She was aware that contestants pay their own hotel and airfare to appear on the program. And that her clothing would have to be able to support a hidden microphone. And that she wasn't supposed to wear stripes or certain colors. 
What she hadn't known is that she would have to go through COVID screening in the Jeopardy! studio's garage and that the show's staging area, where contestants had their hair and makeup done, was the set of Wheel of Fortune.  
On taping day, Orsetti worried about two knowledge categories she was weak in: sports and 2020s pop stars. That wasn't the only thing. Because of the time gap between when the show is taped and when it airs, Orsetti said she and others in the contestant pool were unsure whether Amy Schneider—whose 40-game appearance became the second-longest winning streak in Jeopardy! history—was still a contestant.
"We were all looking around for Amy and asking if Amy was still there. We were scared of Amy," Orsetti said. It turned out that the day of the taping was also the day that Schneider's last episode with Jeopardy! aired.   
Orsetti's Jeopardy! smarts owe something to her deep engagement with trivia. For nearly 10 years—until COVID ended in-person gatherings—she played on a weekly pub trivia team with her husband, parents and a shifting roster of friends. She also belongs to an online trivia league whose membership is capped at 20,000. "A good thousand of the members are Jeopardy! alumni," she said.
On the day she makes her television debut with Jeopardy!, Orsetti is hosting a small watch party with close friends and family. Concurrently, she'll host a Zoom gathering with far-flung friends and family.  
"For two months I've been living with this weird timeline. I'm both a future and past Jeopardy! player," Orsetti said, referring to the gap between when the show was filmed and when it will air.  
Jeopardy! may be behind her, but that doesn't necessarily mean Orsetti's game show days are over.
"I've always been a game show fan, especially trivia-based game shows. I have also gotten to the point where I got a second callback for Wheel of Fortune, The Chase, and Weakest Link," Orsetti said. There's just one hitch: Her Jeopardy! contract bars her from appearing on other TV game shows for six months.