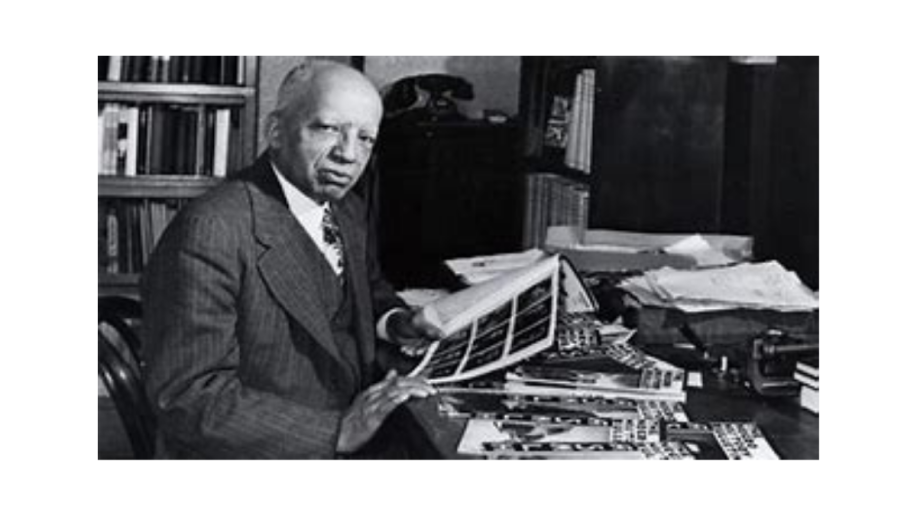 Editor's Note: This commentary by Damon Freeman, PhD, professor and director of the history program at University of Maryland Global Campus, was written as part of the university's commemoration of African-American Heritage Month.
African American Heritage Month is central to American history. Started in February 1926 by Dr. Carter G. Woodson as Negro History Week to coincide with the birthdays of Frederick Douglass and Abraham Lincoln, the month underscores the contributions of African Americans as well as the challenges facing American democracy.
Understanding Woodson, who is sometimes referred to as the "Father of Black History," is essential to fully understanding the significance of African American Heritage Month. Born in 1875 in New Canton, Virginia, he was the son of two formerly enslaved parents who were illiterate but valued education. New Canton represents in many ways the heart of Virginia history. Within a one-hour drive lies Charlottesville, the home of slaveowner Thomas Jefferson and the University of Virginia; Richmond, the capital of the Confederate States of America; Appomattox Court House, where the Confederacy surrendered; and Robert R. Moton High School in Farmville, which became one of the five cases at the center of the 1954 Brown v. Board of Education school desegregation decision.
Woodson was largely self-taught and worked in the coal mines as a teenager to help support his family. He finally received his high school diploma at the age of 22. He taught school for several years before earning a bachelor's degree in literature from Berea College in Kentucky in 1903. In 1908, he earned A.B. and A.M. degrees from the University of Chicago. In 1912, he became the second African American to earn a doctorate (after W. E. B. Du Bois) when he completed his Ph.D. in history from Harvard University. Since no white university was willing to hire him, he began his career teaching high school in Washington, D.C., before joining Howard University as a professor.
Woodson became convinced that the historical profession and academe generally had no interest in African American history or engaged in deliberate misrepresentations. For instance, most white historians at the time supported the view that the end of slavery and Reconstruction in the South had been a failure that did not benefit African Americans. Woodson devoted his entire life toward creating institutions dedicated to nurturing Black scholarship and pushing back on racist interpretations of American history. He helped found the Association for the Study of Negro Life and History (now the Association for the Study of African American Life and History). In 1916, he started the Journal of Negro History (now the Journal of African American History) and a smaller publication called the Negro History Bulletin. Beginning in 1922, he managed all three operations from his home in Washington, D.C.
In addition to building institutions, Woodson was also a prodigious scholar. He wrote or edited several books including A Century of Negro Migration, The Education of the Negro Prior to 1861, and The History of the Negro Church. Several of his publications were more specialized such as The Negro Professional Man and the Community, With Special Emphasis on the Physician and the Lawyer. But by far his most famous work was the 1933 publication of The Mis-Education of the Negro, an analysis of how African Americans were taught by the American educational system to be culturally inferior and dependent.
In 1926, Woodson introduced Negro History Week as an annual celebration. He promoted it at schools and conferences, in the pages of newspapers and in the two journals he edited. Negro History Week caught on and grew into events celebrating African American contributions including parades, lectures, poetry readings and exhibits. By the time of the Civil Rights and Black Power movements of the 1960s and 1970s, the week had been expanded into Black History Month. 
Woodson died suddenly from a heart attack in 1950 before he had the chance to see the fruits of his lifelong efforts. While his life was impressive, it is important to remember that Woodson fits within a long tradition of African American intellectuals and educational activists dating from the late 18th century to the 21st century. African American communities demanded educational access or created their own schools in Boston, New York and even Wilmington, Delaware. In the slave states, where schools for the enslaved or free were almost always banned, African Americans resorted to clandestine means under the threat of punishment or death to educate themselves and their families. 
Like Woodson, African American educators and activists have always sought to document and take pride in racial achievements and contributions while simultaneously challenging American society to live up to its democratic ideals. This tradition is needed now more than ever. In several states including Kansas, Ohio, Texas, and Utah, politicians have proposed or demanded the removal of books offering challenging descriptions of race and racism. In Virginia, the new governor has created a hotline for parents to report "divisive practices" in K-12 schools. In Oklahoma, a state legislator has proposed a law that would ban teaching about "unique" oppressors or victims in the history of slavery. The ban would apply to any state-funded educational institution, not just K-12 schools.
As these ominous trends gain traction, recognizing African American Heritage Month and its humble origins becomes even more important. It arose as a community effort because of the repeated failures of American schools and society to provide a decent education to all of its children. Indeed, this was Woodson's point in creating Negro History Week. He hoped it would be a necessary step toward creating a world free of bias, hatred and prejudice. 
The fact that Americans are debating whether to ban works from school libraries such as Toni Morrison's novel Beloved shows us that our society is failing to learn the lessons of African American history. Clearly, much more work remains to be done to fulfill Woodson's vision.