With Three Big Goals Accomplished, Luis Arriaza-Kibby is Reaching New Heights of Career Success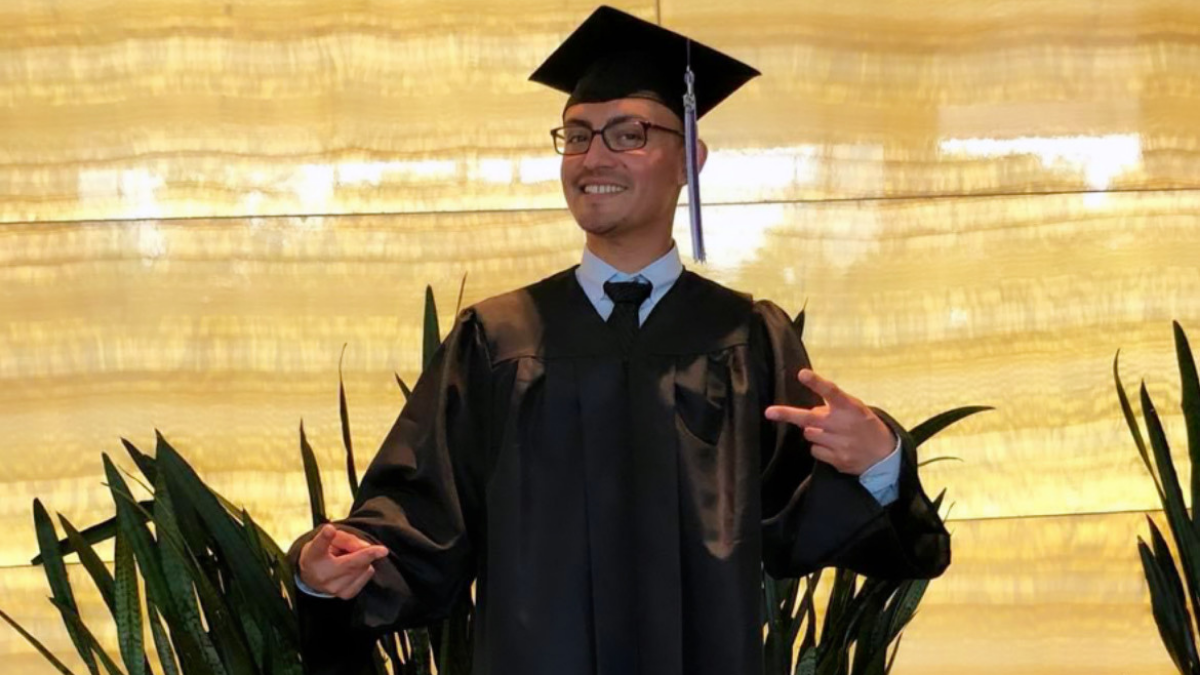 Luis Arriaza-Kibby came to the United States from El Salvador as a teenager. Settling in Damascus, Maryland, just shy of his 16th birthday, he had three goals: to learn English, to get his driver's license and to continue his education.
With his new Bachelor of Science in Human Resources in hand from University of Maryland Global Campus (UMGC), he has hit that trifecta.
"I remember telling my father that I wanted to go to school because I saw kids my age going and there was a high school near where we lived," said Arriaza-Kibby. But his father had other plans, and the teenager gave up education and went to work at various jobs. A cousin encouraged him to take English classes in the Montgomery County school system, so he started a night program, attending sessions two to three times a week. Although his erratic work schedule prevented him from finishing the class, he learned enough English to start meeting people and making connections.
His expanding network led to a job with a heating and air conditioning company, which immersed Arriaza-Kibby in the English language. It didn't take long before he had gained enough vocabulary and fluency to achieve his first goal.
Then he followed by securing his driver's license, accomplishing goal No. 2. But the third aspiration, education, proved a more arduous task.
"I wanted to go to high school and college, but no one in my family had ever gone, so I did not have that support system," he said. "I fell into the restaurant and retail businesses after the heating and air conditioning job, which made it even harder."
While in his 20s, a news report about the Deferred Action for Childhood Arrivals (DACA) program caught Arriaza-Kibby's attention.
"I met most of the requirements for DACA, except you had to have a high school diploma or GED to qualify," he said. Because of his age and since work permitted no time to get into the school system, a GED was Arriaza-Kibby's only option.
His erratic work schedule allowed him only enough time to study on his own. After a few attempts, he passed the required test sections and earned his diploma. With the encouragement of teachers he met during the GED process, Arriaza-Kibby enrolled in Montgomery College and, after three and a half years of hard work, earned an associate degree in business.
In 2013, Arriaza-Kibby met his future husband, William. They married in 2016. With William's encouragement, Arriaza-Kibby continued his higher education journey, now as a permanent resident of the United States.
"[William] has been the biggest support throughout all of this," said Arriaza-Kibby.
By 2018 he was settled into a more manageable work schedule as a grievance representative with the Service Employees International Union (SEIU) Local 32 BJ. That's when Arriaza-Kibby enrolled at UMGC in pursuit of his bachelor's degree. It took an exhausting two years, but he finally did it, fully realizing the third goal he set for himself as a teenager.
Arriaza-Kibby runs through a range of emotions as he reflects on his educational journey. "I still can't believe it," he said. "I thought to myself so many times that I was so close, yet so far."
With his degree in hand, Arriaza-Kibby hopes to advance his career with the SEIU and push to improve the workplace.
"I believe that it is important for any job to understand how human resources works because working with people involves development, training and so much more," he said. "Whatever I decide to do moving forward, I can now check this [education] box, which demonstrates my hard work and commitment."