Ramon Perea Uses His UMGC Degree as Springboard to a Master's in Security Studies at Georgetown University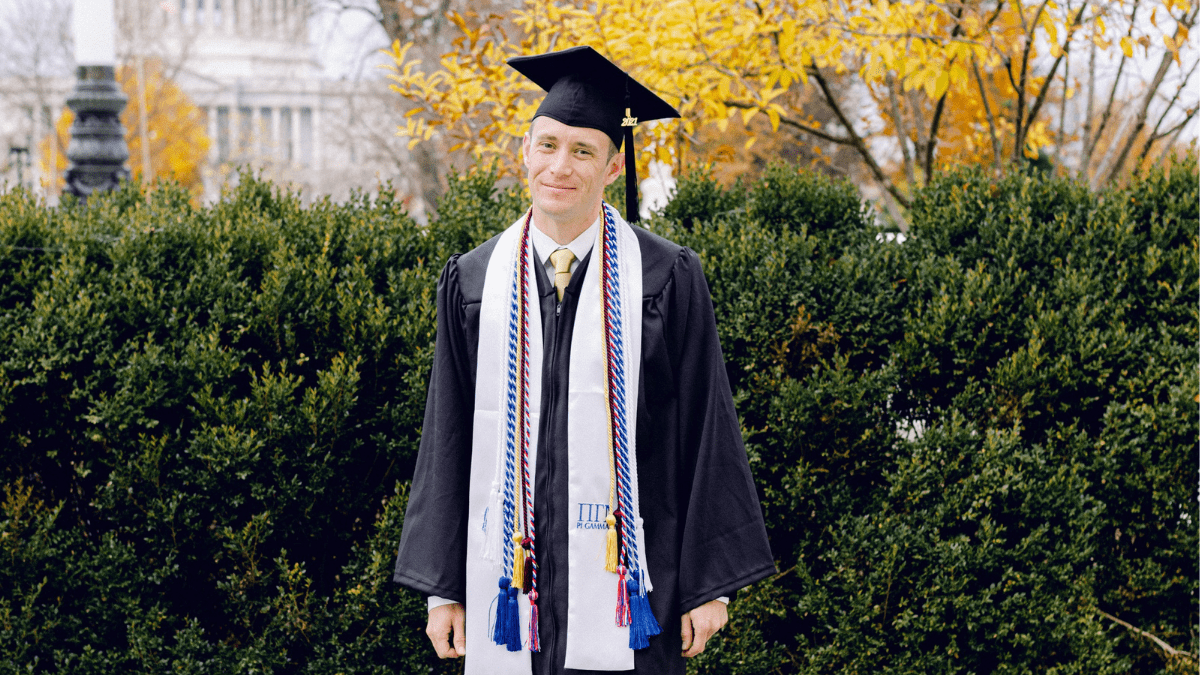 Ramon Perea embarked on a new adventure with the U.S. Air Force when he was just 21 years old and left his hometown of Albuquerque, New Mexico. Today, he calls Hyattsville, Maryland, home.
He is still on active-duty status with the Air Force—but something important has changed.
Perea officially completed his Bachelor of Science in Computer Networking and Cybersecurity and Political Science this month. Thanks to the flexibility and virtual learning offered by University of Maryland Global Campus (UMGC), he was able to maintain his full-time job as a network analyst in the Air Force while expanding his knowledge of the cybersecurity field and exploring political science and computer networks.
"The first few years while I was studying at UMGC, I was working shift work and I wanted to continue my higher education. An in-person program would not have been feasible," Perea said. "Recently, with COVID, most programs had to shift toward online. We already had a model set [with UMGC] and I felt like I just kept going as I was.
"I think for what UMGC does, they do it very well," he added.
Since Perea enrolled at UMGC five years ago, he has joined Pi Gamma Mu, an international honor society for the social sciences, as well as two other honor societies. He is a member of SALUTE, a nationally recognized organization for military and veteran students, and he belongs to Alpha Sigma Lamba, which celebrates the scholarship and leadership of adult students in higher education in the United States.
"From Day One, Ramon was fully engaged in my American Foreign Policy class. He interacted constantly with his colleagues in the course and showed in-depth understanding of the readings and discussions and solid insights into relevant areas, enriching the class for everyone," said Mary Frances Lebamoff, PhD, collegiate professor and program director of the Department of Political Science and Government. "His two papers were among the best in terms of research, outstanding thesis statements and mature, well-considered conclusions."
Perea first heard about UMGC at the education office on his base, Fort Meade. The rest is history.
"I initially started at UMGC with the intent to study cybersecurity to gain more knowledge for my current job, but along the way I discovered how much I like political science, so I added another major," Perea said.
While in the Air Force, he has lived in California, Texas, Florida and now Maryland. His first role was as a linguist. Eventually he shifted to become a network analyst.
In January 2022, Perea will pursue a new opportunity by beginning a master's degree in the security studies at Georgetown University.  That multidisciplinary program is designed to prepare graduates for positions within the defense and security fields.
"I want to take the technical side of what I learned through UMGC and through my experience in the military and then apply it to a broader picture. I'm very excited," Perea said. "I hope to find a job in the foreign policy field where I'm working with other nations or policies with a cybersecurity focus."