Duane Tyson Works on the Frontlines of the Pandemic and Follows His Passion to Serve the Needs of Others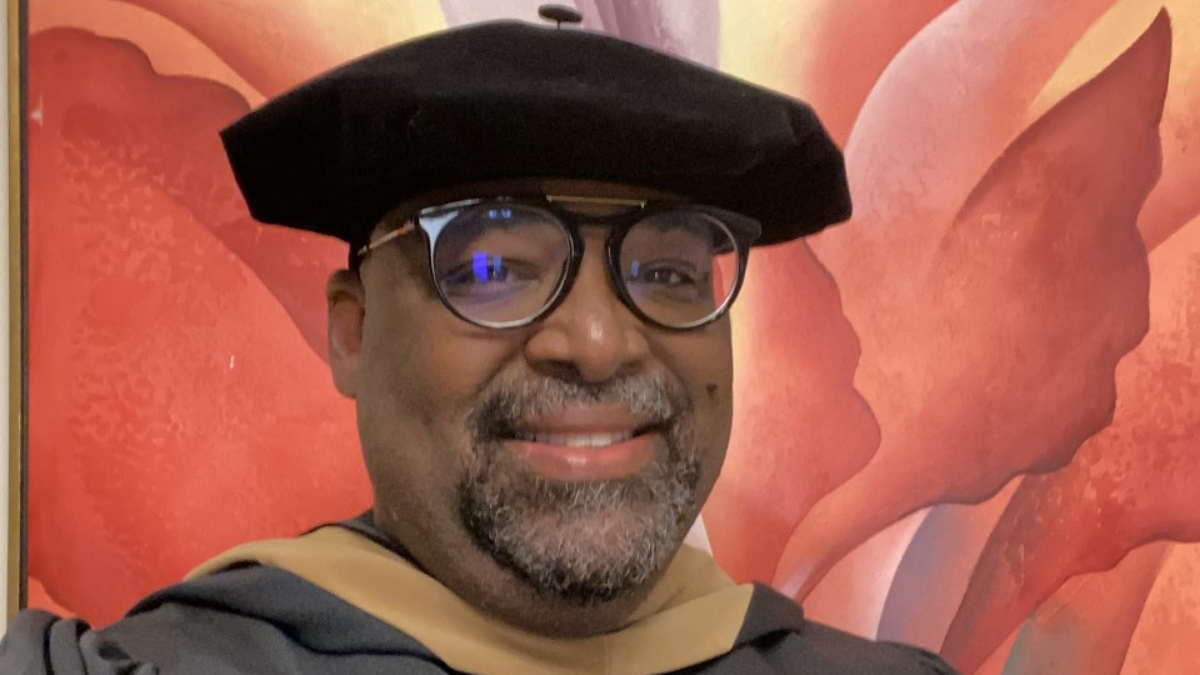 Duane Tyson has been at the tip of the front line fighting Covid.  As a respiratory therapist, he is, as he says, the last person someone fighting the virus wants to see. He's the guy in the emergency room who is prepping the patient to be put on a ventilator, a difficult last stage in treating the disease.  "During this whole pandemic, when they talk about the frontline person, I'm that guy," he said. "I'm the vent man, and I'm the one who puts a tube down your throat and manages your breathing. I'm always trying to help people breathe easier."
That means Duane, who now lives in Glen Bernie, has worked long hours at Mercy Medical Center and University of Maryland Rehabilitation and Orthopedic Institute with little time off as the disease has surged and waned and surged again.
With all that, Tyson has completed a UMGC Bachelor's degree in psychology in time to graduate in December.  Even more amazing, he is almost finished with an MBA.
He said his hospital job has been so intense that he never would have started this academic work during the pandemic.  But by the time Covid hit, he already had mastered the skills of online learning and was comfortable navigating courses.
"The pandemic really didn't leave any leeway for me doing anything else," he said. "I was forced to do mandatory overtime. So, I was really challenged."
He said he has not asked any professor for special consideration in making course deadlines. In fact, he has downplayed his hospital work while communicating with teachers and fellow students.
"I never wanted to make it my focus," he said. "I was just hanging in there with everyone else. I never wanted to make it about me."
Growing up in Baltimore, Tyson started working in the mental health field right out of high school.
"I was always that person who was listening to people, trying to solve other people's problems," he said.  
Working in hospitals, he started looking around at different positions.  Respiratory therapy caught his attention, and he earned an AA degree in it at Baltimore City Community College. That led to a career that has spanned more than 20 years. 
But he saw he didn't want to do that forever. So, for his Bachelor's, he returned to his first love of psychology. 
"It was my safe zone," he said. "It was a place that always made me feel at peace. It felt like it was something I understood. I could work with somebody, and it was always a heartfelt type of expression. When I started doing the class, it just seemed natural." 
So why now pivot to an MBA? 
Doing graduate work to qualify for psychology positions would take so long, he said, and the clock was ticking. Like so many people during this pandemic, he is weighing his options for the future. He believes the MBA will qualify him to get into health care administration.  
"I'm working 12-hour days, and I'm not the young person I used to be," he said. "My job needs a lot of energy – working with the patients, flipping them, turning them, trying to do whatever I had to in order to maintain their breathing efforts is really challenging. It made me reflect on life."