Army Veteran Andre Washington Survived the Challenges of Military Service—Even a Mortar Attack During a Class—to Earn his UMGC Degree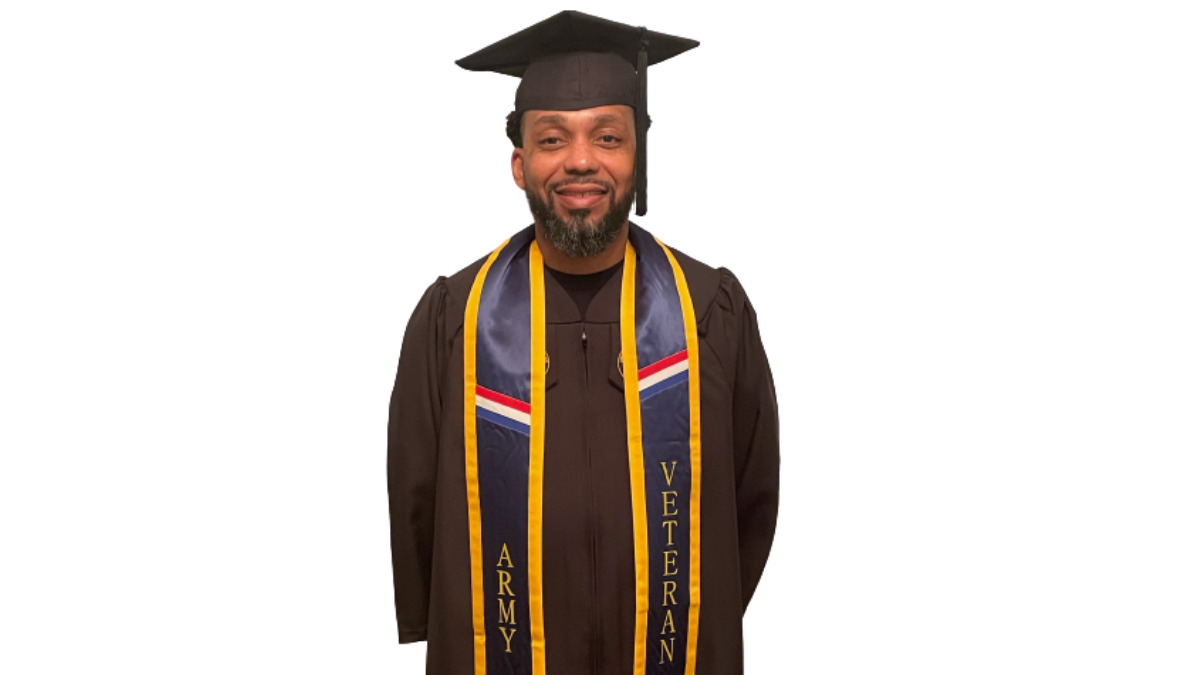 When Andre Washington looks back on his academic career, which stretched over two decades as he moved around the world as an IT specialist with the U.S. Army, there is a particular day that stands out.
It was 2013 and he was among a group of 20 servicemembers taking a University of Maryland Global Campus (UMGC) course that would lead to an in-demand computer science certification. Their classroom was a building on an airfield base in Afghanistan. It was during Ramadan and mortar attacks on the base stepped up in the evenings, so the servicemembers were required to wear combat gear around the clock.
"We were in class in full gear—Kevlar, helmets, anything else that was considered protective gear. The instructor had his gear on, too," Washington recalled. "On this particular day, we heard the whistle you get when a real rocket is incoming. When you hear that, you know that a rocket is close enough to hit you."
The entire class hit the floor as mortar fire slammed the buildings nearby and set off shockwaves.
And then?
"We all got up and resumed the class," Washington said.
Washington took his first UMGC courses in 1998, right after he joined the Army and was sent to a base in Korea.
"A captain in my unit, my supervisor, suggested that I take classes on the base. They were held in the base high school," he said. "Then, periodically over the next 20 years, I took more classes."
He started his studies with an eye on a degree in computer science but, in later years, he switched his focus to cybersecurity. "I thought cybersecurity could be big and my job in the army was IT so I already had a lot of experience, so it made better sense to switch."
Over the years, the military sent him to California, to Kuwait, back to Korea. He spent time at Fort Drum in New York and Fort Belvoir in Virginia. And, of course, there was the duty station in Afghanistan, where he spent nine months assigned to a helicopter unit.
 "It was hard taking classes with some of these assignments. Sometimes I was in training with no time. Sometimes the motivation just wasn't there or there was anxiety related to what I had witnessed overseas and I wasn't coping enough to take classes," Washington said. "But I always saw a degree as a personal accomplishment."
When he retired from the military in 2018, Washington put himself on a steady path to a bachelor's degree in computer networks and cybersecurity.
Washington works as an IT contractor at Marine Corps Base Quantico. He said the new degree opens doors, especially with the certifications and job experience he already acquired. He may even be able to switch from being a contractor to being a government employee.
After earning his degree, he, his wife and his children—aged 16, 13 and 4—are celebrating by going out to eat. "I'm going to be happy. And relieved. It's a big accomplishment and I did it with no help," he said.
Washington also offered advice to others.
"I've been trying to get this degree for over 20 years. I never gave up. It didn't matter if I lived to be 80 years old, I wanted to finish it," he said. "Having a degree shows that you can complete a task. If it's a personal goal of yours, don't give up. You'll reach the finish line."