With Experience and an Education, this Award-Winning Veteran Is Just Getting Started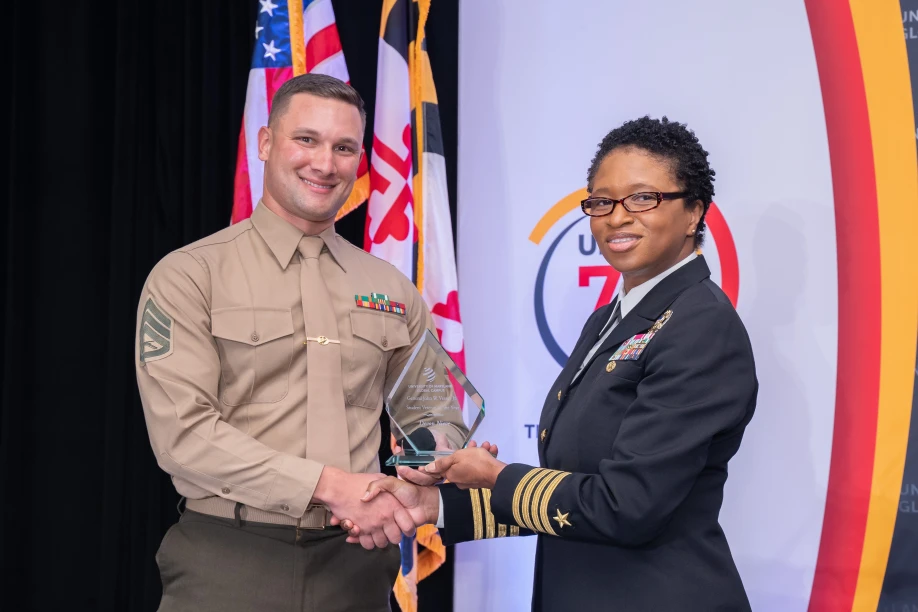 Even though he was only in grade school, the 9-11 terrorist attacks focused Devon Nieve's decision to devote his life to the defense of his country. Now, as a U.S. Marine Corps specialist in language cryptology, signal operations and intelligence, Staff Sgt. Nieve is finishing a University of Maryland Global Campus (UMGC) master's program in intelligence management. 
This follows his undergraduate degree in accounting from UMGC summa cum laude, all while serving and assisting in missions in Latin America and the Middle East. His diligence during seven years of academic work also earned him UMGC's General John W. Vessey Jr. Student Veteran of the Year, which was presented at the university's Veterans Day ceremony in Adelphi, Maryland.
In announcing the award, UMGC noted that Devon was honored as Military Performer of the Year in 2020 while maintaining a 4.0 GPA in his master's program. His commanding officer said Devon "is unequivocally one of the top performing Marines of any rank within my command."
In a surprise announcement as he finished his remarks during the Veterans Day ceremony, Devon said he would give the $3,000 scholarship award to the university's fund to help veterans still seeking an education after their VA benefits run out.
 "My father has been big on teaching me that money is not everything in life," he said. "When you have things that can be given to others, maybe that's the spark required on their end to push them to that next level. It's going to make an impact on our country."
Assigned to Company H of the Marine Cryptologic Support Battalion and a section leader supporting a national security mission, Devon supervises a joint-service team performing technical analysis and target development for the ongoing operations to a variety of federal agencies and major combatant commands. 
Growing up in Modesto, California, Devon was only 8 years old on Sept. 11, 2001. But he recalls the day vividly.  
"I remember talking to my friends at school and asking them, 'Are terrorists gonna take over the United States?'" he said in an interview. "And I just remember that feeling that I kind of carried around after that, that someone's got to stop that."
His father was an Army veteran. "The things he taught me were directly related to the training he had received—that the military was the best option to make myself proud and to show my younger brothers the right path," Devon said. "I felt like the military was where I could make an impact."
After graduating with an associate degree and honors from Modesto Community College, Devon decided to join the Marine Corps in July 2013 rather than pursue a bachelor's degree right away. His path in the military changed dramatically after he took the Armed Services Vocational Aptitude Battery.
The recruiters looked at his score and told him he had a choice to make. He could go ahead with a regular Marine Corps career or he could opt for language cryptology, which would open a lot of doors when he finished his military service.
"When they told me that, of course, I went with it," he said. "I had no idea what I was going to do. I thought it was going to be learning Arabic."
Instead, he found himself immersed in studying Spanish and Portuguese for a year. After that, he was assigned to a Radio Battalion in Camp Lejeune, North Carolina. Exactly what a cryptological linguist does is classified, he said, but he has been deployed to Latin America and supported operations in the Middle East.
Throughout his military service, Devon has pursued education. If he wanted meaningful work after he left the military, he believed he had to have at least a bachelor's degree—and maybe more.
He looked at all the universities with programs for active service personnel and decided that UMGC offered the best overall opportunities. It also provided the flexibility necessary to work around his military assignments.
"I was in and out of the field constantly," he said. "I was supporting last-minute operations for forward-deployed tactical units. I was deploying, and I needed something that was flexible with that," Devon said. "When I talked to the counseling department at UMGC, it just felt right. It's veterans being led by veterans, that's the difference."
After finishing his bachelor's degree, he took only a three-month break before starting the master's program.
"I realized I'm not done," he said. "I enjoyed that structure. I enjoyed constantly progressing in the educational realm, and I wanted to do more."
The majority of his professors are professionals in their field, Devon said, with first-hand information on what they are teaching. He described them as "absolutely incredible."
"I'm convinced they're up 24 hours," he said, explaining that he could post something late at night and find a lengthy response in the morning.  "They want the students to learn and actually comprehend the information so they can apply it in real life. They take it seriously, and because they take it seriously, the students take it seriously."
Devon will finish his graduate degree in July, just about the same time his enlistment is up. He will take everything he has learned to a civilian position in the Department of Defense.