Veteran and UMGC Alumnus Gives Back to Military One Day at a Time
National Military Appreciation Month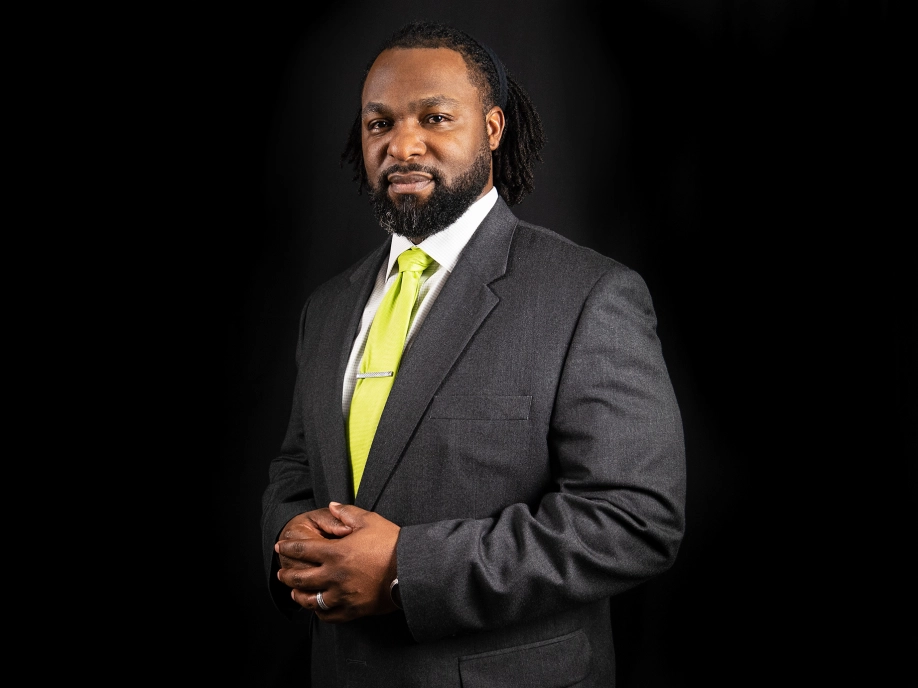 Former President Barack Obama once remarked, "It's about how we treat our veterans every single day of the year. It's about making sure they have the care they need and the benefits that they've earned when they come home. It's about serving all of you as well as you've served the United States of America."
Obama's 2010 speech underscores the country's duty to those who have served in the armed forces. U.S. Army veteran Vernon Green Jr., a University of Maryland Global Campus alumnus, embraces that responsibility through his leadership of GCubed Inc., a provider of IT and cybersecurity solutions, and his mentoring and hiring of veterans.
Green received his bachelor's degree in cybersecurity from UMGC in 2010, and his master's degree in cybersecurity in 2014. He officially retired from the Army in March 2014 and started GCubed—shorthand for "Giving, Growing, Globally" —a month later. 
He made his company one that puts people first.
"My experience at GCubed, being a veteran hired by a company started by a veteran, has been the greatest experience I have had since leaving the military. I say this because, as a veteran, I hold my service to our nation as one of my greatest accomplishments in life, and GCubed reminds me of my military service by our culture," said Keith King, IT manager at GCubed. "GCubed saw the value that I brought to the company as a veteran and utilized my experience to help advance our customer base and the organization."
Twelve of GCubed's 48 employees, including Green and King, are retired veterans. Green still has many peers and subordinates who are getting ready to transition out of the service. They contact him for career advice or to find out more about opportunities at GCubed.
"It starts out as mentorship, then communications and it grows into, 'I like what you built, do you have an opportunity?'" Green explained. "When I can, I prioritize those because veterans come with a natural proven ability to prioritize the mission. They come with leadership experience, a whole career of lessons learned behind them. And when you take those very focused mission-first people, when you bring them into your organization, it benefits the organization."
GCubed is a three-time winner of the Gold Medallion Award, which is given annually through
The Honoring Investments in Recruiting and Employing American Military Veterans Act of 2017, for its efforts to recruit, employ and retain veterans.1 In fact, GCubed has captured the award every year since the honor was launched.  
The company also was recognized by the Financial Times in its 2021 List of The Americas' 500 Fastest Growing Companies, grabbing the No. 153 spot, while Inc. Magazine listed GCubed at No. 171 on its second annual Inc. 5000 Regionals: D.C. Metro list. The Inc. roster is the most prestigious ranking of the fastest-growing private companies in the Washington, D.C., area. Other accolades have spotlighted GCubed's commitment to its employees and clients.
At the time Green launched GCubed, he also started a nonprofit organization, G3 Community Services, which provided male mentors to kids. The COVID-19 pandemic forced G3 Community Services to redirect its focus to supplying food trucks to low-income areas where youngsters depended on school lunches for a meal. G3 Community Services also partnered with other area nonprofits to open a food bank. Plans are in the works for G3 Community Services to ally with AccessVR to create a virtual lab for STEM training.
Green is invested in helping the community as much as he is in elevating veterans' workforce success. He frequently collaborates with his alma mater, sharing his experience and mentoring veteran students. When GCubed has job openings, Green lets UMGC know. The university sends resumes and contact information for anyone who fits the qualifications.
"I never in a million years imagined I would be sitting here as the CEO of a multimillion-dollar company," Green said. "My time in the military was critical to giving me the stability, the knowledge, and the work ethic to succeed in this."
He said leadership opportunities from his military service and learning opportunities at UMGC offered the expertise he needed.
"I just can't say enough about how the partnership between my military service and my education at UMGC have prepared me for this role."
For more information about the University of Maryland Global Campus, visit umgc.edu.