UMGC Recognized as One of the Nation's Top Colleges in Newsweek's First-Ever Ranking of Online Schools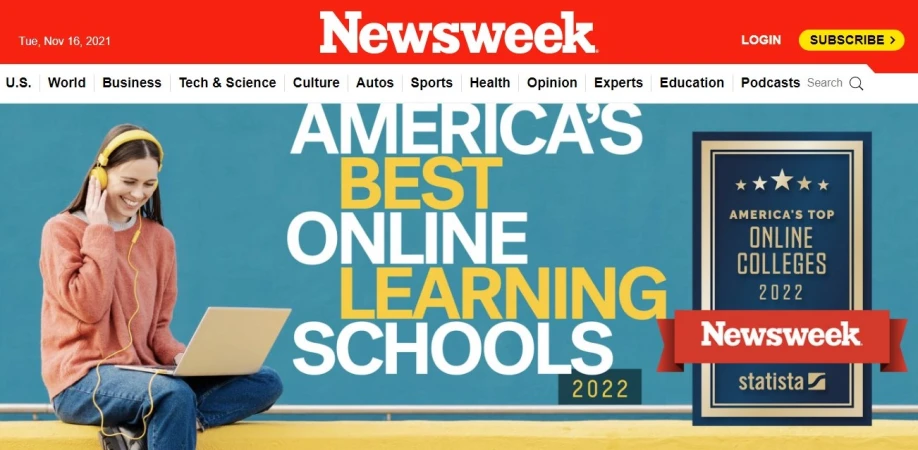 Adelphi, Md. (November 16, 2021)—University of Maryland Global Campus (UMGC) was ranked #21 among 150 top colleges in Newsweek's first-ever survey of online schools. 
"Our mission is to provide students with learning experiences that align with their needs and expectations, thereby improving lives and strengthening communities" said Greg Fowler, president of UMGC. "We measure success by delivering levels of service that are unprecedented—and perhaps unexpected—in higher education and by wrapping our students in a blanket of support that responds to the realities of their lives, academic backgrounds, and learning styles."  
UMGC enrolls some 90,000 students annually—more than half of whom are active-duty military personnel and their families serving on bases around the world—and offers award-winning programs in disciplines including biotechnology, cybersecurity, data analytics, and information technology that are in high demand in today's increasingly technical, global workplace. UMGC also offers cost savings through its use of digital resources, which have replaced publisher textbooks in most courses. 
In addition, UMGC has established innovative alliances with leading corporations throughout the U.S., such as Amazon and Uber, to increase the pathways for employees to achieve their educational goals in more efficient and affordable ways.   
UMGC has also developed transfer partnerships with community colleges in Maryland and around the country, including California Community Colleges, the largest community college system in the country, enabling UMGC to reach the system's 2.1 million students attending 116 community colleges throughout the state and creating a seamless transition to obtaining an affordable bachelor's degree. 
According to Newsweek, the rankings are based on an online survey of 9,000 people in the U.S. who have used online learning services to obtain an academic degree or acquire knowledge and skills for their personal or professional development. 
"Alot of American college and university students are learning online," said Newsweek's Global Editor in Chief Nancy Cooper in announcing the new ranking. She highlighted U.S. Department of Education statistics from 2019 showing that "79 percent of U.S. colleges offered either standalone courses or entire degree programs online. That figure included about 96 percent of all public two and four-year colleges. As of 2018, the Department estimated, about 7 million college students were taking some or all of their classes online. 
"The pandemic has only added to the growth of online education," she continued. "The range of online providers can be daunting. If you are looking for quality online education for yourself or a loved one, we hope you will find our listings helpful."