Student Finds Home at UMGC and Connects with Fellow Veterans
National Military Appreciation Month

|

Profiles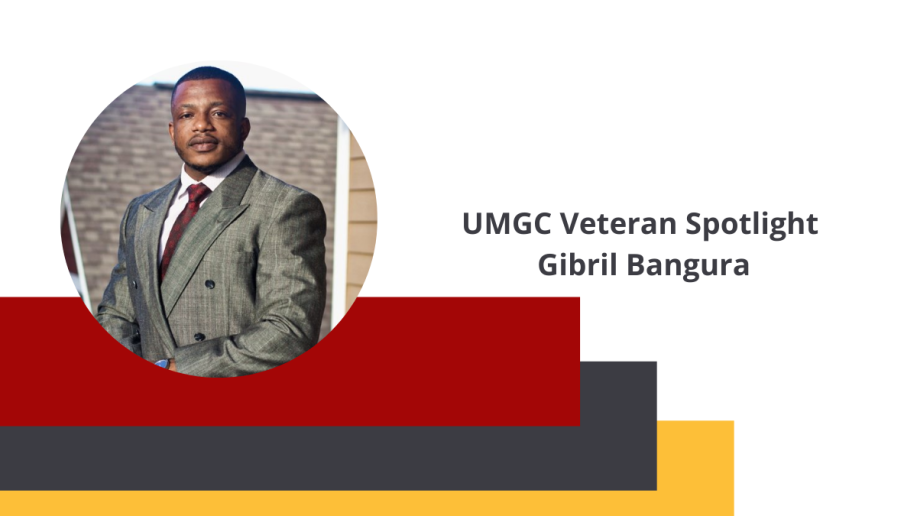 Gibril Bangura moved to the United States in 2009 after winning a spot in the Diversity Lottery, a visa program focused on individuals from countries with low rates of U.S. immigration. Born and raised in Sierra Leone, he relocated to take advantage of new opportunities, first by serving in the U.S. Army and now by attending University of Maryland Global Campus (UMGC). 
Growing up amid a civil war in Sierra Leone, Bangura was determined to make a change for his future. He attended a few university classes in Sierra Leone before moving to the United States.
"I felt like I had to move from Sierra Leone to find a better opportunity because I always had bigger dreams of being successful and helping others," Bangura said.
Bangura arrived in the United States in 2010 and immediately joined the army. He served as a financial technician performing payroll duties. Unfortunately, a cracked tibia injury that occurred during a training exercise worsened, and he officially retired from the military in 2015, ready to focus on his education.
Bangura attended two universities before finding his new home at UMGC.
The flexibility that UMGC offers with remote learning attracted him. Bangura has long-term effects from his injury and still uses a cane. With UMGC, he can participate in classes in the comfort of his own home, which helps on days his leg bothers him. Another key reason Bangura selected UMGC was its long history with veterans.
"I have taken general education classes, including accounting, where I learned a lot. This has given me a strong foundation to continue my studies as a veteran who was out of college for some years," Bangura added.
Bangura decided to pursue a major in cybersecurity with a focus on business. He plans to graduate in 2023 with a B.S. in Computer Networks and Cybersecurity.
"Attending UMGC, being a veteran and feeling like I'm at a military home has helped me professionally," Bangura said.
Today he builds on his military experience by aiding fellow veterans at the Office of Veterans Initiatives and Outreach (VIO) at UMGC.
"As a student worker in the VIO, I'm the first line of response. It is not easy transitioning to civilian life, so I'm happy to help veteran students," Bangura said. "We work hand in hand with the U.S. Department of Veterans Affairs (VA)."
The VIO offers resources and assistance related to veteran-student issues, including transcripts, financial aid, military benefits and advice on the best way to access the information. The best part about the job is that Bangura can work from home while connecting with fellow veterans.
Kelly Grooms, assistant director of veterans' initiatives for the VIO, described Bangura as "a dedicated team member."
"He is committed to assisting fellow student veterans in understanding how to use their benefits, as well as how to balance the transition from combat zone to classroom," Grooms said. "He is diligent in accomplishing tasks and his attention to detail is an asset to his colleagues and overall mission of the Veterans Initiatives Office."
As a retired servicemember, Bangura has firsthand knowledge to share with new veteran students. He credits professional development and mental health programs through the VA with helping him regain his identity as a civilian and attend UMGC.
Bangura also praises the leadership at the VIO, saying they serve as role models and mentors as he progresses in his academic journey and eventual professional career. 
"I know with a UMGC education, I can leave here and find a better job. And the flexibility with the program is just great," Bangura said.