Military Times Ranks UMGC #1 Among Educational Institutions in it's 2021 List of Best Employers for Veterans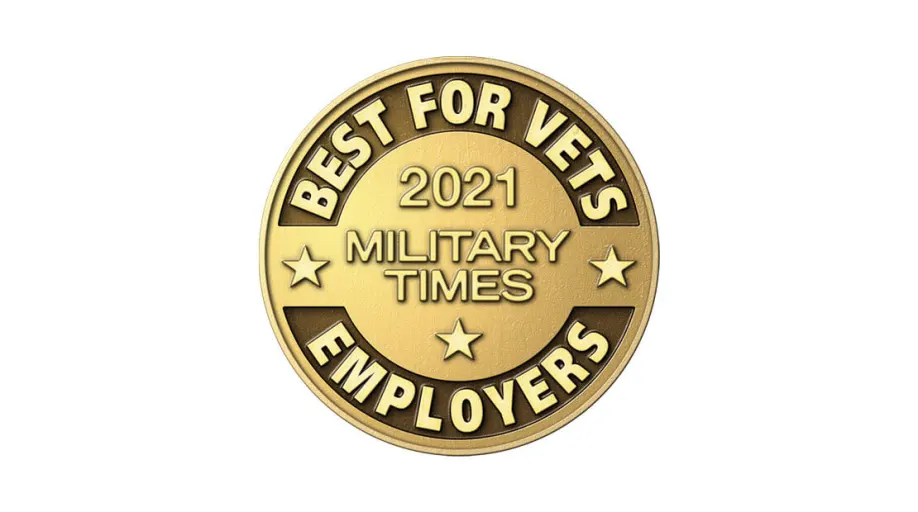 University of Maryland Global Campus (UMGC) was ranked #1 among universities in the Military Times' latest survey of the best employers for veterans, the most comprehensive annual ranking of organizations with military-connected employment programs, benefits and support efforts. 
Military Times' 2021 Best for Vets: Employers ranked 161 companies, non-profits and educational organizations across the country. In addition to UMGC's top ranking in the Education-Teaching- Administration category, the university was fourth among organizations ranked in the state of Maryland and #7 in the Non-profit category. 
"We are proud of our commitment to recruit, support, and retain those who have served our country," said UMGC President Gregory Fowler. "Whether establishing relationships with veteran service organizations, working with government agencies on hiring initiatives for veterans with disabilities, expanding access to career development and health and wellness programs for veterans and their families, or our outreach to veterans at military job fairs, we are engaged in a variety of activities to both support our veterans who may be transitioning to civilian lives and helping them succeed in their careers." 
Each year Military Times ranks organizations according to criteria related to recruitment, retention and career advancement. This year, it said it placed more emphasis on the practices that veterans say make civilian workplaces attractive to their talents and needs. 
"We had conducted focus groups with subject matter experts and with subscribers of Military Times," said Tina Kurian, senior researcher for the Fors Marsh Group, a research firm that specializes in the veterans and military community that conducted the sessions. "They ordered which topics were most relevant for organizations to be the best for veterans." 
The result, said group Director of Customer Experience Research Nicole Tongo, is a list of firms "that care about things that veterans care about, and good companies for them to explore if they are looking for a job." 
About University of Maryland Global Campus (UMGC)

Celebrating its 75th anniversary in 2022, UMGC is the state of Maryland's open-admissions university. With an enrollment of some 90,000 students, the university offers high-quality, affordable, accessible undergraduate, graduate and doctoral degree programs as well as non-degree certificate programs in online and hybrid formats.

From its inception in 1947, UMGC has been guided by its historic mission to bring education within reach for adult students in the workforce and the U.S. military in Maryland and around the world—students for whom a traditional education is impractical or impossible.
In 1949, UMGC became the first institution to send faculty overseas to teach active-duty military personnel at installations in Europe. The university expanded overseas operations to Asia in 1956 and to the Middle East in 2005. UMGC faculty have taught in the war zones of Vietnam, Kosovo, Kuwait, Afghanistan and Iraq.
UMGC now offers classes and education support services to military personnel and their families at 175-plus locations in more than 20 countries. Over half of the university's current students are active-duty military personnel and their families, reservists, members of the National Guard and veterans.