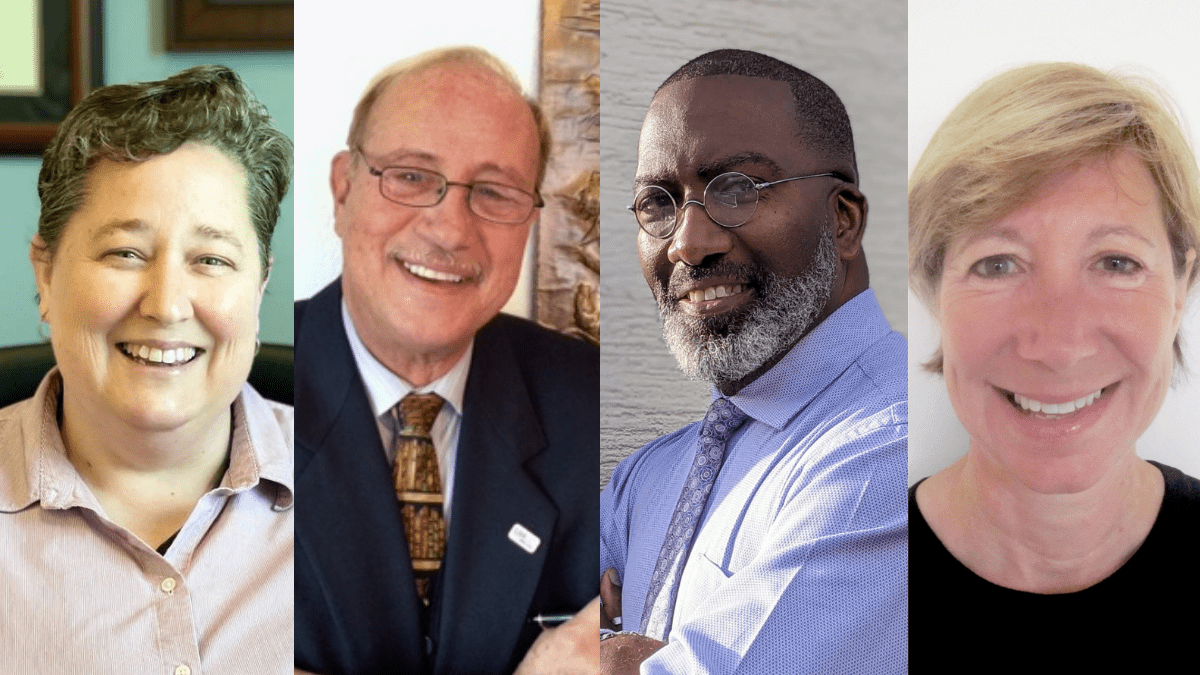 John Barbato has an uncommon claim to fame: He has taught for University of Maryland Global Campus (UMGC) on three continents.
"I've been all over Europe, the Middle East and South America for a year when UMGC had a program in Montevideo, Uruguay, in the early 1990s," he said. "I've also had the privilege of being deployed to many remote sites like Bosnia, Kosovo, Afghanistan and Bahrain. The list is long."
Barbato is one of approximately 565 UMGC overseas faculty members for whom a classroom may be any place in the world. These educators usually teach in education centers on military bases—except when COVID-19 drove them to online education platforms—but they also have moments where a class might unfold in a tent, in a building stairwell, in a bunker.
They are drawn to the experience because of their links to the military, by their interest in nontraditional students, by their love of travel or, sometimes, by all three.
On Oct. 5, World Teachers' Day, the experiences of these UMGC teachers especially resonate.
UMGC Psychology Professor Mindy Otis said teaching in a global classroom has been her best job. She enjoys her students and she gets to indulge her lifelong love of travel. Before joining UMGC as a full-time faculty member, she had multiple positions in the education field, including as a special education administrator and a school principal.
"I was living in Connecticut and I didn't like the job I had. It was very stressful. I was looking for a change," she said. She spotted a UMGC advertisement for overseas teachers and applied.
That was seven years ago, and she hasn't looked back.
For Renaldo Walker, teaching at UMGC has an intensely personal significance. Walker is both a former servicemember and a former UMGC student. Deployed to Germany to support Operation Desert Shield/Desert Storm, he began studying German through the university. Today he is a full-time faculty member teaching graduate and undergraduate business, human resources and project management classes in Germany.
"The experience of being away from the United States and still having the possibility to pursue a valuable education with a respectable institution was influential in paving the way to where I am now," Walker said. "I always valued what it meant to me as a member of the military to be academically supported away from home."
Walker, even while teaching, continues his own education at UMGC. He is pursuing a doctorate in business administration.
Walker noted the irony of his current career, given that he was interested in sports—not education—when he was young. He described himself as an "at times below average" student when he joined the Air Force in 1987.
Several years into his military service, he felt "it would be an honor to travel abroad and pay service to our military members, Department of Defense employees and contractors, and their families in their pursuit of academic accomplishment."
Gretchen Koenig, meanwhile, had always wanted to teach outside the United States. A professor of English, speech and writing since 2016, she said her position with UMGC in Europe "was a perfect fit."
The theme for World Teachers' Day in 2021 is "teachers at the heart of education recovery." When the COVID-19 pandemic hit, most stateside UMGC classes were already online or hybrid, which is a combination of online and in-classroom. At military education centers overseas, however, in-person classes were the norm.
The pandemic was a game changer. Walker described it as "the biggest challenge that I have experienced" in teaching.
John Nolan, a UMGC professor of history, leads field study courses in which students do online work and reading then meet for guided travel marked by lectures, museum visits, meetings with local experts and other on-the-ground experiences. Nolan was in London with a field study group when he got word that countries were locking down because of the novel coronavirus. His students managed to finish their trip, but a field study program in Spain was derailed mid-week.
Despite needing to shift gears for COVID-19, Nolan said he enjoyed the challenges that came with teaching online. "Though the classes have been small, the students have responded well and produced some of the best work I have seen from undergraduates so that, too, is rewarding," he said.
Otis, meanwhile, was teaching in Korea when the global lockdowns started. "I've been in quarantine four-and-a-half times," she said, "but being in Germany or Korea, compared with the United States, was much more restrictive. We were shut down and the only thing you could do was go to the grocery store or pharmacy or pick up takeout."
She said the isolation of lockdown was hard, and her students in Italy and Germany seemed to arrive at the Zoom classes seeking both academic and social engagement.
"My students would stay online after class and we would all chat. It was our social exposure," she explained.
Indeed, the interaction with students—and the opportunity to unleash their potential—is one of the things that drives Walker passion for teaching. He recalled the time when an MBA student was in touch to say a job would prevent her from attending the first cohort weekend in his class. Shortly afterward, Walker learned that the student was taking steps to drop the course.
"A program coordinator … was instrumental in advising her that she should first speak with me before doing anything further. She agreed, we eventually spoke and during our telephone conversation, she began to cry and explain to me that the office where she worked was understaffed so she was working most weekends, and that she was trying her hardest to establish work-life balance while also being a wife and mother of three," Walker said.
The student was ashamed that she wasn't keeping pace with the rest of her cohort.
"I went on to make a deal with her that she should suspend all efforts to catch up on her classwork until she had the opportunity to meet with her cohort. If she still felt ashamed after that point, then I would fully respect her wishes to withdraw from the course," Walker said.
She went to class, met the other students and explained her situation.
"Needless to say, she fell in love with the cohort, caught up with her classwork, confronted her [work] manager about the importance of her pursuing her education and became one of the best students that I ever had," Walker said. The woman completed her MBA, becoming the first woman in her family with a graduate degree.
Otis, too, finds it gratifying to see her students achieve.
"My students are the best part of the job. They never cease to amaze me," she said. "Some of them come out of less-than-stellar K-12 education and they think they aren't college material, that they can't learn. Then they come to UMGC and realize, 'Hey, I can do this!'"
Koenig noted that teaching servicemembers overseas often feels exactly like teaching students stateside—and then she is reminded of "the different stressors that our students have to content with.
"Many of these students are away from home for the first time, living in a foreign country, and many are facing deployments or training to additional countries. They are trying to maintain a stable life at home while everything around them is different," she explained. "That potential loss of equilibrium can make classes more challenging.
"The actual classes and classroom interactions aren't different, but the concerns or distractions weighing on our student's minds certainly are," she added.
Barbato said it's not only the unexpected experience of teaching against a backdrop of different countries, cultures and challenges but, sometimes, the unusual form the classrooms themselves take.
On the first night of a teaching assignment in Kandahar, Afghanistan, his class was interrupted by sirens signaling a rocket attack. He was instructed to crawl under a table in the classroom until the group moved to a bunker.
"Once in the bunker, which was pitch black, I asked, "Can I still talk?'" Barbato recalled. "I was told I could, so I continued on with the class as I would have anywhere, going over the syllabus, the assignments, forming groups and talking about human resource management.
"We had been in the bunker for almost two hours when a student said, 'Professor, it's nine o'clock,' pointing to his watch. The class was scheduled to go from 6 to 9 p.m.
"I said, 'Do you have somewhere to go?' We all laughed a bit and then we kept discussing human resource management until we were given the all-clear sign," he said.
Not surprisingly, many of the UMGC faculty overseas love being on the road, and they take advantage of the opportunity to travel when they can.
Otis is an old hat at off-the-beaten-track experiences. On one trip she visited an amusement park in the bottom of a salt mine in Turda, Romania. On another, she tried out a multi-level trampoline in a coal mine in northern Wales. A 5,000-miles road trip took her through several countries.
"Before I came to UMGC, I was a normal suburban soccer mom. I went to work, I came home, I did potluck," she said. "I love the life I have now. Next weekend I'm going hiking by myself in the Canary Islands."
In Nolan's 23 years with UMGC, he has taught in nine locations in Germany, six in the UK, four in Italy, three in Belgium and two in Bosnia. He has also had multiple postings in Kuwait, Bahrain, Afghanistan and Diego Garcia. His field study courses, notably in Ireland and France, give him an extra opportunity to travel when he's not at his home, a small farm in rural
Cornwall where, as he puts it, "I wear bib overalls a lot."
For all his postings with UMGC, Barbato's link to the university came through his father who retired from the military, served as dean of the European operations of a U.S. college that no longer exists and then taught at UMGC for 17 years.
Just out of college and ready to begin a job as an investment banker in New York, Barbato found his father trying to lure him back to Europe, where Barbato had attended school on military bases.
"My father had financed my studies in the form of a loan. He told me, that if I came over to Europe and taught with him for one year, he would erase the loan," Barbato said. "That one year turned into 32 years and going."
Barbato teaches business courses, including management and marketing. He is assigned to Germany's Ramstein Air Base, the same base where his father served. At the Commencement ceremony marking the last year his father taught, the father and son—both UMGC faculty members—walked across the stage together.