The difficult stories of 20 adults and their pathways to an education are spotlighted in a new book by Peter Smith, EdD, Orkand Chair, and Professor of Innovative Practices and Higher Education at University of Maryland Global Campus (UMGC). "Stories from the Educational Underground: The New Frontier for Learning and Work" looks at people whose access to higher education is severely limited, the same population that UMGC traditionally serves.

"For the last 10 years, I've had this notion of interviewing learners and just getting their stories, but I couldn't quite grasp the angle," said Smith. "As time slowed down during the pandemic and I conducted several interviews, I realized how important it was to tell these stories to further demonstrate the lack of access to higher education often pre-determined by circumstances beyond someone's control of birth and society."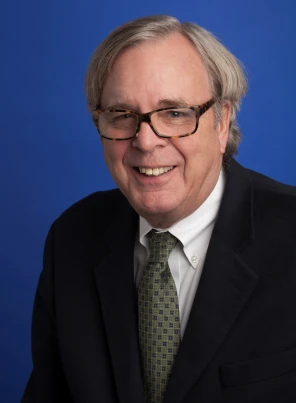 Smith has worked with adult learners for more than 50 years. He began his career as the founding president of the Community College of Vermont. He later was the founding president at two other higher education institutions: California State University, Monterey Bay, and Open College at Kaplan University.
"Using his own white privilege as a stark counterpart, Peter uses honest, beautiful storytelling to introduce us to modern heroes who succeeded without that privilege," Jane Oates, editor at nonprofit WorkingNation, said in a quote that appears on the cover of Smith's new book. WorkingNation brings attention to labor force skill gaps, the future of work, and other issues affecting the economy.
Smith said he looked at individual stories to see what they revealed about obstacles to higher education.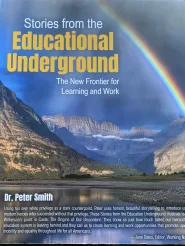 "What I wanted to do was to tell the stories of people, to say here's the human consequence of the exclusion that we practice by the way we look at learning, what we think is important, how you validate learning and what this iron-lock hold that higher education has on certificates and brand and quality is costing us," Smith said
To locate prospective subjects for his research, Smith tapped into his professional network. This included contacts at McDonald's Archways to Opportunity program, Walmart, Amazon and the Community College of Vermont. They also included students from UMGC and Western Governors University.
One common factor he identified among the interviewees was the involvement of a mentor or important person who offered great advice and guided them. Some of those interviewed reached a turning point in their life after serving time in jail or overcoming abuse; they pivoted to education to prevent their past from defining them. Others looked to education after they found themselves overlooked for promotions because they lacked an academic degree.
"What I say at the end of the book is [that] this isn't just about good curricula or good teaching. This is about respecting a person's culture, about respecting the knowledge they gained wherever they gained it, validating it and building on it," Smith said.
In addition to working in higher education, Smith spent 10 years in politics as a state senator, lieutenant governor and U.S. Congress member for the state of Vermont. He also served in professional roles at UNESCO, the Graduate School of Education and Human Development at George Washington University, and College Unbound. Smith published four books prior to his latest one, as well as numerous papers.
Smith joined UMGC in 2016. In addition to his role as Orkand Chair, he also serves as a senior adviser to the university's leadership team.
Smith noted the importance of technology in his current role, particularly throughout the pandemic, and pointed out that technology can be used to connect with people who might otherwise be left out of higher education—and it can do so in an equitable and qualitative way.
"Of course, I see that as the being at the heart of UMGC's mission as a public university," Smith added.