UMGC Teams Up with Embry-Riddle to Increase Opportunities to Earn Bachelor's Degrees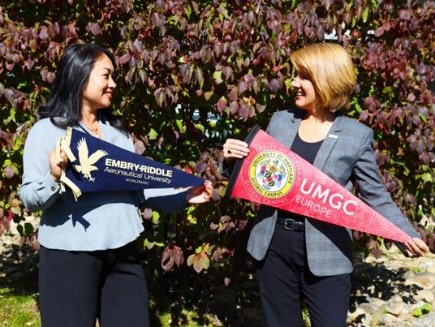 Two household names in military education have teamed up to provide overseas students with even more options to reach their educational goals. The new "2+2 Program" announced by Embry-Riddle Aeronautical University and University of Maryland Global Campus allows students to earn an Associate of Arts degree at UMGC and seamlessly transfer up to 60 credits to Embry-Riddle for the completion of a Bachelor of Science in Aeronautics degree: https://erau.edu/degrees/bachelor/aeronautics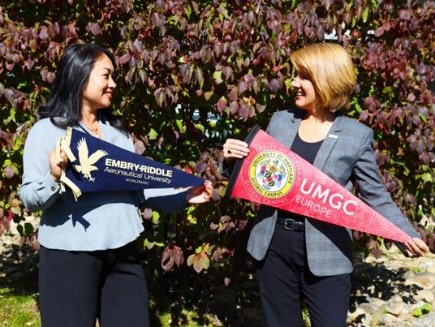 Embry-Riddle's Nancy Tran-Horne (Left) and UMGC's Patricia Coopersmith.
The schools signed the agreement in August 2021, and enrollment in classes is open at military education centers across Europe and Asia. The partnership allows students to choose from a variety of modalities and face-to-face options.
"We're committed to providing military members in Europe and the Pacific an opportunity to succeed in their educational goals by enrolling in UMGC's local general education courses," said Embry-Riddle's Executive Director of Campus Operations Nancy Tran-Horne. "This program will set them up for retention and success with our aviation curriculum in order to support their professional career advancement."
Both schools have waived application fees for program participants. Prospective students are encouraged to stop by their local on-base education center to speak with UMGC program coordinators or Embry-Riddle representatives for more information.
"UMGC is honored to work with Embry-Riddle on this partnership to provide an even broader array of educational options and services to the military community overseas," said UMGC Europe's Associate Vice President and Deputy Director, Patricia Coopersmith.
About Embry-Riddle Aeronautical University's Campus Locations in Europe and the Pacific
U.S. service members and their families can find the educational resources they need to become a successful student at Embry-Riddle Aeronautical University Worldwide's European and Pacific campus locations. Embry-Riddle's flexible learning options, talented instructors, and knowledgeable staff can help you develop the skills you need to get ahead in your military career and beyond. If you are not affiliated with the United States military but are interested in Embry-Riddle Worldwide in Europe, please go to our ERAU Europe Campus website.
Reporters worldwide contact Embry-Riddle Aeronautical University for content experts in all aspects of aviation, aviation business, aerospace, engineering and STEM-related fields. Our faculty experts specialize in unmanned and autonomous systems, security and intelligence, air traffic and airport management, astronomy, human factors psychology, meteorology, spaceflight operations, urban air mobility and much more. Visit the Embry-Riddle Newsroom for story ideas.
Embry-Riddle educates 33,500+ students at its residential campuses in Daytona Beach, Florida and Prescott, Arizona, at approximately 125 Worldwide Campus locations and through online degree programs. In 2021, U.S. News & World Report named Embry-Riddle Worldwide the nation's No. 1 provider of online bachelor's degree programs.
About University of Maryland Global Campus (UMGC)

UMGC is the state of Maryland's open-admissions university. With an enrollment of some 90,000 students, the university offers high-quality, affordable, accessible undergraduate, graduate and doctoral degree programs as well as non-degree certificate programs in online and hybrid formats. In 1949, UMGC became the first institution to send faculty overseas to teach active-duty military personnel at installations in Europe.
The university expanded overseas operations to Asia in 1956 and to the Middle East in 2005. UMGC now offers classes and education support services to military personnel and their families at 175-plus locations in more than 20 countries. Over half of the university's current students are active-duty military personnel and their families, reservists, members of the National Guard and veterans.