UMGC President Gregory W. Fowler Named to The Daily Record's Inaugural Power 30 Higher Education List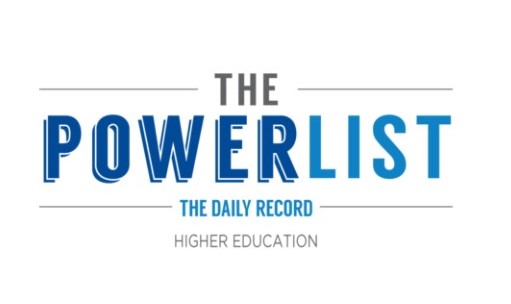 The Daily Record, Maryland's influential newspaper for business, legal and government leaders, has named UMGC President Gregory W. Fowler to its inaugural Power 30 Higher Education List.
According to the newspaper's announcement, "There are few, if any, fields of endeavor more critical to Maryland's future than higher education. The task of preparing a new generation of citizens with critical thinking abilities, the temperament for lifelong learning and the skills to enter a globally competitive workplace grows more challenging every year.
"On top of all of that, we saw year two of a global pandemic that made in-class instruction difficult (sometimes impossible) and posed financial and technological obstacles unthinkable only months earlier. Many of the women and men leading our institutions of higher education, as well as teachers, policymakers and advocates, rose to this challenge."
Fowler became UMGC's seventh president in January 2021, continuing a distinguished 25-year career in higher education that has included transformative leadership roles at Western Governors University and Southern New Hampshire University.
 
In the newspaper's Power 30 Higher Ed profile of Fowler, he reflected on his role in leading the nation's largest online public university.
"UMGC has a 75-year history of serving adult and military learners beyond the boundaries of the traditional campus on all seven continents," said Fowler. "I am excited to continue expanding on that mission and tradition. Our team is bringing new levels of deliberate design and transparency to learning experiences—credit and noncredit — that address the needs of new markets with high levels of support and accountability."
This list was selected by the newspaper's editorial team, which also received input from readers. Editors examined how these leaders view the higher education landscape, how it now exists and what it may look like in the future, and exploring the kind of people they are, what drives them to excel and to serve.
Fowler was asked by the newspaper to reflect on how he had been affected personally by the pandemic.
 
"COVID-19 started shutting things down just as the Ahmaud Arbery and George Floyd cases hit the news." Fowler said. "I grew up attending high school events not far from where Arbery was killed. That could have been me.
"Isolation gave me a chance to reflect on what mattered," Fowler continued, "including my relationships with others and theirs with me, especially anytime someone close to me contracted COVID, and certainly when someone passed away. Both personally and professionally, I have a greater sense of self and purpose now and, to paraphrase Mandela, want even more to use education of the underserved to change the world."
About University of Maryland Global Campus
Celebrating its 75th Anniversary in 2022, University of Maryland Global Campus is a world leader in innovative educational models with award-winning online programs in biotechnology, cybersecurity, data analytics, information technology, and other high-demand disciplines in today's increasingly technical, global workplace. With an enrollment of some 90,000 students, UMGC offers open access with a global footprint and a specific mission—to meet the learning needs of students whose responsibilities may include jobs, family, and military service. The university offers both undergraduate and graduate degrees and certificate programs, including doctoral programs. A pioneer in distance education since 1947, UMGC is harnessing the power of learning science and technology to deliver accessible high quality, low-cost higher education.