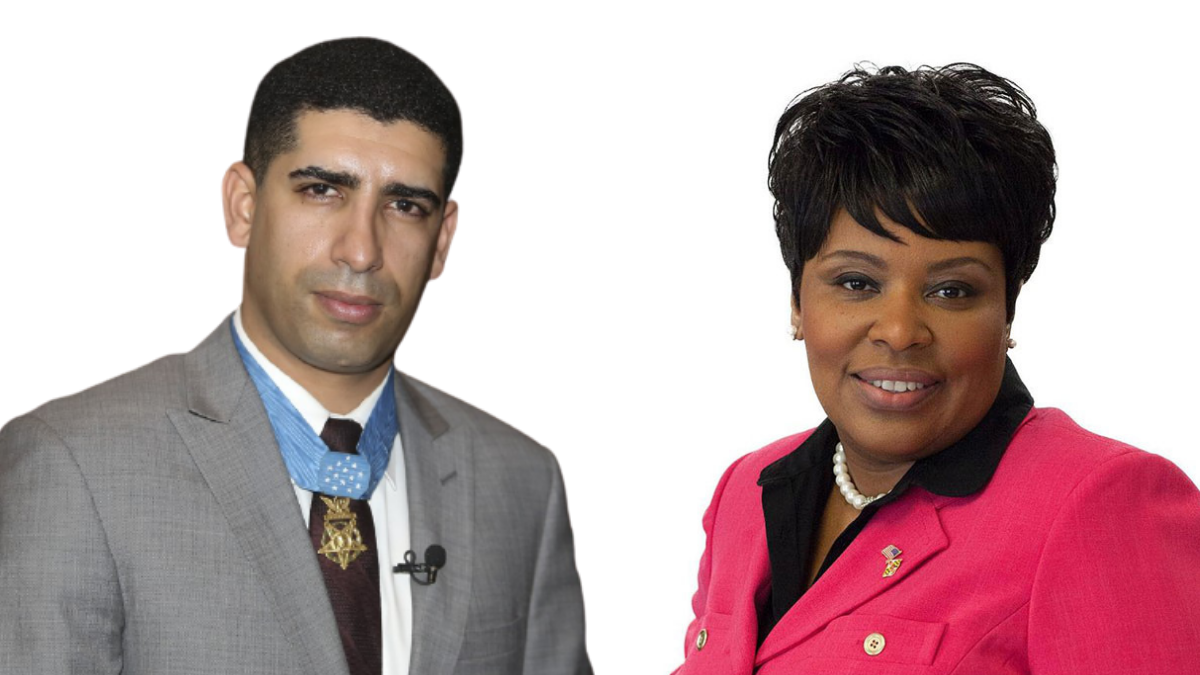 By Gil Klein
President Biden appointed two prominent UMGC graduates to federal boards in September – Florent Groberg to the American Battle Monuments Commission and Ginger Miller to the United Service Organization (USO) Board of Governors.
"On behalf of our global university community, I congratulate our distinguished alumni on these honors," said UMGC President Gregory Fowler. "They are part of a long-standing and honorable UMGC tradition of alumni first serving their country with distinction in the military and then returning as civilians to offer their talents in further support of our nation."
Capt. Groberg (U.S. Army, Ret.) was awarded the Medal of Honor by President Barack Obama for tackling a suicide bomber while on a mission in Afghanistan in 2012. He suffered severe leg injuries when the bomb exploded, but his selfless act saved the lives of several people around him.
While recovering from 32 surgeries at Walter Reed Military Hospital, Groberg completed a UMGC Master's degree in Intelligence Management.
Groberg now leads the Microsoft Azure Global Government M360 Mission Solution Team, which works with governments worldwide to identify key missions and systems that should operate on the Azure Cloud. Microsoft Azure Government is a mission-critical cloud, delivering breakthrough innovation and security to U.S. government customers and their partners.
The American Battle Monuments Commission is an independent federal agency that oversees permanent U.S. military cemeteries, memorials and monuments both inside the United States and in other countries. It is responsible for maintaining military cemeteries for 140,000 veterans as well as maintaining memorials for more than 94,000 service personnel missing in action or lost or buried at sea.
Ginger Miller graduated from UMGC in 2012 with a master's in Non-Profit and Association Management. Hitting a low point in her life as a homeless disabled Navy veteran, she turned herself around, graduating from Hofstra University with an accounting degree and then following her passion in running non-profit groups.
She became a White House Champion of Change for Women Veterans and president and CEO of the Women's Veterans Interactive, which enables and empowers women veterans to get the support and resources they need to succeed in their post-military lives.
She now serves as an Advisory Board Member at the Northwest Federal Credit Union and previously served on the Advisory Committee on Minority Veterans at the U.S. Department of Veterans Affairs, as the chairwoman of the Prince George's County Veterans Commission, Commissioner on the Maryland Commission for Women, and as a member of the Maryland Caregivers Coordinating Council.
Founded in 1941, the USO is the nation's leading organization serving the men and women in the U.S. military and their families throughout their time in service with their assignments and deployments as well as during their transition back to their communities. Famed for its entertainment shows bringing Hollywood talent to soldiers fighting overseas, the USO has more than 200 locations in 13 countries and 27 states.
Groberg and Miller have both served as student keynote speakers at UMGC graduation ceremonies.