Cyberbullying: Five Common Misconceptions
Cybersecurity Awareness Month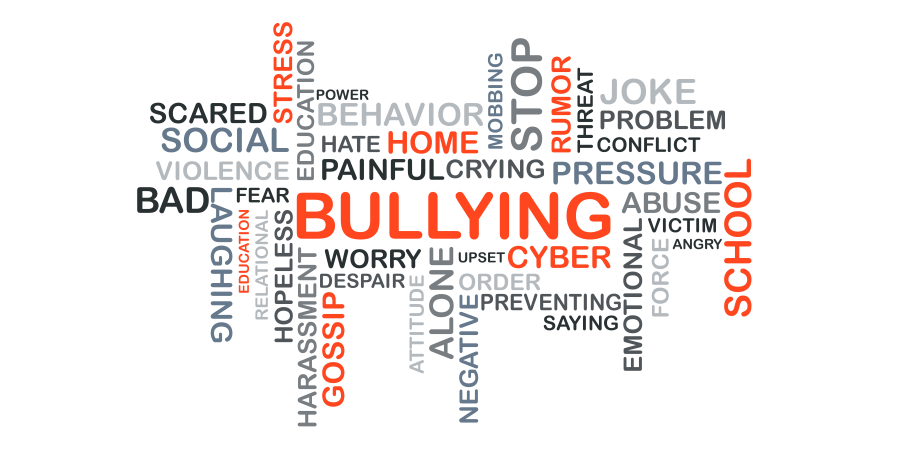 Guest author Richard White, Ph.D., is an adjunct professor of cybersecurity information assurance at UMGC. He is also the author of the books "Cyberbullying: The Silent Sickness of America's Youth," and "Cybercrime: The Madness Behind the Methods."
In the last 15 years or so, a new menace has emerged that threatens to erode trust and destroy young lives. Before children had access to mobile phones, social media accounts and online gaming forums, bullying occurred mainly in schoolyards and on playgrounds. There, at least you knew who the bullies were and that you would be safe at home. Sadly, today we live in a world where "cyberbullies," perpetrators who use electronic communication to intimidate or threaten, follow their victims right into their homes and even the safety of their bedrooms.
Cyberbullying occurs out of public view and away from the sightline of mindful parents, teachers, friends and bystanders. Victims of cyberbullying have nowhere to hide.
Many people do not take the cyberbullying epidemic seriously, mainly because they do not see it or understand its implications. But the consequences can be devastating. According to the Journal of Health Economics, statistics collected as far back as 2017 indicate that internet bullying increases suicidal thinking among its victims by 14.5 percent and suicide attempts by 8.7 percent. In recent research published in the Journal of School Violence, Sameer Hinduja and Justin Patchin, co-directors of the Cyberbullying Research Center, found that students who experienced bullying or cyberbullying are nearly twice as likely to attempt suicide.
Social media, an integral part of how teens, especially, communicate and interact with friends, has made it particularly difficult for parents to identify the signs cyberbullying and even more difficult for them to prevent it. The social aspect of social media—namely retweets, "likes" and comments—opens a world of opportunity for nefarious behavior. An original message can be distorted, private photos can be shared, and a perfectly innocent communication can be misused to victimize and torment its originator.
Cyberbullies remain anonymous or masquerade as someone else. They attack at any time of day or night and from any place in the world. Victims often find themselves alone in the fight as others steer clear to avoid becoming targets, too. This gives the advantage to the cyberbully and makes it harder to stop the malicious activity. 
To better understand and combat online abuse and hate, it is helpful to dispel common misconceptions about cyberbullying.
Cyberbullying is less harmful than traditional bullying.
False. Traditional bullying can be damaging and lead to physical altercations. But the  persistent and pervasive nature of cyberbullying can fuel deep emotional and physical problems that even lead, in some cases, to suicide. The real problem with cyberbullying is the persistent relationship between the victim and the digital media source of the abuse. A cyberbully take advantage of this relationship. 
Victims of cyberbullying show signs of emotional abuse early.
False. With younger victims, often there are no obvious signs of abuse until the bullying problem becomes overwhelming and dangerous. Victims, embarrassed by the content a cyberbully focuses on or spreads, may make every effort to hide it from those who care about them.  
A parent can tell if a child is being cyberbullied. 
False. Not only is this not true, but a parent may be the last to know. Children and young adults are experts when it comes to hiding emotional distress. They go great lengths to hide their pain from parents and other authority figures, particularly in the early stages of the abuse. 

Cyberbullying usually unfolds in one form.
False. Cyberbullying takes many shapes, including the following:


Using text messaging to harass a victim: Bullies often work as a gang to identify a target and then send hundreds of messages filled with vulgarities and personal insults. The goal is to overwhelm a victim by the sheer number of attacks. These bullies may magnify this by posting rumors—meant to cause as much emotional distress as possible—on social media platforms.  
Falsely reporting a victim as a cyberbully: Many websites and chatrooms feature a button to notify moderators of a user who is causing harm to other people on the platforms. If they receive multiple reports over a short period of time, the systems are designed to automatically remove someone from their service. Bullies use this feature to kick innocent victims off social media networks. 
Identity theft: Bullies will steal the password to a social media account and then post inappropriate material in full view of parents, relatives and friends. Some cyberbullies post racist or sexual information specifically to embarrass. 
Trolling: Trolling is a term that has received widespread notoriety over the last few years. This practice involves sending a message aimed at eliciting an emotional response from the victim. These messages target ethnic, religious or social background. Most of these offenders, or Trolls, seek to overwhelm their victims and make them feel vulnerable and humiliated. This leads to feelings of hopelessness. It also leaves victims powerless to control emotional and social situations in their lives.  
Cyberstalking: An especially dangerous type of bullying, cyberstalking occurs when a perpetrator monitors a victim's digital media presence to gather information on their personal life, whereabouts and behavior patterns. The information is used to blackmail, harass or solicit sex from a victim. This is additionally dangerous due to the close link between stalking and violence. 

Ostracism: A large group of friends can decide to purposefully ignore one member by failing to acknowledge phone calls, texts or online posts. This makes the victim feel isolated and embarrassed. 
Trickery: Trickery can take several forms. For example, someone can create a fake social media account to trick a victim into believing someone is romantically interested in them or to get the victim to trust them. Once the connection is achieved, victims might be lured into revealing personal information that could be used to blackmail or embarrass them.  

Cyberbullies are evil and misguided.
False. Cyberbullies, in most cases, appear well adjusted and socialize with others in a seemingly acceptable manner. This includes their interactions with parents, teachers, authority figures and even the parents of their victims. Who, then, becomes a cyberbully? The disconcerting answer is anyone. Context and situation, home environment, poor coping skills, past victimhood or a lack of supervision can all contribute to the emergence of a cyberbully. 
Cyberbullying is on a rapid rise, and we must take a stand now to prevent and eradicate this social disease. Tougher laws are needed to document and punish first-time and repeat offenders. More responsibility needs to reside with social media platforms. They must block and permanently remove offenders, both automatically and when reported. We also need to extend more authority to law enforcement agencies responsible for investigating and prosecuting offenders.
Lastly, everyone must be involved: parents, teachers, friends, other family members. The cost of inaction will be the loss of those most vulnerable. If you know or suspect someone is being cyberbullied, act now. Tomorrow might be too late.