After Raising a Family, Recent UMGC Grad Inspired to Take On Next Educational Challenge–Law School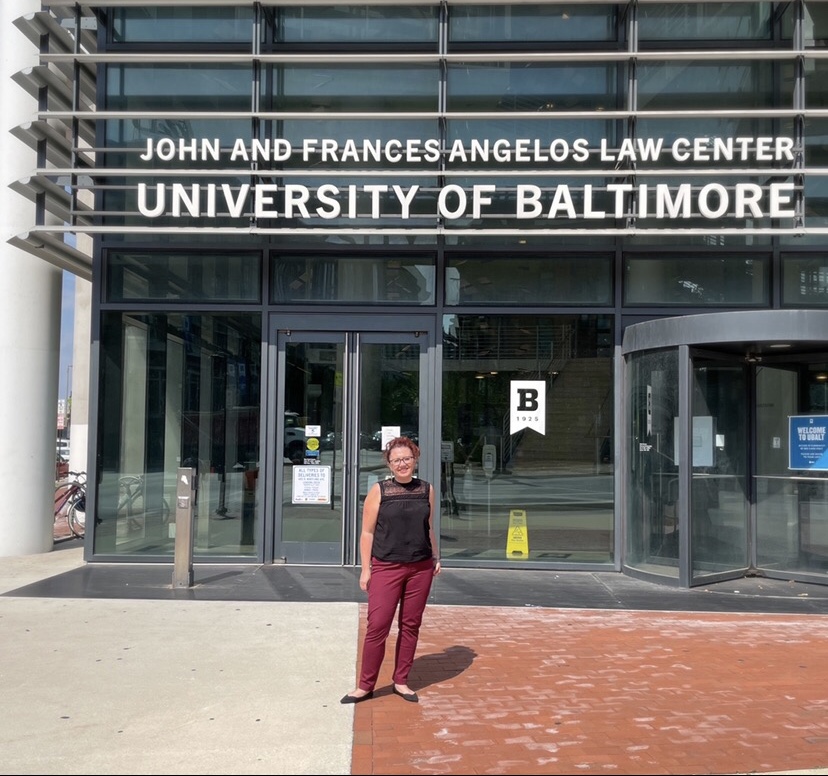 Cherie Correlli is in law school at the University of Baltimore on a full scholarship. The path she took to get there at age of 39 is touched by inspiration and determination. It also is marked by an unexpected catalyst: a University of Maryland Global Campus (UMGC) education in sociology.
A lifelong Baltimore resident, Correlli dropped out of community college to get married and raise her two children. After all, no one in her family had completed college, so did she really need it?
She opted to be a stay-at-home mom, homeschooling her children. The homeschooling idea started as kind of a lark to provide more hands-on activities and experiences for her kids, opening the way for her to take them to museums and performances. It fit so nicely with the family's schedule—her musician husband works mostly nights—that she kept it going.
While raising her children, Correlli developed a part-time career as a birth doula, a trained non-medical companion who supports women through their pregnancies and child birth, complementing the work of health care professionals.
While in her junior and senior years of high school, her older daughter was dual enrolled at the Community College of Baltimore County (CCBC). She graduated with both a high school diploma and an associate degree. She has a scholarship to pursue a degree in dance education at Goucher College.
As her daughter started her college career, Correlli began to regret that she had never finished her degree. She went back to CCBC, where she found that she needed only two more classes to complete her associate degree. After that, it was on to a bachelor's degree—at UMGC.
Why did she pick UMGC? "The price was a big surprise," she said. "I felt I couldn't burden my family paying a lot for my degree."
UMGC's Completion Scholarship for graduates of a Maryland community college joined other grants and scholarships that Correlli was able to line up. The result was a degree she could afford.
Her work as a doula had triggered an interest in the social sciences and women's studies. She completed the UMGC degree in social science with a concentration in sociology in 2021.
Donna Maurer, a UMGC collegiate professor of social sciences, described Correlli as a standout in her class. Maurer cited her intellectual ability, her writing, her critical thinking skills and, perhaps most important, her love of learning.
"When a student really loves to learn, they put a lot of energy into everything they do," Maurer said. "So her work in my class was exemplary."
As someone who spent many years without any academic degree, law school had not crossed Correlli's mind as a possibility—until a midwife friend, Alexa Richardson, mentioned that she was going to Harvard Law School. With Richardson as an inspiration, Correlli became more and more interested in the law as it pertains to patient rights in childbirth. She was especially focused on working against obstetric violence and making sure expectant mothers were informed.
Her UMGC classwork meshed with those interests.
"It was wonderful to have the opportunity through school to research the things that I cared about in my personal life and be able to write papers on them and to have the time and instructors' feedback in doing that kind of research," Correlli said.
She graduated from UMGC with a 4.0 grade point average and law school became a realistic goal—if she could find a way to pay for it. At the encouragement of her friend, she took the LSAT, the law school admission test, and her score put her well above average among applicants to the University of Baltimore. With recommendations from her UMGC professors and a lot of research, she was accepted into law school with a scholarship.  
"I applied to Baltimore in April, and they offered me the scholarship two weeks later," she said.
For Maurer, Correlli's success underscores the wide range of careers available to graduates in sociology.
"Sociology students understand the social structures that can help them create positive social change and to move toward social justice," Maurer said.
For Correlli, UMGC provided the kind of support she needed on the way to a degree.
"Since I am a first-generation college student, I didn't feel like I had a lot of people to ask advice when it came to my academic life," she explained. "Since UMGC is totally online, many students don't realize how helpful and willing some of the professors are to engage with their students.
Dr. Maurer in particular went above and beyond in teaching excellence, as well as in spending time to give me thoughtful advice on my law school plans."