UMGC Awarded New Five-Year Contract by U.S. Dept. Of Defense to Continue Providing Educational Services to Military Personnel in Middle East and North Africa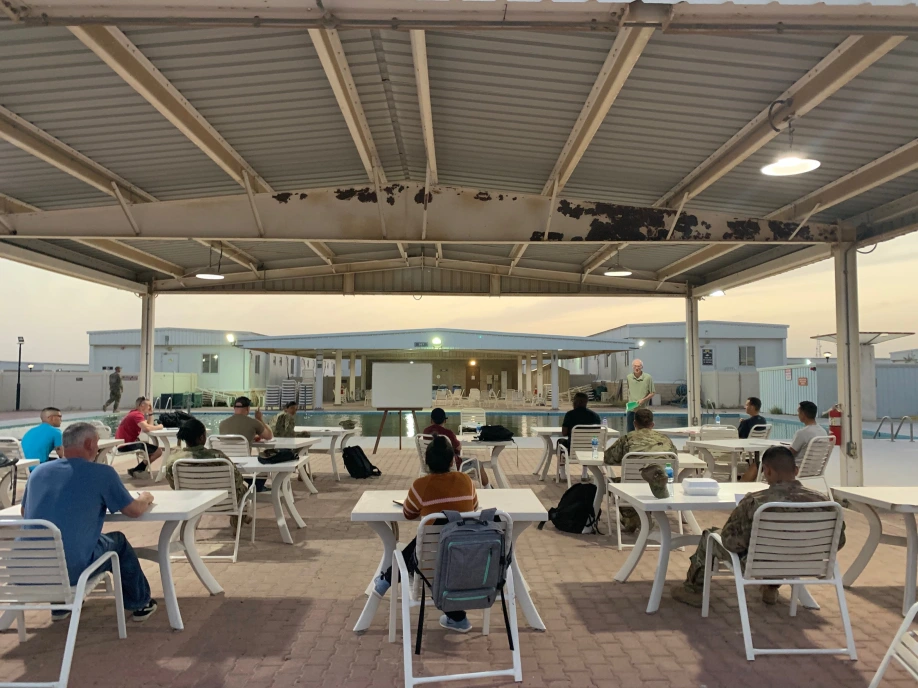 New Contract Extends UMGC's Presence in the Region that Started in 2005
Adelphi, Md. (August 10, 2021) -- University of Maryland Global Campus (UMGC) was awarded a new five-year contract by the U.S. Department of Defense to provide educational services to troops on military installations in the Middle East, North Africa and downrange locations that may be in active war zones. UMGC has been providing educational services in those regions and other downrange locations for the last 16 years, with the first courses taught in Afghanistan in 2005.
The new contract, which began on July 13, covers coursework and management of testing centers at 10 sites in seven countries, including Bahrain, Djibouti, Egypt, Jordan, Kuwait, Qatar, and United Arab Emirates. In addition to undergraduate liberal arts programs, active-duty military personnel located in these locations can take courses in select master's degree programs.
"We are deeply proud to continue our service to those who wear the uniform of our country in this pivotal region of the world," said Maj. Gen. Lloyd "Milo" Miles (U.S. Army-Ret.), senior vice president for Global Military Operations at UMGC. "It's a testament to the quality of our faculty and staff and their dedication to the success of our students."
The Middle East and Africa contract extends through academic year 2025-2026. UMGC also holds contracts to offer instruction in Europe and Asia. The university first began sending faculty to Europe in 1949 and to Asia in 1956.
 "We have been educating our active-duty military servicemembers overseas since shortly after the end of World War II," said UMGC President Gregory Fowler. "It's a commitment that is at the core of our historic mission to serve adult learners wherever they are in the world."

About University of Maryland Global Campus (UMGC)

UMGC is the state of Maryland's open-admissions university. With an enrollment of some 90,000 students, the university offers high-quality, affordable, accessible undergraduate, graduate and doctoral degree programs as well as non-degree certificate programs in online and hybrid formats.

 From its inception in 1947, UMGC has been guided by its historic mission to bring education within reach for adult students in the workforce and the U.S. military in Maryland and around the world—students for whom a traditional education is impractical or impossible.
In 1949, UMGC became the first institution to send faculty overseas to teach active-duty military personnel at installations in Europe. The university expanded overseas operations to Asia in 1956 and to the Middle East in 2005. UMGC faculty have taught in the war zones of Vietnam, Kosovo, Kuwait, Afghanistan and Iraq.
UMGC now offers classes and education support services to military personnel and their families at 175-plus locations in more than 20 countries. Over half of the university's current students are active-duty military personnel and their families, reservists, members of the National Guard and veterans.