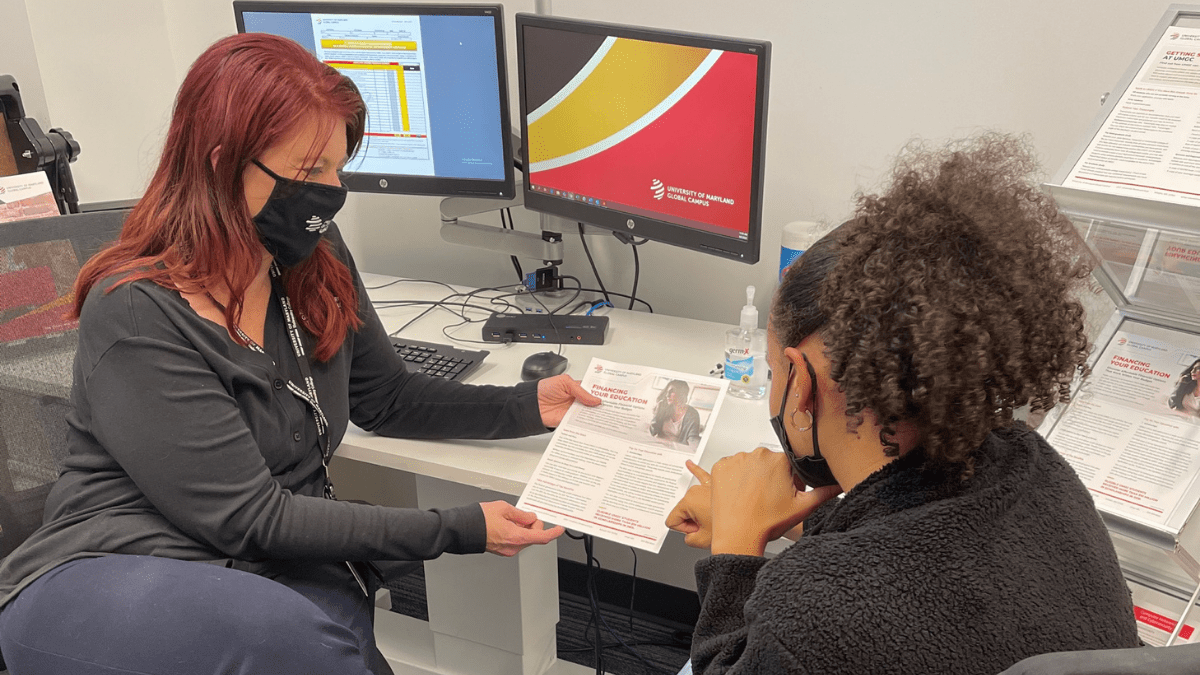 When Daniel Norris completes his education this summer, he will receive two bachelor's degrees—in business administration and cybersecurity—from University of Maryland Global Campus (UMGC). He will have the distinction of completing two degrees in just two years while also working full time for the National Security Agency (NSA) at Fort Meade.
To call Norris an overachiever is an understatement. He is just 20 years old.
Norris is motivated and disciplined but another factor helped make possible his ambitious goals: the UMGC educational advisors assigned to Fort Meade.
The seven-person team at Fort Meade handles UMGC's largest student enrollment of any military base worldwide. Four team members carry the title "military education coordinator," each managing portfolios with as many as 1,900 students, among them active-duty and retired servicemembers, their family members, Department of Defense civilian employees, private sector military contractors connected to the base, veterans living near the Maryland base, and employees of the NSA.  
"I had started working at NSA in high school as an intern. I got a job there after graduation but knew I needed a degree to move ahead," Norris said. "I wanted to finish my bachelor's degrees in two years, so I needed to make sure I was taking the correct classes and not too many hard classes at the same time."
He said UMGC's team helped him sort through the degree requirements, assisted him in determining which combination of majors would best advance his goals, and walked his mother through the financial aid options. When Norris needed a dean's approval for his course overload, the UMGC team was on his side.  
Nora Graves, UMGC Stateside Military Operations regional director whose area includes Fort Meade, has high praise for the base's educational team, which she described as "resilient, tough, super easygoing, and highly diverse—which is also what the military is."
At Fort Meade, the university enrolls servicemembers from the Army, Navy, Air Force, Marines, and Coast Guard, as well as the NSA Air Force and Navy commands.
"UMGC's team works as a unit, like the most perfect family, on a base that's highly secured. They get along well and help each other. And they all bring different skill sets," Graves explained.
Educational coordinators—also known as counselors or advisors—assist students with myriad issues, from how to transfer credits to what to do when deployment occurs in the middle of a course. They understand how UMGC operates and the ins and outs of tuition assistance, including GI Bill and Yellow Ribbon Program benefits.
Prior to COVID-19, students contacted educational counselors via phone, email, and face-to-face meetings. During the pandemic, online meetings replaced in-person conversations. Although some in-person contact resumed for NSA-linked students in late June, Graves predicted that virtual advising rooms will become a permanent tool to help the team handle the fastest-growing enrollment of any military base where UMGC is active.
The workplace culture fostered by Khadijeh Sarvandani, Stateside Military Operations' assistant director for the Central Region, is often cited as one reason for UMGC's success at Fort Meade.
Team members are cross-trained so they can do other colleagues' work if needed, and Sarvandani, who goes by the name Farrah, gives them opportunities to grow in their jobs, even if it means they may someday leave the team. 
"We watch each other's backs," Sarvandani said. "And we are all committed to the students." Team members not only go to their students' graduations, they attend servicemembers' retirement parties and keep in touch with some students long after degrees have been earned.
Sarvandani's most successful enrollment tools are the Military Open House events and the annual Spotlight on Security she launched a few years ago. The Spotlight on Security gathering, to be held virtually this year, brings speakers from Leidos, Amazon, Uber, and other companies to Fort Meade every October to talk about cybersecurity, technology, and career opportunities. Sarvandani's team is on site to offer information about degree programs and classes. UMGC career services staff are also at the ready to answer questions.   
"Farrah's team is really good at outreach, one of the reasons they've been successful. They are creative about getting the word out," Graves said.
The ever-rising student enrollment at Fort Meade is positioned to ramp up even more in the months ahead thanks to an agreement announced in June between UMGC and the 270 non-military organizations in the Fort Meade Alliance. The agreement, which was developed through UMGC's Corporate Learning Solutions office, reaches far beyond Fort Meade to provide discounted tuition for students worldwide.
Mary Sikes, one of the Fort Meade educational coordinators and a retiree from the Navy, described her colleagues as "open communications people" who jump in to help one another as needed. "Our mentality is 'get the job done.' It's been like that as long as I've been here," she said.
She called the team's diversity was a strength, adding: "We look like the students we serve."  
Several members of the team earned degrees from institutions that are part of the University System of Maryland; Sarvandani is a UMGC alumna. Sikes is a bilingual first-generation American whose parents immigrated from Mexico. Sarvandani, also multilingual, grew up in Iran. Three members of the team are Black. Just more than half are women.  
Rosario Talbert said the Fort Meade team guided her to a Bachelor of Science in Psychology in 2018. She didn't know anything about UMGC until she attended an open house at the base.
"At first I was scared. This was a four-year college and here I was, a student with English as a second language and coming from a community college—with its in-person experience—to a four-year university with an online program," she said. That changed when she found herself speaking to a UMGC team member in Spanish.
Talbert was later connected with Sikes.
"As a foreigner here, I didn't know much about the system. Mary sat with me and explained everything. She's very personable and she's very caring," Talbert said. "She also had everything on charts so I could visualize what I needed to do. That really helped me."
Because Talbert's husband was retired from the Navy, she did not qualify for military benefits. However, Sikes told her she was eligible for financial aid because she came to UMGC from a Maryland community college.
Sikes also stepped up when Talbert's degree plans were in danger of being derailed, including when Talbert's father in Spain fell ill.
As for Daniel Norris, his connection with the Fort Meade team continues. In October, he begins a master's degree in cybersecurity at UMGC, continuing a family tradition. His mother is a UMGC alumna and his brother, a recent high school graduate, is enrolled at UMGC for the fall.