Three Doctor of Management in Community College Policy and Administration Faculty Members Receive Accolades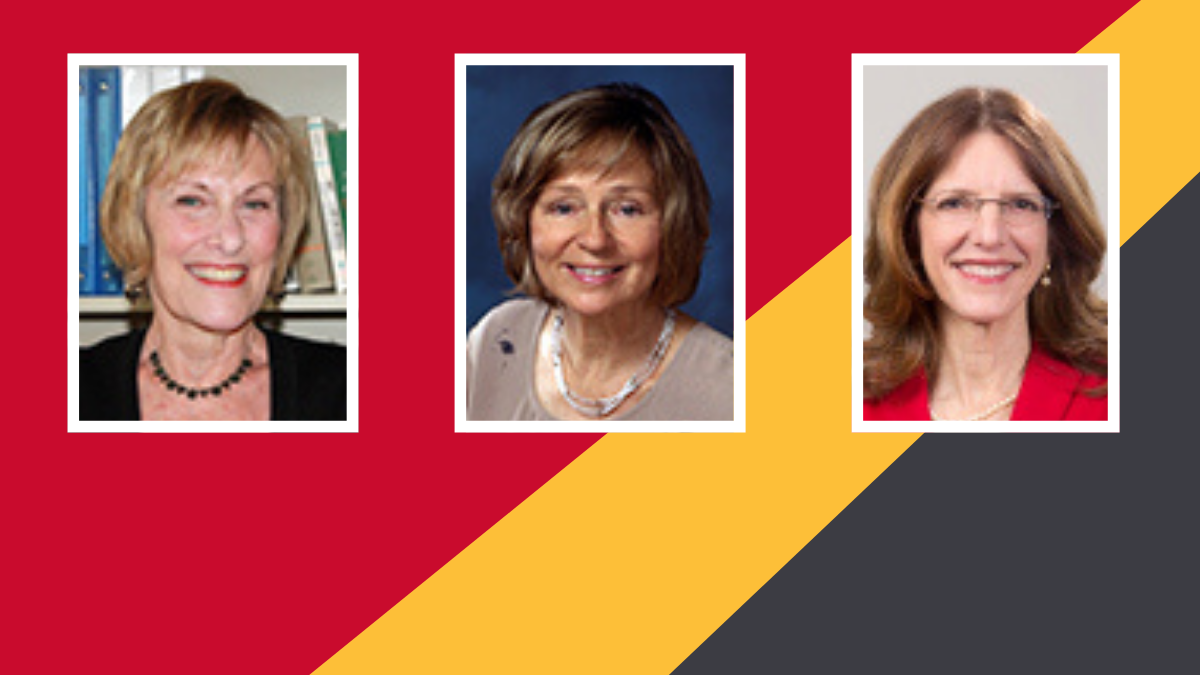 Adelphi, Md. (Aug. 19, 2021)— University of Maryland Global Campus (UMGC) is pleased to announce that three Doctor of Management in Community College Policy and Administration (DMCCPA) faculty members received distinguished honors in their industry. Trudy Bers, Ph.D., Gena Glickman, Ph.D., and Charlene Nunley Ph.D., all adjunct professors of DMCCPA, were recently recognized.

Trudy Bers
"The awards and honors given to UMGC faculty members in the community college doctoral program represent the highest levels of achievement," said Reynaldo Garcia, Ph.D., professor and program director of the DMCCPA program. "That our doctoral program students have the privilege of working with individuals who are at top of our field is a testament to the high quality of our program and our university. I know of no other community college doctoral program that can match the level of achievement in the long list of awards our faculty received this year. I am humbled and honored to work with these outstanding scholars and teachers."
Trudy Bers was honored with the 2021 Sidney Suslow Scholar Award from the Association for Institutional Research (AIR). As a 2021 awardee, Bers, who was acknowledged through her scholarly work as stated by AIR, "has made significant contributions to the field of institutional research and advanced understanding of the profession in a meaningful way."
In addition to teaching at UMGC, she is president of The Bers Group, an education consulting organization. Bers is also the former executive director of research, curriculum and planning at Oakton Community College, and a data coach for more than 20 Achieving the Dream Colleges. See Bers bio
Gena Glickman
Gena Glickman was elected to serve as chair of the Council for Higher Education Accreditation (CHEA), which is the national advocate and institutional voice for academic quality through accreditation.
Since 2018, Glickman has led Massasoit Community College as president and prior to this, she spent 10 years as president of Manchester Community College. Focused on student success, academic excellence and community engagement, Glickman has managed initiatives, wrote articles on higher education issues, and presented at national conferences. View Glickman's bio

Charlene Nunley
Furthermore, the founding director of the UMGC's DMCCPA program, Charlene Nunley was awarded the 2021 American Association of Community Colleges (AACC) Leadership Award earlier this summer. AACC's award honors individuals who demonstrate outstanding accomplishments and professional contributions to the community college field.
Nunley was the president of Montgomery College for eight years before coming to UMGC. She spearheaded Montgomery College into the top five national community colleges in private fundraising for three consecutive years. In the past, Nunley co-chaired a statewide task force that examined capacity challenges facing Maryland's public colleges and universities. Read Nunley's bio
About University of Maryland Global Campus
University of Maryland Global Campus is a world leader in innovative educational models with award-winning online programs in disciplines including biotechnology, cybersecurity, data analytics and information technology that are in high demand in today's increasingly technical, global workplace. With an enrollment of some 90,000 students, UMGC offers open access with a global footprint and a specific mission—to meet the learning needs of students whose responsibilities may include jobs, family and military service. The university offers both undergraduate and graduate degree and certificate programs, including doctoral programs. A pioneer in distance education since 1947, UMGC today is harnessing the power of learning science and technology to deliver high quality, low cost, accessible higher education.