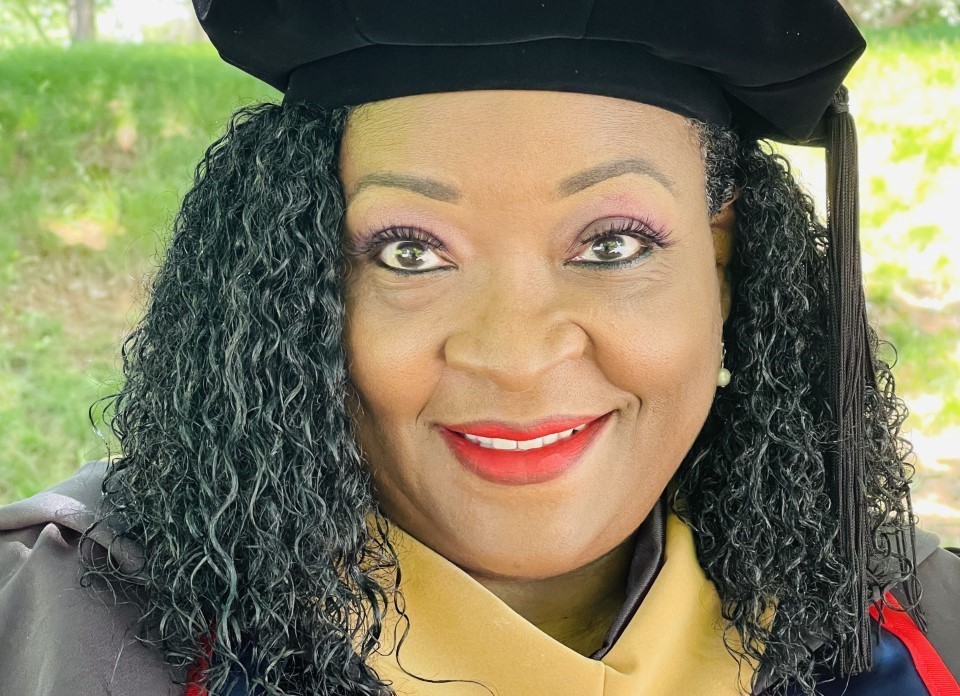 Ida Halliburton has extra reasons to be proud of her new MBA from University of Maryland Global Campus (UMGC). Like many UMGC students, she took a full course load while also juggling a career. Unlike other students, however, the 52-year-old grandmother did it—posting excellent grades along the way—while in transitional housing, learning the ins and outs of a new high-pressure job, and coming to terms with the physical after-effects of brain surgery.
Oh yes, and there was a pandemic underway.
"I compete against myself—I don't compete against other people—and I know what I'm capable of doing," Halliburton said. "Sometimes I set a standard for myself that people perceive as unrealistic or too much, but I just keep pushing.
"For me, giving up is not an option."  
Halliburton's UMGC degree continued a journey that was interrupted more than three decades earlier. She had enrolled at Southeastern Louisiana University after high school but, just two semesters in, she joined the military. She spent the next seven years in the U.S. Marines, mostly based in California, working in aviation supply, inventory and logistics.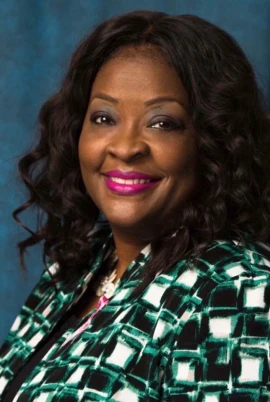 Halliburton was a sergeant when she left the service and resumed her studies, earning an associate degree in general studies with a concentration in English at Irvine Valley College and then a Bachelor of Arts in Mass Communication with a minor in journalism from Southeastern Louisiana University.
"I was going to start a master's degree program right after I got my undergraduate degree, but I was a single mom with two children at that point, and I put my dreams and aspirations on hold to focus on my kids," she said. "Then I found myself working with no time left to attend school. It was years and years before I was able to get back to school again."
It was her job in the Office of the Provost at Chapman College, now Chapman University, that indirectly led her to UMGC. At the time, Chapman College was seeking accreditation as a university and planning to create a university college focused on servicemembers, working adults and other non-traditional students. Halliburton said Chapman's provost and executive vice president looked to what was then University of Maryland University College as a model.
"That stuck with me for a long time, even after I left California. I knew and trusted the provost and if he held the school in high esteem, I knew it must be a good school," she said.
The years passed. When her daughter neared her senior year of college, Halliburton decided to return to school. In the fall of 2019, she enrolled at UMGC.
"I had aspirations for my career but I kept getting rejected for jobs because I didn't have a master's degree," she said. "When I knew I wanted to do an MBA, I remembered the University of Maryland Global Campus from my experience with the provost at Chapman."
Just a month after she started UMGC classes from her home in Florida, Halliburton was hired to work in the nation's capital as the invitation coordinator for U.S. Surgeon General Jerome Adams. Her new job included managing requests for public appearances and speeches by the surgeon general.

"He traveled a lot and he could receive 2,000 to 3,000 requests in a month. My job was vetting the requests, briefing him on them, making sure the appearances were appropriate and aligned with his priorities and just really managing that whole process," she said.
That high pressure job amped up even more when the coronavirus hit the news.
"All hell was breaking loose," she said. "The deputy surgeon general was temporarily reassigned and detailed with overseeing COVID-19 testing, so she was gone. My direct supervisor was from the Centers for Disease Control, and I was surrounded by physicians talking about COVID-19 all the time, getting the information firsthand."
Her daughter graduated from college during the pandemic, right into a tight job market. Even more, they were living in temporary housing with most of their possessions in storage in Florida. Halliburton had just arrived in the D.C. area when the lockdown was declared; it took 10 months before she could move into a permanent home in Virginia.
In addition to the housing upheaval, a new job, the pandemic and a full-time course load, Halliburton also had health problems to manage. Two years earlier, she underwent brain surgery—twice—for serious conditions and now has intermittent periods where it is difficult to focus. While acknowledging that it was a challenge at times to study and meet her course deadlines, she powered through.
Halliburton said an MBA is not necessarily the end of her education. For years, she has carried around an entrepreneurial idea she'd like to launch one day. She keeps the details confidential but said she may need more education to ensure the project's success.
For now, she is focusing her energy on her current job as executive administrator for the deputy assistant secretary of the Army and on her family—her daughter, son, daughter-in-law and her six grandchildren "who bring me so much joy."