Juneteenth Forum Highlights Contributions of Black Women Leaders from Civil War Era Onward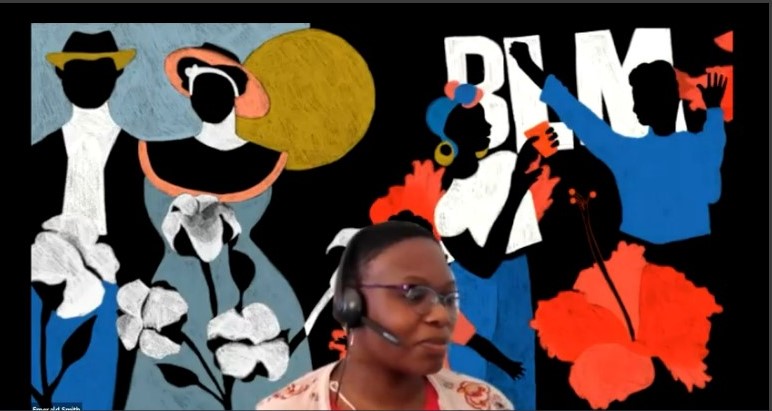 UMGC Europe celebrated the Juneteenth holiday with a special online forum that focused on the role of Black women in the fight for civil rights. The presentation was designed, in part, to address what one speaker characterized as the invisibility of the significant work Black women did to further the cause of civil rights both before and after the Civil War. 
Juneteenth commemorates June 19, 1865, when a Union general in Texas read the proclamation freeing enslaved people. Black Americans have celebrated the holiday for years, and a number of states have observed it as well. UMGC's celebration came just as the U.S. Congress voted overwhelmingly to make Juneteenth a national holiday. 
As part of the hour-long program, Juneteenth: Women, Contribution, Evolution, Dr. LaShawn Thompson pointed out how, in American history, the role of Black people has often been obscured, and the contributions of Black women abolitionists in particular were practically invisible. 
"We must ask ourselves why the accomplishments of Black women in the march towards freedom have been hidden away," said Thompson. "The little-known facts about African Americans in America become no facts at all. African American women are the most invisible of all." 
And yet, before the Civil War, she said, they worked to keep families together when possible and to provide guidance for resistance, and after the war they became community organizers, despite starting with no formal experience. 
Thompson quotes Anne Scott (1990) author of the journal article Most Invisible of All: Black Women's Voluntary Association, "How was it that women who had grown up in slavery were able to so quickly organize themselves after emancipation? But move, they did. In one way or another, organized black women touched every area of life, from home to politics." 
That invisibility has been damaging for Black women, Thompson explained, even as they live with the myth of the strong Black woman who cares for everyone else. 
"It is the root of both physical and mental health disparities in her current existence," she said and quotes Ward & Heidrich (2009) authors of the journal article African American women's beliefs about mental illness, stigma, and preferred coping behaviors, "Additionally, negative social and political experiences including racism, discrimination and sexism have put African American women at risk for low-income jobs, multiple roles strain and health problems, all of which are associated with the onset of mental illness." 
These challenges only underscore the significance of the work being done, and the program celebrated the lives of Black women who emerged to lead the fight against slavery and discrimination, to help educate African Americans and to establish businesses. 
Harriet Tubman, who grew up in slavery in Maryland and escaped north to freedom, returned repeatedly to lead slaves to freedom on the Underground Railroad. 
Sojourner Truth, who escaped slavery and was the first African American to successfully sue her former owner to win the freedom for her son, went on to become a leading abolitionist and women's rights activist. 
Nannie Helen Burroughs—an educator, orator, religious leader, civil rights activist, feminist and businesswoman—helped establish the National Association of Colored Women in 1896.  In 1909, she founded the National Training School for Women and Girls in Washington, D.C., to help provide opportunities beyond domestic work.
Mary McLoud Bethune, who founded Bethune-Cookman College in Florida—which became the standard for other Black colleges and universities—became president of the National Council of Negro Women and fought for Black voter rights. 
Dorothy Height, who worked against lynching in the South and worked for voter registration. 
Shirley Chisholm, the first African American woman to win a seat in the U.S. Congress, was also the first to run for the Democratic nomination for president in 1972. 
Madam C.J. Walker, who became the first female Black millionaire by creating a haircare system for Black women, employed hundreds of Black women through her business, which eventually included hair culture colleges. 
Ida B. Wells, who as a journalist attacked Jim Crow policies, fought to expose and combat the practice of lynching after a close friend was killed because he tried to break up a fight between a white boy and a black boy outside his grocery store. Her writings chronicled the struggles of Black people whose stories might have been lost to history without her work. 
Other participants in the program included faculty member Dr. Steven Carter, who provided an introduction;  Genesis Neely, senior traveling academic advisor, who presented "Black Women Through History"; faculty member Janique Parnell, who presented "Hidden in Plain Sight: A Legacy of Greatness"; faculty member Renaldo Walker, who performed a W.E.B Du Bois Reenactment; Pamela Frank, a member of the Diversity Council and a National Test Center coordinator, who presented on Ida B. Wells; Emerald Smith, a member of the Diversity Council and National Test Center coordinator, who read from a poem by Frances E. Harper; and Patricia Jameson, director of Overseas Diversity and Equity Programs, who led the organization of the event and provided closing remarks.