UMGC ALUMNA BRIG. GEN. JANEEN L. BIRCKHEAD HAS SUCCEEDED BY "HAVING A PLAN—AND A PLAN TO CHANGE THE PLAN"
National Military Appreciation Month

|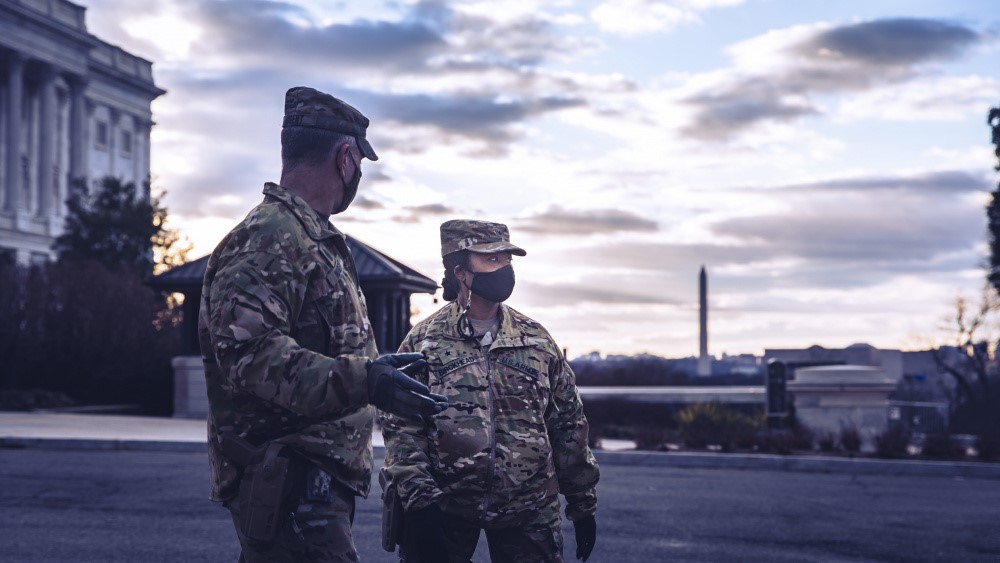 Rising to the Top Echelons of the Maryland National Guard, Birckhead Excelled at Leading National Guard Troops from Around the Country in Protecting the U.S. Capitol After the Failed Insurrection
and During the Presidential Inauguration in January
As a young girl growing up in Snow Hill, a small hamlet on Maryland's Eastern Shore, Brig. Gen. Janeen L. Birckhead wanted to be a civil rights lawyer. Public service and community involvement were hallmarks of her immediate and extended family; her mother was a judge and several aunts were teachers.
A good student, Birckhead scored a prestigious summer internship when she was in high school, working as a page in the U.S. Senate, a position sponsored by Sen. Paul Sarbanes of Maryland. She majored in political science at Hampton University in Virginia, but instead of moving on to law school, chose a career in public service and the military.
Birckhead's decision was rooted in a lesson she learned from her mother when Birckhead was a sixth grader. She had stayed up late to finish a poster, and on her way to school the next day her mother let her know that she had done a good job. Later, though, she pointed out that the poster could have been great, if only Birckhead hadn't procrastinated.
"I received the message loud and clear," Birckhead vividly recalled. "I needed to take charge of my life and not let things distract me."
Fast-forward to her senior year of high school, and Birckhead's mother was at it again when Birckhead was applying for financial aid. She mentioned an Army ROTC scholarship, and her mother questioned whether Birckhead would be chosen in the highly selective process.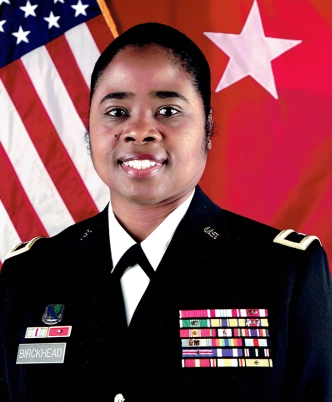 Brig. Gen. Janeen L. Birckhead
"I enjoyed competition," said Birckhead, taking on her mother's not-so-veiled challenge with gusto. In reality, her mother was not surprised when Birckhead earned the scholarship, which changed the trajectory of her daughter's life.
Birckhead's ability to switch gears and adapt, "to have a plan, but also a plan to change the plan," she says, has served her well as she rose through the ranks, first in the Army reserves and then for the next 27 years (and counting) of her distinguished career in the Maryland Army National Guard.
She has been a chemical officer, an Aide de Camp to the Adjutant General of the Maryland Guard, commanded troops at the company, battalion and brigade levels, and served with distinction as a team leader and the Designated Military Officer for the Office of Administrative Review for the Detention of Enemy Combatants at Guantanamo Bay, Cuba.
Birckhead has also deployed on two separate missions to Afghanistan, first supporting plans to field and grow the Afghan National Security Forces as Deputy Operations Chief, and more recently as Division Chief for Logistics at the Joint Forces Headquarters.
After commanding a regional Army training institute, Birckhead went back to Capitol Hill and directed the Legislative Liaison Office for the Maryland National Guard.
She followed her mentor, Maj. Gen. Linda Singh, adjutant general of the Maryland National Guard, in company command, battalion command and, in 2018, as assistant adjutant general for Army, when Singh promoted Birckhead to the position Singh once held.
"I admire and hold her in high esteem and seek her counsel," said Birckhead of Singh, who retired in 2019. "She is a role model and someone who can give me another perspective on what's going on in the world."
Birckhead was part of a first-in-the-nation all-female state National Guard command staff, which also included April Vogel, who was promoted by Singh to assistant adjutant general for Air several months after Birckhead, and Command Sgt. Maj. Perlisa D. Wilson, the highest-ranking enlisted person. Birckhead takes extra pride in the fact that she, Singh and Vogel are also women of color.
"I didn't even realize that it was going to line up this way," Singh told The Washington Post in 2018. "It's not like I engineered it for all of them to end up in these positions. It just so happened that these talented ones started rising to the top."
It was another Birckhead mentor, Gen. James F. Frettered, who encouraged her to join the National Guard in 1993 and who emphasized the importance of education as the key to her advancing up the ranks.
His advice had an immediate effect. Birckhead enrolled at University of Maryland Global Campus (then University of Maryland University College) in fall 1993 because of its reputation as a flexible option for people like her who must juggle a full-time job and military service. Birckhead was doing both, working in legislative affairs on Capitol Hill and serving in the National Guard.
"The military teaches you to think a certain way, so it is important to attend a university outside the service to be able to think more broadly about issues," she said.
Birckhead earned a master's degree in management from UMGC and attributed the program with helping her to prioritize, take her critical thinking skills to another level and better articulate concepts. She added that having older students in her classes at UMGC elevated the discourse.  "Many of my fellow students had more life experience and were working in a variety of different fields, so I was learning not just from my professors."
She also earned a master's degree from the U.S. Army War College, preparing her to succeed in her leadership roles in the military, and ultimately leading to her assignment commanding Task Force Capitol, following the failed insurrection on Jan. 6 and continuing through the presidential inauguration on Jan. 20.
People asked, "Why her?" Birckhead's response: "Why not me? I worked on the Hill, I know it very well. I'm a leader. I've led at every level. I can do this.
"Not to say it wasn't a very big challenge," she added, "working in an environment that was volatile and uncertain. It was important that I was able to build a strong team [at the Maryland National Guard] and bring them with me."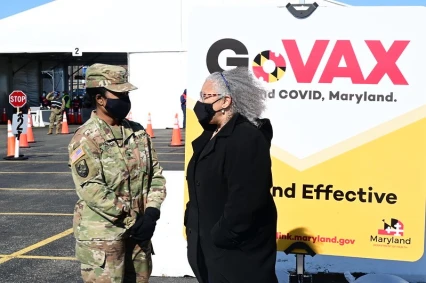 Brig. Gen. Janeen L. Birckhead was named by Maryland Governor Larry Hogan to lead the state's COVID-19 Vaccine Equity Task Force.
Birckhead commanded more than 16,000 National Guard troops from across the country and was impressed with their dedication. "Having soldiers from every state on the ground, as professionals coming together and perform, was extraordinary," she said.
Reflecting on a remarkable moment, Birckhead, who had been looking out from the Task Force operations center on the day of the inauguration and observing the peaceful transfer of power, said, "it was very moving for me and for all of the soldiers who were guarding our democracy that day."
Following her role at the Capitol, Birckhead was selected by Maryland Governor Larry Hogan to head the COVID-19 Vaccine Equity Task Force. She currently juggles that responsibility with her position as deputy commanding general for reserve affairs at the U.S. Army War College.
Her accomplishments stand out, underscored by the fact that she has also held full-time civilian positions during her entire National Guard career. Among those roles, Birckhead, who is currently a senior advisor in the U.S. Department of the Interior's Bureau Trust Funds Administration, has also served as a special agent in charge of Defense Security Service and has worked in the Equal Opportunity and Civil Rights field at the Office of Personnel Management.
As a distinguished UMGC alumna, Birckhead will present the keynote address at the university's stateside virtual commencement ceremony on May 15. What will she tell graduates? "Be proud of the degree and let it be known you are a UMGC graduate—and go back and tell your story."