Paul Chilcote Navigated Life Challenges and the Demands of a Military Career on His Path to a Degree in Cybersecurity
National Military Appreciation Month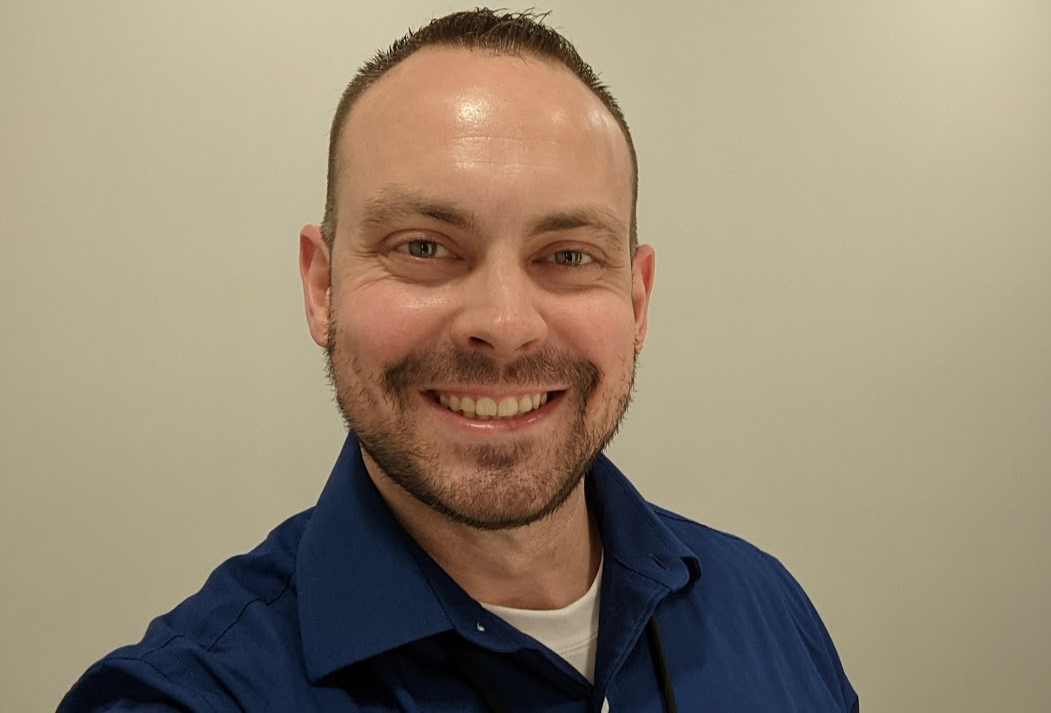 Air Force Veteran Played a Key Role in UMGC Cyber Competition Team's Recent 1st-Place Finish at the Maryland Cyber Challenge
For Paul Chilcote, life sometimes felt like a juggling act.
"Often, I found myself completing readings and written assignments late at night," said Chilcote, whose path to a Bachelor of Science in Cybersecurity Management and Policy, which he received in May, was anything but easy. "Other times, my location or current work duties prevented me from taking classes for a semester or two," he added.
But Chilcote, recently separated from the United States Air Force, persevered, chipping away at his degree requirements one class at a time while also maintaining a full-time military career and the responsibilities of being a single parent, all during the COVID-19 pandemic.
But Chilcote learned persistence early and followed his passion in technology tenaciously. "When I was a kid, I was navigating the command line on an old Amiga computer and playing games on now-obsolete 5-inch floppy disks," he said. As a teen, he was online constantly, even during the dial-up days.
"I was making friends with computer enthusiasts all over the world, learning to modify hardware and write programs by talking to these new friends in online chatrooms and message boards."
High school classes in computer programming, 3D animation, and Cisco networking led Chilcote to join the Air Force in 2009 as a fighter aircraft crew chief, where his interests in computers and electronics helped him quickly learn the complex electrical systems that enable aircraft to fly.
Eventually Chilcote seized on an opportunity to retrain as a cyberwarfare operator. In 2013, that training opportunity, as well as his passion for computers and networking, prompted him to enroll in a cybersecurity program at University of Maryland Global Campus (UMGC), tackling one or two classes at a time at night after work.
"My classes at UMGC and my own self-guided learning and computer hobbies helped me prepare for the difficult computer skills tests required to gain acceptance into the Air Force's training program for cyber warfare operations," he said. From 2016-18, Chilcote trained for and was tested on system administration, network configuration, and advanced cybersecurity concepts. After that, he began serving as a cyberwarfare operator for the Air Force.
In 2020, Chilcote added "full-time single parent of two" to his résumé, which prompted his decision to leave the military. "I was faced with the challenge of getting my two children through elementary school online, as well as my own classes, while still performing my military duties," he said. And so he began preparing to separate from the Air Force in late 2020 so that he could devote more time to his children and their hybrid school schedule.
Now a civilian, having separated from the military in March 2021, Chilcote's journey has led him to his current work as a penetration tester for CyberPoint International, a Maryland-based Department of Defense contractor. Through it all, his UMGC courses in cybersecurity policy and management helped increase his awareness of the complex interaction of laws, regulations and guidelines that companies must manage.
Chilcote capped off his academic accomplishments as a member of the UMGC cyber competition team that won the Maryland Cyber Challenge, the national tournament held during the annual Cyber Maryland conference. Competing in cyber events also contributed to his professional development, allowing him to mentored other students and gain invaluable real-world problem-solving skills. "These events have helped me develop creative solutions and think outside of the typical use of many computer technologies," he said.
For Chilcote, perseverance and passion paid off, and his advice to other students balancing work and life is simple.
"Don't be intimidated," he said. "Cybersecurity is a broad field with countless areas of specializations. No one person knows everything; everyone is constantly learning and relearning as new technologies arise, change and improve."