Descendant of Slavery's Compelling Life Journey Includes Military Service, a Musical Gift–And Now a UMGC Degree
National Military Appreciation Month

|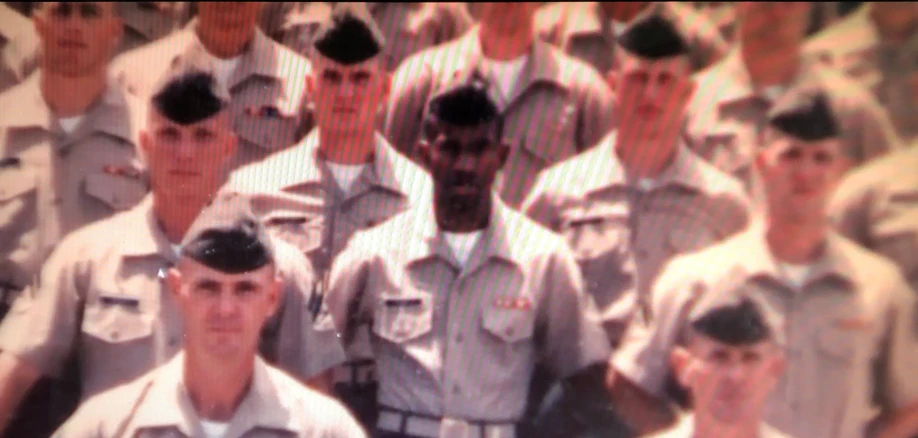 Editor's Note: Raymond Fisher recently was featured in WJLA-TV ABC 7's Spotlight on Education series. Click HERE to watch.
Raymond Fisher is a father and grandfather, a technology professional, a musician, a military veteran and the descendent of an enslaved woman on George Washington's farm. He now is adding another descriptor to his life: college graduate.
After a 25-year interruption in his education, Fisher earned a Bachelor of Science in Information Systems Management from University of Maryland Global Campus. Even more, he was selected as student speaker for the virtual commencement on May 15.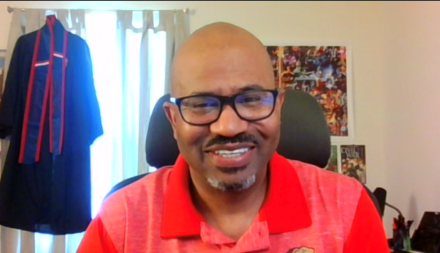 Ray Fisher will address his fellow graduates as the student speaker at the UMGC virtual commencement ceremony on May 15.
Fisher, a U.S. Marine Corps veteran who served in the Gulf War, said the degree may not be his last engagement with UMGC. He wants to use his military benefits to enroll in a master's program "and then look into getting a Ph.D."  
In the late 1990s, Fisher was enrolled at Purdue University, pursing a degree in mechanical engineering, when he withdrew from his studies to raise a family.
"I was working and studying at the same time, and I made a decision that was in the best interest of my family," he said. In the years that followed, he made a good income. The lack of a college degree wasn't an obstacle in the fields where he worked: engineering, construction, project management and, eventually, Internet technology.
"Then, about four years ago, I was caught up in a cycle of layoffs at Freddie Mac. I looked for job opportunities and found a match with Booz Allen," Fisher said. The IT consulting company was keen on him until it learned he had no college degree.
"That's when I made a decision that I would never be turned away from a job because I didn't have a degree. I enrolled at UMGC and picked up where I left off—a bachelor's degree I had abandoned 25 years earlier," he said.
Fisher was raised in a family where education, music and church were valued. His mother was a nurse and his father a teacher. In the District of Columbia neighborhood where he grew up in the 1970s, there was a lot of political activism; it was the stomping ground of Marion Barry and others who would become political players in the nation's capital. Barry, who later served four terms as D.C. mayor, lived only two doors away.
"It was a very progressive time and we were exposed to a lot. I was enrolled at the first D.C. public school program for talented students," he said. But his life was thrown off kilter when his mother died. He was 9. Two years later, his father died. 
The youngest of six children and the only boy in his family, Fisher was cared for by family members in Dallas, Texas, and spent summers in New York's Bedford-Stuyvesant neighborhood. He lived in Maryland for his sophomore, junior and senior years of high school, attending Forestville High School in Prince George's County. There, he entered the ROTC program "and joined a Go-Go band called Players Choice, which was managed by our shop teacher." As a member of the band, he performed at a concert with Public Enemy, which he describes as his "15 minutes of fame."
Fisher said his lifelong love of music started in his church. Later, during eight years of military service that began when he was 19, he was exposed to both music in other countries and the global influence of American jazz and R&B. Today, he jams with his son, an aspiring hip hop musician, in a basement music studio. Percussion and rhythm are Fisher's passion.
"I'm a helluva beat maker," he explained with a laugh.
Like many UMGC students, Fisher juggled a job while studying. Even after a car accident left him with a concussion, he pushed through with his coursework. He attributed his drive and resilience to his roots, including enslaved ancestors and his father's Native American background.
"I am an African descendent of slaves. An ancestor on my mother's side was a slave of George Washington. A grandmother was a runaway slave in Texas," he explained. "I don't look at my family's link to slavery as a prideful thing. It was an atrocity. But that's who we were and we take pride in who we are."
Fisher said getting his bachelor's degree was made more challenging by the COVID-19 pandemic, but he credited his UMGC professors for being compassionate and working with students—including some on a class project team—who contracted the coronavirus.
"It was a long journey to get me to this point. There have been a lot of trials and tribulations," Fisher said. "But one thing that helped is that at UMGC, I felt like we had a community."