Brig. Gen. Janeen L Birckhead to UMGC Class of 2021: "Think Critically and Act Intentionally"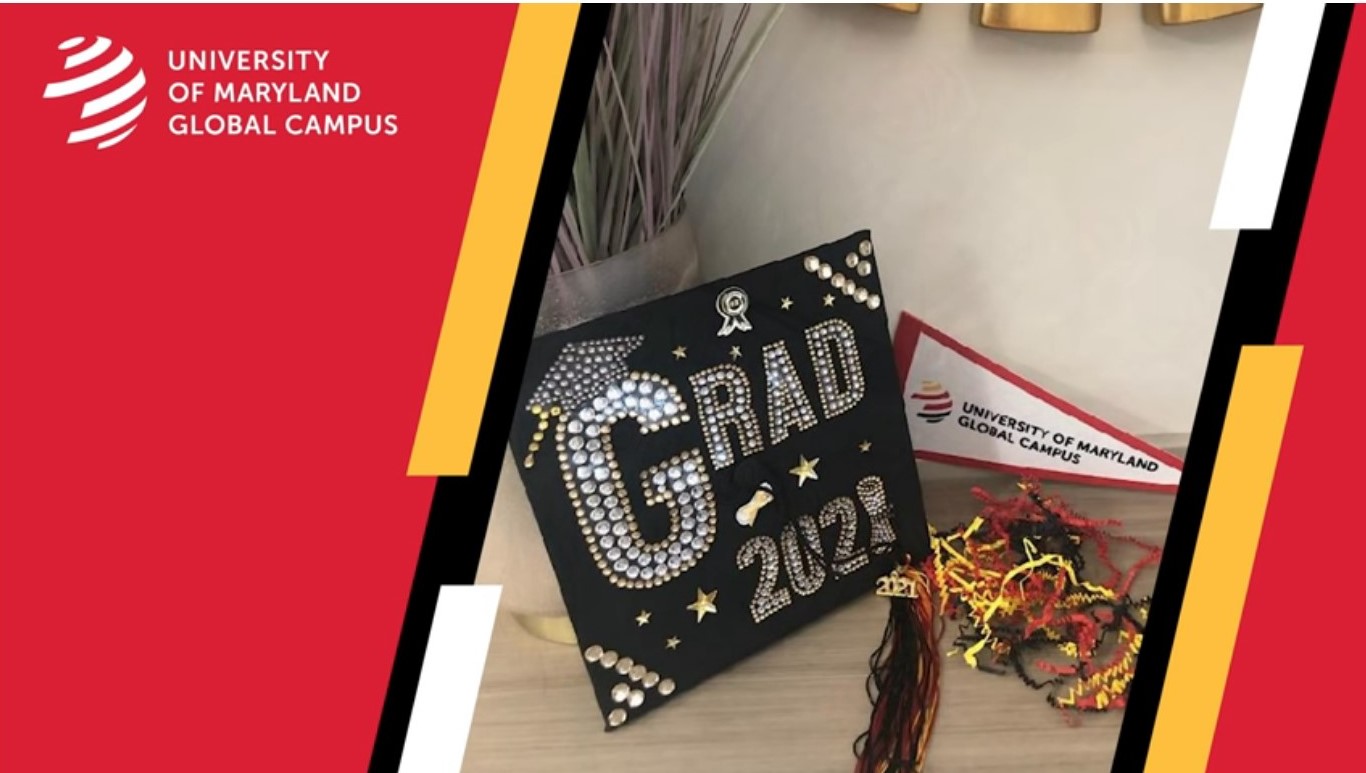 Brig. Gen. Janeen L. Birckhead, commander of the Maryland Army National Guard, called on University of Maryland Global Campus graduates to help others, pursue self-improvement, and focus on solutions in her keynote address at the university's 2021 Virtual Spring Stateside Commencement. Herself a UMGC alumna, Birckhead commanded the National Guard troops that protected the U.S. Capitol and presidential inauguration following the failed insurrection of January 6.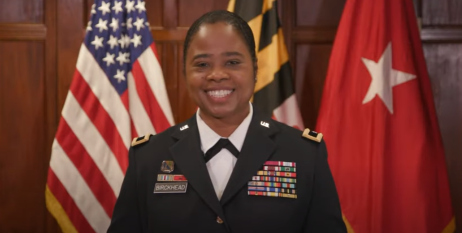 Keynote Speaker Brig. Gen. Janeen L. Birckhead
"There is no lack of talent for identifying problems," Birckhead said in her keynote. "However, fewer people can identify solutions, and even fewer are prepared and able to take action on that solution. Use what you have learned, and the relationships you have built through the UMGC program to think critically and act intentionally." 
Watch Brig. Gen. Janeen L. Birckhead Keynote Address
Birckhead said graduates should "stay grounded and help others. We all stand on the shoulders of giants who have gone before us. Be a giant in the life of someone who wants to be a solution finder, not a divider." She added, "Commit to spending time every day in the pursuit of self-improvement, and actuating your plan. This will change you. This will change how you see the world, and it will change how the world sees you." 
Read UMGC Global Media Center Feature Story About Brig. Gen. Janeen L. Birckhead
The 2021 virtual commencement website also features the complete commencement program, including the conferral of degrees by UMGC President Gregory W. Fowler, a message from Maryland Governor Larry Hogan, a roll call of graduates—including their photos and quotes—as well as congratulatory messages from UMGC faculty, staff and friends.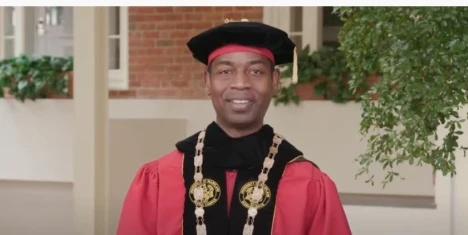 UMGC President Gregory Fowler
UMGC Virtual Commencement Website
The site was visited by more than 14,000 unique viewers on Saturday, May 15, and messages on social media garnered more than 55,000 views. The ceremony will remain available for on-demand viewing through October 15, 2021. 
Raymond Fisher, a U.S. Marine Corps veteran, spoke on behalf of the graduating class. Fisher, who traces his lineage to a slave owned by George Washington, earned a Bachelor of Science degree in information systems management after a 25-year journey.  
A native Washingtonian, Fisher was the youngest of six children and orphaned by the time he was 11. Yet three of the six children now hold UMGC degrees. After graduating from high school and attending Anne Arundel Community College, Fisher joined the Marines, serving two combat tours. 
He attended Purdue University but left to work as a junior engineer, rising to a software programmer and tester in the dot-com era.  Often the only person of color in his office, Fisher acknowledged that he "dealt with the challenges that came with that." 
Watch WJLA-TV ABC 7 Feature Story on Raymond Fisher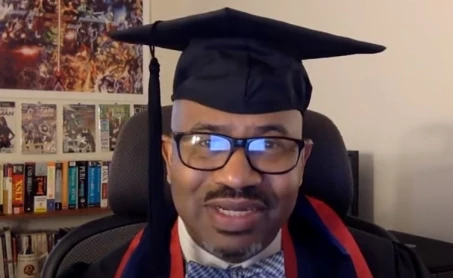 Student Speaker Raymond Fisher
Six years ago, he decided it was time to finish his bachelor's degree, "with all of the early mornings, late nights and family time that had to be managed, not sacrificed. It took all of the courage, self-discipline and integrity that I developed growing up and solidified in the Marines, where I became a man." 
He faced an inner journey, as well, acknowledging that "I have a little boy, trapped deep inside of me, who is so afraid to fail. So, he hides. But in this journey, I had to open the door within me. Take him by the hand and say, We need to step outside, outside of the comfort zone to the limitless possibilities life has to offer.'" 
Noting that he and his fellow graduates were tested by having to complete their degrees during the coronavirus pandemic, Fisher said: "It did not shake our resolve. Instead, it brought us closer together, more determined than ever, even as we mourn those who have fallen to this illness. At the start of spring semester, I had two classmates become ill with the virus. But our professors showed compassion and empathy, extending deadlines, and allowing my classmates to focus on their health. It made a huge difference. They both are graduating with us today." 
Read UMGC Global Media Center Story about Raymond Fisher
"We—the class of 2021—collectively say, Here we are," Fisher concluded. "We're fierce, confident, and ready for any challenge, shaped by the academic crucible of this institution of excellence." 
Governor Hogan also highlighted the perseverance of the graduates completing their programs during the pandemic. 
"Normal life came to a screeching halt over the past year, and it forced all of us to pause and reflect on the things that truly matter," Hogan said. "Staying apart from friends and family reminded us how much we depend on and need each other to get through the hard times. We were reminded that each day is precious." 
Watch Maryland Governor Larry Hogan Address
With the end of the pandemic in sight, Hogan challenged the graduates to "remember that each of us can make the days ahead count that much more."
In special remarks to graduates who are active-duty military servicemembers and veterans, UMGC's senior vice president for Global Military Operations, Maj. Gen. Lloyd "Milo" Miles (U.S. Army, Ret.), praised their achievements and urged them to "acknowledge all of those who have helped them along the long path to get to this day.
"There were probably parents, mentors and children and close personal friends who encouraged you to keep it up [and] press on," said Miles. He continued, "When you were tired: press on. When you were sick or discouraged: press on.  When you didn't think you could do any more: press on. Wherever they are, you owe them a debt of gratitude. Please take some time today to reach out and thank them."
From the perspective of a distinguished 32-year military career, Miles said that "what truly matters in life is not the amount of education a person has or his race or his economic background or station in life. What matters is how you treat others. It's about your heart and your commitment to your fellow man. It's about sacrifice and honor and loyalty."
Watch Special Message from Maj. Gen. Lloyd "Milo" Miles (U.S. Army, Ret.)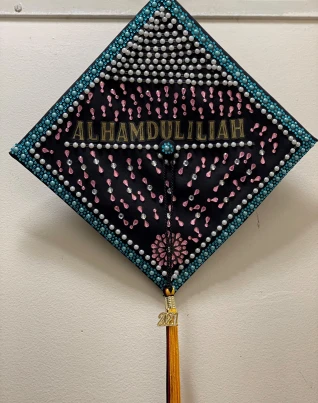 UMGC Graduate Mariya Wasti's winning entry in the UMGC cap decorating contest.
Vivian Mojica, another 2021 graduate, sang the university's alma mater at the conclusion of the ceremony. Mojica earned a Bachelor of Science in Social Science.
Mariya Wasti, who earned a Bachelor of Science in Health Services Management, received the most votes in a cap decorating contest that included more than 100 entries. Her winning cap featured the Arabic phrase "Alhamdulillah"—which means "thank God"—in gold lettering surrounded by white and pink beads and a turquoise fabric boarder. Wasti said her faith "kept her motivated and determined on achieving my life goals. I also believe God always has better plans for us."
Snapshot of UMGC graduates for 2020-21: 
UMGC held separate commencement ceremonies in Asia (April 24) and Europe (May 1) to accommodate graduates who are serving in the military overseas. 
 
Total number of graduates worldwide: 13,171 
  
Locations of our graduates:  All 50 U.S. states, the District of Columbia, and 32 countries and territories. 
 
Youngest graduate: 17 years 
 
Oldest graduate:  78 years 

Average age: 35 years