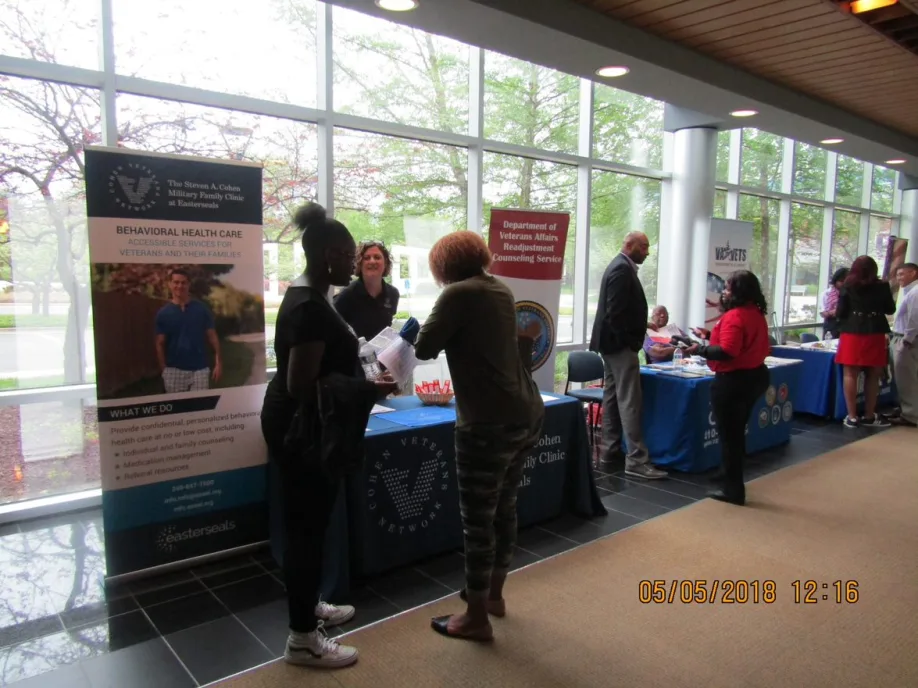 Event to Feature Virtual Booths with Employers and Veteran Service Organizations Along with UMGC Career Services and Veterans Programs Staff
Adelphi, Md. (April 22, 2021)--University of Maryland Global Campus will host the 4th annual Mil/Vet Appreciation Fair on Thursday, May 13, from 4 to 7 p.m. The fair will be conducted virtually through the VFairs platform and feature virtual booths and a virtual auditorium. The event is open to all military-affiliated students, staff and faculty at UMGC. 
Attendees can visit booths staffed by recruiters from companies around the country and representatives from veteran service organizations, as well as staff from UMGC's Veterans Initiatives Office (VIO) and Career Services Office. In the virtual auditorium, the university will host a recognition ceremony for the SALUTE National Honor Society inductees and VIO scholarship recipients. 
To register for the event, please visit UMGC Military and Veteran Virtual Appreciation Fair
"UMGC is committed to providing opportunities and resources to our military and veterans students, and our Military and Veterans Appreciation Fair salutes the men and women who are serving or have served in defense of our nation," said Dr. Nicole DeRamus-Suazo, the university's assistant vice president for Veterans Programs. "It is our honor to showcase veterans service organizations and employers who are committed to serving, helping, and employing veterans and their families locally and nationally."  
As part of UMGC's alliance with Audacy (formerly Entercom), the media company will showcase the fair through its "Eye on Vets" series on the ConnectingVets.com website. The feature will include interviews at the event with representatives of the veterans service organizations and employers in attendance, as well as members of the university's career services and veterans initiatives offices. 
More than half of UMGC's students are military-affiliated, including active-duty servicemembers and their families stationed around the world, reservists, members of the National Guard and veterans. 
About University of Maryland Global Campus
University of Maryland Global Campus (formerly University of Maryland University College) is a world leader in innovative educational models, with award-winning online programs in disciplines including biotechnology, cybersecurity, data analytics, and information technology that are in high demand in today's increasingly technical, global workplace. 
With an enrollment of some 90,000 students, UMGC offers open access with a global footprint and a specific mission—to meet the learning needs of students whose responsibilities may include jobs, family, and military service. The university offers both undergraduate and graduate degree and certificate programs, including doctoral programs. 
A pioneer in distance education since 1947, UMGC today is harnessing the power of learning science and technology to deliver high quality, low cost, accessible higher education. 
In 1949, UMGC became the first institution to send faculty overseas to teach active-duty military personnel at installations in Europe. The university expanded overseas operations to Asia in 1956 and to the Middle East in 2005. UMGC faculty have taught in the war zones of Vietnam, Kosovo, Kuwait, Afghanistan and Iraq. 
UMGC now offers classes to military service personnel and their families at more than 175 locations in more than 20 countries. Today, more than half of the university's students are active-duty military personnel and their families, reservists, members of the National Guard and veterans.