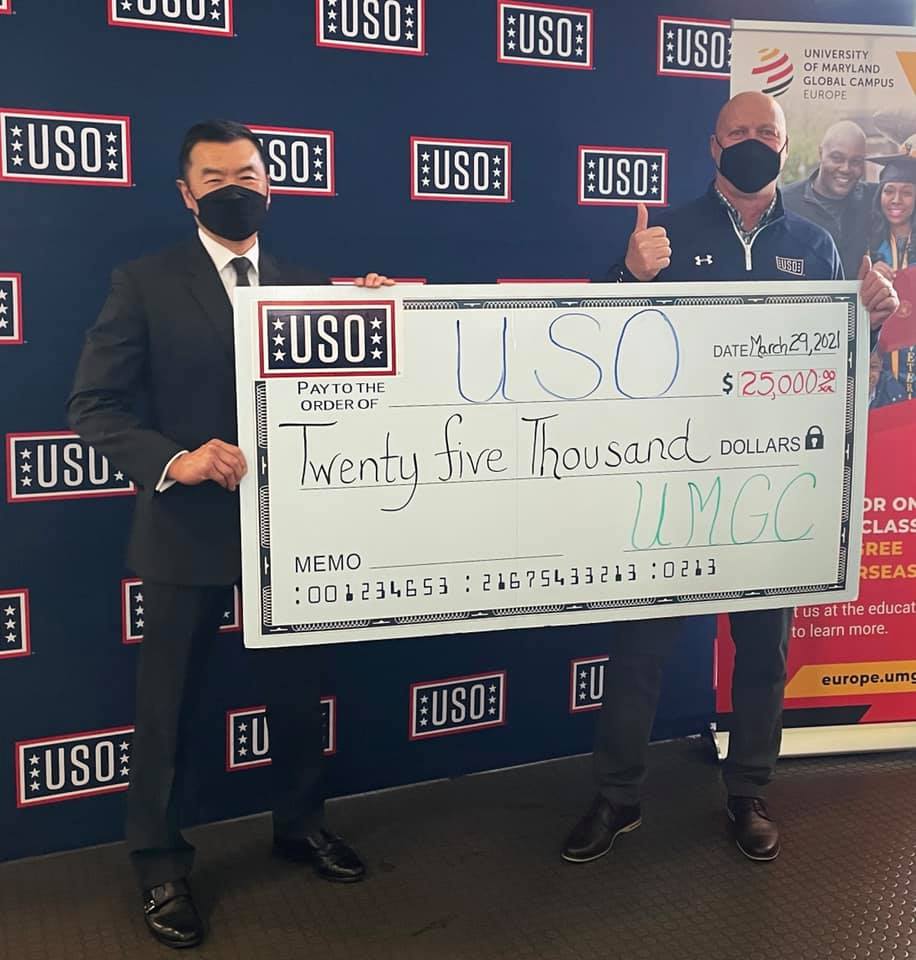 University of Maryland Global Campus (UMGC) and the USO have much in common. They both serve members of the military and their families. They were "born" around the same time and sometimes share an overlapping volunteer base. Most importantly, in many locations where the USO has centers, UMGC also has an on-site presence.
The two organizations have now harnessed those similarities in a formal partnership that expands UMGC's ability to put its faculty, courses and career services in front of servicemembers and their families in Europe.
"We wanted this to be a partnership with a lot of activities at the field level," said Tony Cho, vice president and director of UMGC Europe. "The USO is an organization that serves servicemembers, as we are. This is the USO's 80th year, and UMGC will be celebrating its 75th anniversary next year. And our missions match closely."
In addition to collaborating on events, Cho said the partnership will give UMGC access to USO centers, including in Germany at Ramstein Air Base and at some Landstuhl Regional Medical Center facilities. Ramstein has the biggest USO center outside the United States. During peak periods, as many as 20,000 people pass through it daily. The medical center, meanwhile, is the largest U.S. hospital outside the United States.
For its part, the USO will be able to use UMGC's educational resources for events. The two organizations may also share marketing materials.
"Unlike stateside … there is not a lot of media we have access to in Europe for outreach. What we focus on is physical outreach—we go to the base exchange or to the commissary and set up tables with course fliers and swag items," Cho said. He said the ability to also set up at USO venues will dramatically boost UMGC's ability to connect with servicemembers and their families.
Grant McCormick, regional vice president for USO Europe, said the partnership builds on a longstanding record of cooperation. "University of Maryland Global Campus has been part of our events for some time. Faculty and staff already volunteer for USO events and support our staff in other ways," McCormick said. "We'll take more of the things we're doing now and include UMGC in those events."
McCormick cited the USO Coffee Connections program for military spouses as one area of collaboration. "We thought it would be wonderful to have UMGC faculty give briefings or presentations at Coffee Connections," he said. "They could speak about educational opportunities. They could speak about financial counseling." McCormick said the university also could be part of big USO barbecues featuring music and fireworks, and the USO could bring its mobile canteen to UMGC events.
Cho noted that USO employees receive their own tuition assistance that could be used toward UMGC degrees, while USO volunteers could be a potential talent pool for the university in Europe. "These are military friendly and service-oriented volunteers, sometimes the spouses on military bases," Cho explained. "We may want to hire some of them as full-time employees."
The partnership launched on March 29 with a photo opportunity—the presentation by UMGC of an oversized check to the USO for $25,000 and a spontaneous dance by McCormick and Cho. The good-natured dance sparked the idea for a dance challenge between the two organizations at a joint event around Halloween.
The new partnership is modeled on a similar collaboration the university has with the USO in Asia and Hawaii.
McCormick called it "humbling" to partner with an organization with a similar mission and historic timeline then revealed that he has a personal connection to UMGC. The U.S. Air Force veteran took classes through the university 35 years ago when he was stationed at the Misawa Air Base in Japan. "I was about 22 at the time. I took Algebra I, English literature and a language class," he said.
UMGC Europe was established in Germany in 1949 as the first university to send faculty overseas to educate active-duty U.S. military personnel after WWII. The division provides services to approximately 14,000 students annually in Europe, the Middle East and North Africa (europe.umgc.edu).