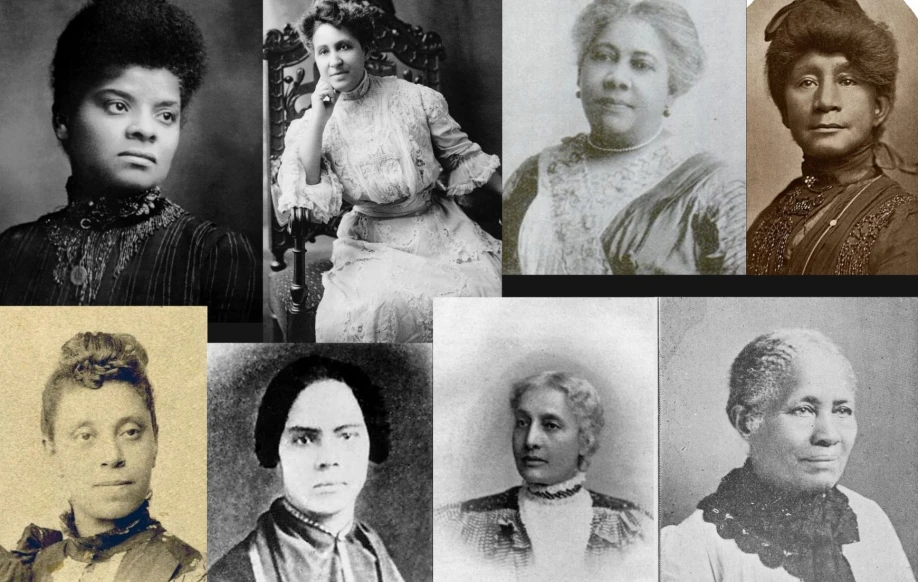 Black women—from Sojourner Truth in the 1850s to Georgia's Stacy Abrams today—have played a key role in the fight for voting rights for African Americans. Now, a special Maryland Public Television (MPT) presentation jointly sponsored by UMGC and Morgan State University highlights the work of these pioneering women, whose contributions have been largely obscured in the historic record.
The program highlights the work of Dr. Rosalyn Terborg-Penn, a Morgan State professor who established the university's first PhD in history program and co-founded the Association of Black Women Historians. Her groundbreaking books revealed—often for the first time— how African American women kept the voting rights struggle alive.
All four panelists on the MPT program were trained by Terborg-Penn, including Dr. Damon Freeman, director of the history and African American studies program at UMGC.
Another panelist, Dr. Toya Corbett, assistant vice president for student affairs in the University of North Carolina System, spoke of how important Terborg-Penn's work was in uncovering voices that were never included in history.
"[We] were made to believe that Black women did not have a role in building this country or in the suffrage movement or any other movement," Corbett said, adding that Terborg-Penn had challenged that narrative head on.  "She inspired us to give voice to the voiceless."
Freeman said Terborg-Penn opened a field of historic research that did not previously exist. Historians of that era did not consider Black women to be involved in the suffrage movement. Perhaps because White women had not welcomed Black women into the movement.
"They were invisible," he said. 
Yet, beginning in the 1890s, Black women created a "Women's Club movement" that is crucial if one is to understand their role in the suffrage movement, he said.  These clubs fought for voting rights and economic independence and against lynching. This is the work that Terborg-Penn painstakingly uncovered.
But the panelists pointed out that, even as one acknowledges these contributions, one must also recognize that the struggle for Black voting rights continues. It is never a straight-line process from total exclusion to full equality.
"As soon as you have political power, you have a backlash," said Gloria Browne-Marshall, professor of constitutional law at John Jay College of Criminal Justice.
The first such backlash came in the 1870s after the 15th Amendment was passed, allowing Blacks to vote. Whites staged violent protest in an effort to stop Blacks from voting, creating systemic barriers that persisted until the 1960s Civil Rights movement.
Now, another backlash is apparent, one that started in 2013 when the Supreme Court gutted those parts of the Voting Rights Act that required the Justice Department to review changes in voting procedures in states that had a history of denying Blacks the right to vote. It accelerated after the 2020 election when minority votes helped win Democrat Joe Biden's election.
"They [Republicans] saw how we were able to unify, and what the Black community can achieve when we come together," Browne-Marshall said. "The challenge to voting rights is to disenfranchise us again."
As a resident of North Carolina, she said, she sees consistent challenges to voting rights, including recent changes pushed through by the state's Republican-dominated legislature
Noting Stacy Abrams work in organizing the vote in Georgia in the 2020 election, in the two U.S. Senate elections in the state, and in the fight against recent voting regulations, Freeman said, "Black women are crucial to Black voting rights and getting people elected to office."
Former U.S. Rep. Donna Edwards, D-Md., also acknowledged the continuum from Sojourner Truth to Stacy Abrams.
"The connective tissue is that the fight for Black women's suffrage is an ongoing struggle," she said. "So much of what needs to happen in this country is dependent on Black women raising those issues, and we do it through the power of our vote." 
The virtual program, a part of Women's History Month, was livestreamed on mpt.org on March 31.  It was moderated by Dr. Kaye Whitehead, an award-winning Maryland radio host and a Morgan State associate professor of communication and African and African American studies.