Pierceall's Education Journey Includes Four UMGC Degrees
National Military Appreciation Month

|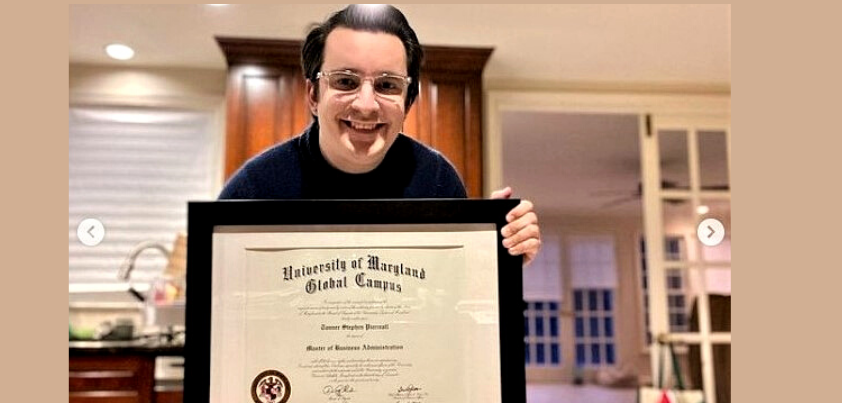 Like many teenagers who did not excel in high school, Tanner Pierceall looked to the military for a career path. Admitting that he almost did not earn his diploma, he left his home in Bloomington, Ca., and enlisted in the Marines four months after graduation.
Yet now, 10 years later, Pierceall has finished his fourth University of Maryland Global Campus (UMGC) degree, counting on his newly minted MBA to help propel him higher in his work for the U.S. Agency for International Development.
He said he first started thinking about college when the military sent him to Okinawa for his first duty assignment.
"Even though I wasn't a star student, I always kind of liked school," he said. 
In the summer of 2011, he examined the education opportunities on his base, and chose UMGC—then known as University of Maryland University College (UMUC).
"I got a good feeling about UMUC, and I'm glad I went with them," he said.  "That started my journey."
Within two years, he had finished his associate degree, finding the college-level coursework much more interesting than high school fare. Mostly, he attended in-person classes, which he said was good for him.  He might not have had the maturity and focus to stay with it If he had to launch his college career online, he said. The in-person classes helped him transition to hybrid classes and then to online, he added.
Completing his associate degree coincided with his transfer to a Marine base in Bahrain.
After six months learning the routines at his new military job, he signed up for a UMGC bachelor's degree program in business. He chose the major because his friends said it was so versatile, whether he decided to stay in the military or transition to civilian employment.
Pierceall mostly enrolled in online classes because they worked better with his sporadic work schedule. The Marines had thrown him into supply, working in finance to create and manage budgets. He soon found he enjoyed working with numbers and money, and his college work complemented his military experience nicely.
After leaving the Marines, he decided to move to Maryland to get a second UMGC bachelor's degree, this time in accounting. He arrived in Maryland on a Friday in January 2018 and was in class the next Monday.
"With my finance experience in the military, and a second bachelor's degree in accounting, I would be more marketable for the type of jobs I wanted," he said.  He found he could excel more easily when he did not have to juggle military assignments. The guy who barely got out of high school was acing his college classes.
With three degrees now under his belt, Pierceall was planning to head back to California. But then he was offered a job as a contract worker for the U.S. Agency for International Development in Washington—an offer that he said was "too good to refuse." He quickly found how much he enjoyed working for the agency and wanted to make it his career.  That is when some of his colleagues advised that an MBA would open more doors.
UMGC's MBA program has a good reputation, he said. Why not stay?
Right from the beginning the skills he developed in his MBA program enhanced his work. Unlike some programs, UMGC's requires students to do analyses on the organizations they work for – real life experience immediately out of the gate.
"I found that intriguing," Pierceall said. "In one of the first classes, we had to do a strategic analysis, and I had just started working for USAID. I didn't know much about it.  The assignment tied into the work I was doing, and I learned a lot about the agency. My work colleagues were impressed at my knowledge at the end of the assignment."
The care and understanding that UMGC provides its military and veteran students is a big plus, he said, especially during the pandemic when everything was moving online, possibly causing problems with GI benefits.
"I appreciate how they understand how the military works and how veterans work," he said. "It's one of the unique experiences and why I have stayed for 10 years."
His advice to other students?
"Never lose sight of the big picture. Every completed assignment is one step closer to finishing a class, and every finished class brings you one step closer to earning your degree. Take it one day at a time and be kind to yourself."
With four degrees under his belt, has he considered earning his doctorate?
"I work with a lot of Ph.D.'s," he said. "The first question I get is when are you going to get your doctorate?  Please, I just finished. I need a break for a while.  Then we'll see."