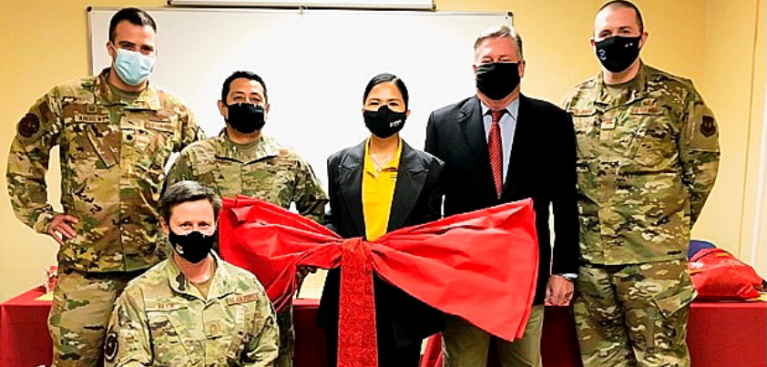 Following a tradition that spans more than seven decades of providing education to U.S. military personnel serving overseas, University of Maryland Global Campus has opened a new permanent office at Spain's Morón Air Force base, which often serves as a jumping-off point for deployment to Africa.
It becomes the university's 51st permanent location in Europe, and the second in Spain.
"Expanding in Europe demonstrates UMGC's commitment to providing the best opportunities for American service personnel to access higher education while they are deployed," said Tony Cho, the university's vice president and director for Europe. "This is just the latest example as we continually look for additional ways to improve our services on the continent."
The base is crucial to the American military capability in the Mediterranean and North Africa, he said.
Morón, which is shared with the Spanish Air Force, is located in Andalusia, the country's southern-most region, near the town of Morón de la Frontera. It is less than an hour away from historic Seville and 75 miles northeast of Naval Station Rota. Its massive flight line, in-ground refueling system, long runway and prime location near the Mediterranean and the Middle East make it an important link in any U.S. operation moving east from the United States.
In 2015, the Spanish government granted the U.S. military a permanent presence on the base, allowing up to 3,000 American troops and civilians of the Special Purpose Marine Air-Ground Taskforce – Crisis Response – Africa and the 496th Air Base Squadron to be stationed there with up to 40 aircraft.
In the past, UMGC's presence at the base was using university personnel from Rota to occasionally set up a table to answer questions and to sign up students. This agreement allows for a permanent office, Cho said. The university sought the expansion after Girlie Ann Barcinas, who had worked with UMGC in Bahrain, moved to Morón when her husband was appointed principal at the base Middle School.
The UMGC Europe division was established in Germany in 1949, as the first university to send faculty to educate active-duty U.S. military personnel overseas after WWII. The division provides services to approximately 14,000 students annually in Europe, the Middle East, and North Africa (europe.umgc.edu).